All About Elmiron Lawsuit
News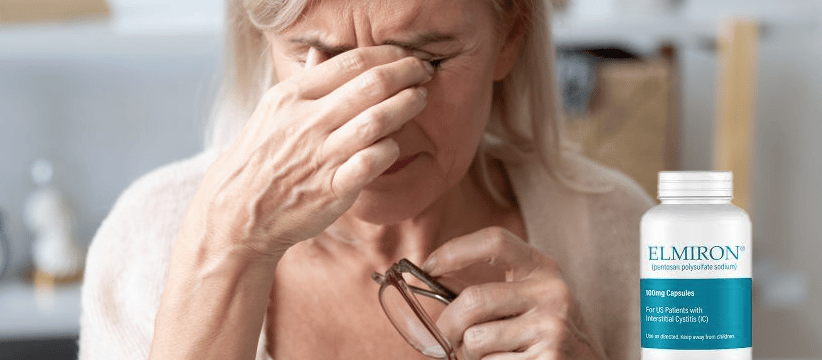 There is pending litigation against the manufacturer of the interstitial cystitis (IC) drug Elmiron. Users of this medication claim they developed an eye disorder and vision damage due to long-term exposure to the drug. 
If you have vision problems or a macular degeneration diagnosis and took this medication, you may be able to file a lawsuit. This could be a part of the multidistrict litigation (MDL) already underway in this case.
What is Elmiron?
Elmiron, a brand name for pentosan polysulfate sodium (PPS), is a prescription medication prescribed to treat IC and other bladder conditions. It is the only drug on the market specifically meant to treat interstitial cystitis as of September 2021. 
However, patient reports and research from widely respected institutions have tied the drug Elmiron to permanent vision loss and eye disease. This centers primarily on a diagnosis of pigmentary maculopathy, a rare type of macular degeneration.
Studies that raise concerns about Elmiron pentosan polysulfate sodium include: 
November 2018: The American Academy of Ophthalmology (AAO) published a study showing long-term use of the medication might be associated with vision loss.
April 2019: The Journal of Urology published a study linking long-term or ongoing use of the medication with a "potentially avoidable" degeneration of part of the retina.
Elmiron side effects
According to the Elmiron website, the most common side effects of the drug include: 
Hair loss
Diarrhea and/or nausea 
Blood in the stool
Headache
Rash
Abnormal liver function tests
Dizziness
The development of pigment changes in the retina, which is called pigmentary maculopathy, is also a possible side effect of long-term Elmiron use. This may be associated with vision concerns and other consequences. While Janssen Pharmaceuticals has downplayed this danger of the medication, a significant number of users may have vision loss or related symptoms. 
What is most troubling to many people about this is that their vision does not improve when they discontinue the medication. In fact, if you ever used this drug, you may want to continue receiving regular vision checks to ensure no problems develop or your vision concerns do not progress. 
Elmiron's dangers
There are several things those prescribed this drug must be aware of. This includes the risk of retinal changes as well as bleeding risk as Elmiron thins the blood. 
Those who take this medication should undergo regular eye exams that look specifically for changes to the retina. Early detection is important. In June 2020, the U.S. Food and Drug Association (FDA) mandated the medication label include a new warning about "retinal pigmentary changes" and "pigmentary maculopathy." 
Elmiron is also an anticoagulant. This means it makes the blood thinner and may prevent blood from clotting. People who use this drug should avoid other blood thinners, including anticoagulants and anti-inflammatories. They will need to notify their doctor if there is an accident or they require surgery. 
Reporting Elmiron's side effects
If you experience any side effects or complications while taking Elmiron, you need to speak with your doctor and report what happened to the FDA. You can do this online through the FDA's MedWatch reporting program or over the phone by calling 1-800-FDA-1088. 
According to the FDA Adverse Event Reporting System (FAERS),  the most commonly reported side effects for Elmiron or pentosan polysulfate sodium include:
Alopecia (hair loss)
Headache
Diarrhea
Nausea
Dizziness
If possible, you should also see an ophthalmologist who is familiar with Elmiron's vision-related side effects. They can monitor your vision and note any changes that occur. Your attorney may be able to recommend an eye doctor working with others who took this drug and developed similar symptoms.  
Can I sue the drug manufacturer of Elmiron?
If you took Elmiron and received a diagnosis that involves vision loss or retinal changes, you may be able to sue the manufacturer, Janssen Pharmaceuticals. Your case may be a part of Elmiron (Pentosan Polysulfate Sodium) Products Liability Litigation, MDL-2973. 
This multidistrict litigation against Janssen Pharmaceuticals is already underway in the U.S. District Court for the District of New Jersey. Multidistrict litigation, or MDL, allows federal courts to look at many cases at once and manage the discovery and pretrial motions together before they go back to their original court for trial. 
Other defendants in the case include: 
Johnson & Johnson, the parent company of Janssen Pharmaceuticals
Teva Pharmaceuticals, maker of the generic version
Alza Corporation
Centocor Research & Development
Ortho-McNeil Pharmaceuticals
To this point, all defendants have denied there is anything wrong with their drug or that they acted negligently. They claim there is no factual or legal basis for the lawsuits and that they met all regulatory rules to get the drug approved and market it. 
This lawsuit accuses the drug company of failure to warn, improper labeling, and negligence. They believe the risk of vision damage was known or became known long before warnings were issued. Many people prescribed the medication may have opted to try a different approach to treat their IC if they had adequate notice of the risk of permanent vision loss. 
What are the criteria for filing an Elmiron lawsuit?
You will need to have certain conditions or diagnoses in your medical records to support a lawsuit against Janssen Pharmaceuticals. According to the medication's package insert, most people who report these symptoms have taken this medication for at least three years, but some do not have a history of long-term Elmiron use. 
Your medical records could include a diagnosis of:
Pigmentary maculopathy
Macular degeneration
Alternatively, you could have symptoms that point toward one of these conditions, including: 
Retinal changes
Difficulty focusing and blurred vision
Issues while reading
Problems adjusting to low light conditions
Eye discomfort and pain
Vision loss
Other vision disturbances
Elmiron users may discuss the need for eye exams, including auto-fluorescence imaging and/or optical coherence tomography, with their doctors. This may aid in diagnosing the macular changes linked to this medication. 
While many people may experience some of these symptoms regardless of their history of Elmiron drug use, you may be able to move forward with a case if:
You have taken Elmiron
You have problems in your eyes
Your eye doctor or specialist reports unique or rare retinal injuries 
Do I qualify for the Elmiron vision loss lawsuit?
If you took Elmiron and have any vision-related symptoms, you should see an eye doctor as soon as possible to determine if you may have some type of macular degeneration. The eye doctor should be able to document your pigmentary maculopathy or macular degeneration diagnosis if you meet the diagnostic criteria. 
With this diagnosis and evidence to support your claim, you may qualify to sue the drug company and join MDL 2973. You may also have other options to hold it responsible. You might want to speak with an attorney evaluating these cases to learn more about your next steps and the strength of your case.
Most mass tort law firms will review potential defective drug lawsuits for free. You may be able to speak with an attorney at no cost to you or your family about whether you qualify to sue Janssen Pharmaceuticals and Johnson and Johnson.
When should I file an Elmiron eye damage lawsuit?
You may have only a limited time to file a claim based on your Elmiron eye injuries and vision loss. Each state has a law called a "statute of limitations" that puts a deadline on how long you have to sue in a product liability or defective drug case. It may be only a year or two following diagnosis, in some cases. 
At the same time, you may want to get started quickly because MDL 2973 is already underway. According to court records, there was a case management order issued on August 11, 2021 that shows the involved parties are in the process of identifying bellwether cases. These are the cases that will go to trial and serve as representatives for all the plaintiffs in federal court. 
While this MDL is relatively young—the courts only consolidated the cases in December 2020—the U.S. District Court for the District of New Jersey believes they will begin hearing the initial first bellwether trial in January 2023. Next up, though, is a September 30, 2021 "science day" when both sides will present evidence to help Judge Brian Martinotti get a better understanding of the medical and scientific questions central to MDL 2973. 
How do Elmiron eye damage lawsuits work?
When a person qualifies to pursue damages because of their injuries, they file a civil lawsuit in their district court or another appropriate jurisdiction. They should partner with an attorney who knows about mass torts and defective drug cases to do this. 
Because federal courts are hearing the Elmiron lawsuits as a mass tort under MDL-2973, they will then need to wait for the MDL to conclude or for the defendants to offer a settlement. The way MDL works is to consolidate all similar lawsuits into one court under a federal judge for the: 
Initial discovery
Pretrial motions
One or more bellwether trials 
This makes it possible for individuals to build a case against a large corporation that seems to have endless funding for legal defense. It also helps prevent the smaller courts from getting clogged up by thousands of cases with the same allegations against the medication manufacturer. 
Once the plaintiffs and defense conclude pretrial actions and discovery, it is time to identify the bellwether cases and take them to a jury trial. Unlike in a class action case, the outcome of these trials in an MDL does not directly affect the outcome of any other case. Instead, they give both sides a good idea about how juries may react to the evidence available and the allegations made. 
The outcome of these bellwether trials often leads to:
The defendant offering group settlements
The company preparing individual settlements based on each case's facts 
Plaintiffs dropping their lawsuits if the drug manufacturer wins the bellwether
In MDL-2973, they will likely hear several bellwether cases before returning any unsettled claims to their original jurisdictions for trial.
Will my Elmiron case be handled as a class action?
The Elmiron claims, around 500 as of August 13, 2021, are grouped into a different type of mass tort called multidistrict litigation. MDL is different from a class action in several ways. 
First, there is no need to certify a class. This step is not necessary with an MDL because there is no "class." Instead, the United States Judicial Panel on Multidistrict Litigation determines whether the cases meet the criteria to transfer into a single federal court for the initial stages. This generally requires: 
At least two lawsuits based on the same grounds
The lawsuits were filed in at least two different federal court districts 
Secondly, the bellwether cases in an MDL do not directly affect any other claim. While the plaintiffs and defense alike seek to identify and hear cases that are representative of most of the other claimants, the victims in the bellwether cases do not represent any other plaintiff. Only their own case is heard. 
Lastly, the verdicts in these trials do not apply to other cases. This means that, since the plaintiff in the bellwether case does not represent any other victim, the verdict in that trial only applies to that individual lawsuit. It does not carry over to any other case. If additional claims go to trial, they will need to do so independently in their original jurisdiction following the MDL. 
However, the bellwether cases do often affect other plaintiffs in another way. If the verdict does not go their way, the defense recognizes that they stand to lose hundreds of cases if they all continue to trial, so they may offer to settle the cases. This can occur individually or as a group. Each victim who filed a lawsuit has the opportunity to accept or reject a settlement offer. 
Elmiron lawsuit damages
There is no price you can put on your ability to work, enjoy your favorite activities, or watch your children grow up. These are all things you stand to lose if you suffer significant vision loss or the damage to your eyes progresses. This, plus the possibility of punitive damages, can make it very difficult to value an Elmiron lawsuit. 
Working with an attorney who is familiar with these claims and can help you document them is a good idea. While the initial stages of the case will occur through multidistrict litigation, there is the chance that your case could: 
Come back to the original jurisdiction for trial; or 
You will receive a settlement offer 
Under either of these circumstances, you will need to know what your case is worth and have evidence to support that value. Your mass tort lawyer can help you gather this proof and calculate a fair and just settlement value for your damages to date, future expenses, and intangible losses. Then, they can look at similar cases to value any potential punitive damages. 
While your Elmiron case will have common questions of fact as those filed by others, your damages could vary greatly. The recoverable damages in a civil suit depend heavily on the harm the plaintiff suffered—physically, emotionally, and financially. 
Those who have more severe vision loss, for example, will likely recover more compensation than those who were only slightly affected. In general, compensation in similar lawsuits includes:
Medical care costs, including diagnosis and ongoing monitoring
Glasses, contacts, and other necessary devices
Future care needs related to your injuries
Lost wages for time away from work
Diminished earning capacity if your vision loss caused you to leave your job
Legal expenses and other miscellaneous costs
Pain and suffering 
Mental anguish
Reduced quality of life
Other intangible losses
Punitive damages are not available in every case, but they are fairly common in defective drug claims. Your attorney can explain more about them as they relate to the payout in your case.
What compensation is recoverable in an Elmiron lawsuit?
Several types of damages are recoverable via an Elmiron lawsuit, whether it settles out of court or goes to trial. These include: 
Financial expenses and losses
You can request compensation to cover almost any documented expenses you incurred due to taking Elmiron or the side effects you experienced. This can include medical care, glasses, and even devices to help you keep working despite your vision loss. 
Economic losses are also likely for those who suffered eye-related concerns after taking this drug. You may be able to recover money for the time you had to take off work for appointments. You can also recover your lost wages if you cannot work your previous job because of your vision loss. You will need to keep a record of these losses to ensure you understand their value and can prove it.
Intangible losses
In addition to financial costs and losses that affected you and your family economically, you likely experienced some intangible damages as well. This could include eye pain, mental anguish and suffering, reduced quality of life, loss of enjoyment, and more. These are often lumped together as "pain and suffering damages." 
Because these losses are intangible, they do not have a direct economic value. However, there are ways to assign a value to them that the courts generally support. Your attorney will understand how to put a price on these losses before negotiating a settlement or going to trial. 
Punitive damages
Punitive damages are not intended to compensate you for your expenses and losses at all. In fact, they have little to do with the value of your case itself. Instead, they penalize the defendant for their bad behavior, such as failing to warn doctors and their patients about their drug's dangers.
While punitive damages are not common in personal injury cases, they are more likely in product liability or defective drug cases. In some previous cases based on failure to warn and negligence, punitive damages have been significant. 
Elmiron lawsuit settlement amounts
As of September 10, 2021, there have not been any settlements in Elmiron dangerous drug cases. At this time, there is no way to know how much these settlements, if they occur, could be. 
However, there is a history of large payouts in this type of case. According to The New York Times, Johnson & Johnson and Bayer agreed to pay $775 million to settle around 25,000 lawsuits based on injuries caused by their blood thinner drug, Xarelto, in 2019. 
The settlement amounts in Elmiron cases will depend on the level of injury and other specific and unique circumstances of the individual cases. This could differ dramatically from one case to another, depending on factors such as:
Level of vision loss
Income losses
Related expenses
It is important to note the strength of the science that links this drug to this specific type of retinal change. This could mean larger settlements overall and increases the likelihood that the drug companies will offer a settlement arrangement to the entire group during the mass tort process. These are sometimes called "global settlements." 
A global settlement will likely have a structure that allows those with more serious injuries or more significant damages to recover more than those who experienced only slight vision loss. The tiers of this type of agreement could include:
Total vision loss (legally blind)
Partial vision loss
Minor vision loss
However, individual settlements are possible. The drug companies could also refuse to settle and take each case to trial individually, although this is rare. 
We are unlikely to know anything more until after the initial bellwether case or cases go to trial as a part of the MDL. The outcome of these cases will play a key role in whether the defendants offer a settlement and how much they offer. 
Questions Elmiron lawyers may ask you
When you contact a law firm handling Elmiron cases, it will likely want to sit down with you to discuss your case, your legal options, and how its attorneys can help. These free consultations give you a chance to learn more about what you can expect, ask questions, and explore whether you are ready to move forward with a lawsuit. 
The attorney will ask certain questions to assess the strength of your case and determine if you meet the qualifications to join the MDL. They can help you understand the deadline to file your lawsuit, address your concerns, and explain their role in helping you. 
Some questions you can expect to answer are:
When did your doctor prescribe Elmiron?
The Elmiron lawsuit lawyer will need to know when you began taking the medication and how long you took it or if you are still taking it. This will help them better understand your exposure to the drug. This is an essential factor in these cases because long-term use seems to be much more closely linked with the development of maculopathy and related vision loss. 
It is a good idea to have the dates you used the medication on hand before you speak with a law firm about your case. 
When did you develop vision concerns?
The attorney will ask you many questions about your symptoms, diagnosis, and treatment for maculopathy. They will want to know why you received an eye exam and any symptoms you experienced before the exam and diagnosis. You will also need your diagnosis date, as this plays a role in both the statute of limitations and determining if you qualify to sue. 
Your exact diagnosis is also important. Most people pursuing these cases have a diagnosis of:
Pigmentary maculopathy
Maculopathy
Macular degeneration
Lastly, they may ask if anyone else in your family has a similar condition or if you have a history of eye issues related to your retinas. This could weaken your case or make it more challenging to get a fair settlement. They will be able to explain any concerns they have during your discussion. 
Having a copy of your records from your eye doctor on hand can help you answer these questions quickly and easily. You can also discuss your possible case with your ophthalmologist before this meeting if that will help you feel more prepared.
How has your vision loss affected your life?
The lawyer will want to know how specifically your life has changed because of your vision loss. Can you still do all the things you once enjoyed? Do you need help with transportation, chores around the house, or even daily self-care activities? Can you still work and manage all the tasks you previously handled? 
Do not forget to bring any records you have of your related medical bills, lost wages, and other expenses and losses. This will lay the foundation for recovering a fair settlement later.
Hiring an Elmiron maculopathy lawyer
The first step in filing an Elmiron lawsuit is meeting with a mass tort lawsuit attorney who knows what these cases are about and can evaluate your legal options. You can get a free case review today by filling out our contact form for help with your case.
You will receive a complimentary consultation. In addition, Elmiron maculopathy lawsuit attorneys handle these cases based on contingency, so you will not pay any upfront fees to get started.