Philips CPAP Lawsuit
Medical Devices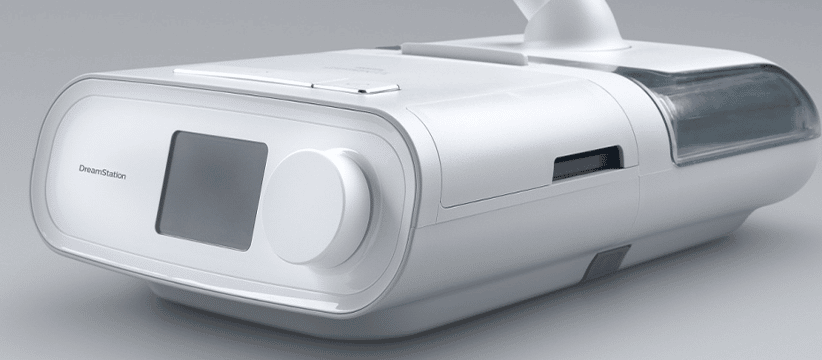 In June 2021, the U.S. Food & Drug Administration (FDA) issued a Class One recall of all Philips continuous positive airway pressure (CPAP) machines. All machines produced between 2009 and 2021 put patients at risk of developing cancer, fertility issues, and other life-threatening conditions. 
If you or a loved one developed health complications after using one of these breathing devices, you can file a Philips CPAP lawsuit. With our lawyers' help, you can seek compensation for your medical bills, lost income, and other expenses.  
What is the lawsuit against Philips? 
Philips produces CPAP machines for those suffering from sleep apnea and other related disorders. These machines involve putting a mask over your mouth, nose, or both to regulate your breathing. 
These masks are made with polyester-based polyurethane (PE-PUR) that was intended to create a seal and reduce vibrations. Over time, however, this substance can break down and enter a user's body, causing life-threatening conditions. 
At first glance, your CPAP machine might look and operate as expected. However, the debris that enters users' bodies is very small––hardly visible to the naked eye. So, if you've developed health complications and used a Philips CPAP machine, you could seek damages. 
What machines created unsafe conditions? 
Per the FDA, Philips issued a recall on the following devices, most of which were made within the last fifteen years: 
The DreamStation series, including the ASV, ST, and Go editions 
The SystemOne ASV4 and Q-Series
The Dorma 400 and 500
The REMStar SE Auto 
The C-Series ASV, S/T, and AVAPS 
The OmniLab Advanced+ 
These are just some of the machines the FDA recalled. As noted, the FDA issued a Class One recall on many types of Philips brand CPAP machines. This is the most serious type of recall. It notes that there is a reasonable likelihood that a user will experience serious health effects or death. 
What health conditions could a Philips CPAP machine cause? 
Some of these ailments could qualify for legal action: 
Certain types of cancers, including lung cancer
Asthma attacks 
Excessive drowsiness 
Headaches 
Internal organ damage, especially to the kidneys and liver 
Skin or eye irritation 
Nausea and vomiting 
The human body cannot properly digest certain substances. PE-PUR is a chemical that is not intended for consumption. If swallowed or digested, a person can face severe health consequences. 
What are CPAP machines?
CPAP machines work to alleviate sleep apnea symptoms. This condition causes irregular breathing while you sleep, either because your airway collapses when you breathe in or excess tissue obstructs the airway. 
A CPAP machine delivers a constant stream of pressurized air into your trachea to ensure that you keep breathing and get a full night's rest. Each CPAP machine is different. For instance, some come with tubes that go into your nasal passages. Others come with full-face masks. 
For many years, CPAP machines have helped those with sleep apnea live full, healthy lives. However, when product manufacturers allow faulty products to reach the market, they can be held accountable for their actions. 
What's the difference between a CPAP, APAP, and BiPAP machine? 
We've already described what a CPAP machine is. Yet, consider the following to learn more about APAP and BiPAP machines: 
An automatic positive airflow pressure (APAP) machine monitors your breathing throughout the night. While in operation, if the machine senses that you need more air, it will adjust airflow accordingly. 
A bi-level positive airflow pressure (BiPAP) machine is prescribed for people who can't tolerate CPAP systems or have high carbon dioxide levels in their bloodstreams. It comes with two different pressure settings: one for inhaling and the other for exhaling.  
All of these devices can come with PE-PUR. As such, Philips has issued recalls not just on CPAPs, but these machines as well. 
How to know if you qualify for legal action against Philips 
In general, you can seek compensation if: 
You lost a loved one due to health effects caused by their CPAP machine. 
You suffered negative health effects caused by your CPAP machine. 
Your loved one suffered health effects by using a CPAP machine. 
What you must prove in your Philips CPAP case 
The Philips CPAP lawsuit is a product liability tort. Here, you don't prove negligence. Instead, you prove that you suffered harm after using the machine. Philips has an obligation to test products before they reach the market. 
At the very least, the company must include warning labels that describe a potential hazard or danger. Your lawyer's goal is to prove that you suffered adverse health effects because Philips created, released, and managed a defective product.
What information could entitle you to damages? 
Not just anyone can file a lawsuit against Philips and recover damages. Certain facts must apply to your situation. We can use the following information to build your case and support your right to damages: 
Your medical records
Information from the CPAP machine, like its make, model, and serial number 
Your imaging scans and lab test results 
Information from a medical professional or CPAP engineer 
Your injury-related invoices, receipts, and billing statements 
A personal statement
Testimony from friends and family members 
Don't worry about gathering these documents on your own. Our team can collect them for you. 
You can join a mass tort if you suffered losses due to a Philips CPAP device 
Millions of CPAP machines were recently recalled, according to the American Association of Retired Persons (AARP). This information suggests that millions of CPAP users can seek damages. 
Instead of filing millions of lawsuits against one entity, these cases might be bundled into a mass tort, where litigants can share resources and work toward a common goal: holding Philips financially accountable for their losses. 
If you qualify for legal action, our team can connect you with lawyers that can address your situation.  
How can a CPAP attorney manage your case? 
A law firm that focuses on product liability law can help you by: 
Determining whether you qualify to take action 
Philips' lawyers will defend the company by saying you don't have a valid case. When working with a lawyer, you don't have to worry about this. That's because before filing your claim or lawsuit, they will evaluate whether you have grounds for legal action. 
Remember: if you or a loved one suffered harm because of a defective CPAP machine, you could have the basis of a civil case. 
Investigating your situation 
Our lawyers partner with third-party field consultants to build cases. Testimony from a healthcare professional, for example, could assert that you ingested a volatile organic compound (VOC). Information from a medical equipment engineer could prove that the product was defective. 
Again, we don't have to prove negligence or carelessness. We only prove that because you or a loved one used a Philips CPAP machine, you were hurt and deserve damages. 
Handling all communication with the involved parties 
A product liability lawsuit can involve multiple parties. Your lawyers can manage all emails, phone calls, and other communications with the following: 
Healthcare professionals 
Medical engineers 
Philips' lawyers and office staff 
Witnesses to any particular health event you suffered 
Other litigants involved in your mass tort (if applicable) 
Now is your time to focus on getting better. A lawyer can handle everything else. 
Calculating your injury-related losses 
Sleep apnea is a potentially fatal condition. As such, even one night without your CPAP machine could be dangerous. Philips says that within the next year, it will replace or repair all affected machines. In the meantime, however, you might need alternative sleep aids. We can include the cost of your appliance's repair or replacement in your case. 
You could also seek the following:
The cost of treating your CPAP-induced condition
Lost income and employee benefits 
Loss of future earning capacity or job opportunities 
Pain and suffering 
Disability 
Loss of consortium 
Loss of enjoyment of life 
Mental anguish 
The case against CPAP is still unfolding, so we cannot provide insight into how much other claimants have won. Instead, your lawyer will determine your case's value by examining your past, present, and future damages. 
Negotiating a settlement 
After learning about your situation, Philips may offer compensation in the form of an insurance settlement. However, keep in mind that every insurance policy comes with limits––and Philips might intentionally offer less than your damages are worth. 
Your lawyer will fight for a settlement that covers your losses, both now and in the future. This involves negotiating with Philips' claims adjusters, who may or may not employ bad faith insurance tactics. 
Filing your lawsuit 
Whether through an individual lawsuit or a mass tort, your lawyer is prepared to manage your case. They will interview and cross-examine witnesses, follow courtroom proceedings, and argue your case in court. 
How much does it cost to hire a lawyer who handles CPAP injury lawsuits? 
Many product liability lawyers work on a contingency-fee basis. They do not request payment until the conclusion of your case. So, you could get all the legal services we mentioned above at no upfront cost. Typically, they only ask for their attorney's fees if they win your case. 
How long do you have to initiate a lawsuit against Philips? 
How long you have to file your lawsuit against Philips depends on: 
Where you live: Each state comes with its own civil filing deadline. For instance, some states (like Louisiana) give you a year to file your case, while other states (like Maine) give you more than five years to file. 
When you discovered your injuries: Some conditions, like cancer, take months or even years to manifest symptoms. You could have from the date you discovered your injuries to take legal action against Philips. This involves examining your medical records, the date when you purchased your CPAP machine, and other details. 
Your age: Sleep apnea typically affects middle-aged men. However, some children may develop pediatric obstructive sleep apnea, which requires medical intervention. If you developed a health condition as a minor, your filing deadline may depend on when you reached the age of majority. This differs per state. 
Our firm will connect you with a lawyer that can explain how long you have to file your case. We recommend connecting with us as soon as you can; you don't understand your legal options if you don't understand the statute of limitations first. 
When should you connect with our referral service?  
Aside from your case's statute of limitations, it's important to consider working with a lawyer as soon as you can. The sooner a lawyer can start your case, the sooner you can set your case in motion. 
Acting promptly could: 
Grant access to some evidence: Evidence disappears with the passage of time. For instance, if you send your CPAP machine back to Philips, you risk destroying certain pieces of evidence. A lawyer can secure time-sensitive evidence and use this information to support your claim. 

Protect your legal rights: Once Philips learns about your situation, the company will try everything in its arsenal to jeopardize your case. For instance, you may receive a questionnaire in which you can describe your problem. Without a lawyer, you might share information that could compromise your case. 

Resolve your case sooner: We can't guarantee that connecting with our service will resolve your case faster than someone who didn't. However, some product liability cases reward those who file lawsuits at the very beginning. 
Other claimants have been in your situation before 
Absolutely. You're not the only one who has suffered harm due to a dangerous or defective product. The FDA cannot (and does not) test every product on today's market and sometimes, it does not issue a recall until millions of people file complaints. 
Here are some product liability cases that are like your own: 
Dow Corning's breast implants 
In 1998, Dow Corning issued a recall on its silicone breast implants. Claimants alleged that the implants either leaked, ruptured, or burst, causing serious health concerns. In the end, claimants were awarded between $12,000 and $60,000 each. 
Asbestos building materials 
For decades, asbestos was considered one of the best building materials because it was non-flammable and easily adapted for many construction projects. However, asbestos contains tiny fibers that, when inhaled, can cause lung cancer and mesothelioma.  
In 1998, 176,000 individuals filed a mass tort, alleging that they suffered injuries because they were exposed to asbestos. Interestingly, the defendant was the same company that released the defective breast implants mentioned above. The suit caused the company to file for bankruptcy. 
Bayer's Roundup 
An article from The New York Times notes that Bayer, the maker of Roundup, must pay billions of dollars in damages to those who suffered harm due to the product. This case is still evolving after claimants alleged that the chemical caused health effects, like cancer. 
What should you do if you use a Philips CPAP machine? 
Consult with your doctor before discontinuing your prescribed treatment. Your healthcare team will recommend treatment that suits your situation. For instance, you could benefit from surgical intervention to remove tissue that's obstructing your airways. Your doctor might also put you on a specialized diet since obesity can cause sleep apnea. 
In addition to talking to your doctor, you should consider: 
Documenting your case's details 
Every product liability case requires evidence. Before sending your machine back to Philips, document the following: 
Take photos of the mask's degradation, as well as the machine itself 
Write down the product's model and serial number 
Write a personal statement listing your symptoms and health effects 
Get testimony from your doctor regarding the CPAP machine's use and function 
The more evidence you have, the harder it is for Phillips' lawyers to deny your case. 
Compiling a list of your damages
After reviewing your damages, your lawyer will assign a monetary value to the case. While they can procure evidence to prove these damages, you should keep track of: 
Your medical bills and required treatments
Any missed time from work 
Harm to your earning ability 
How many paid time off (PTO) days you used 
The cost of replacing or repairing your CPAP device 
Any out-of-pocket funeral or burial costs 
Keeping all communications to a minimum 
Phillips wants to settle CPAP cases internally rather than going to court. On its website, Philips lists options for those looking to exchange their CPAP machines. You're within your rights to request an exchange. However, limit what you tell Philips over the phone or online, as it could use this information to contest your case later on. 
How long does it take for PE-PUR to leave the body? 
How long it takes PE-PUR to leave the body depends on how it was ingested. For instance, Mayo Clinic reports that it takes 36 hours for food to digest. If you swallowed the PE-PUR fibers, it could take 36 hours to leave your system. 
However, if you inhaled PE-PUR fibers, it could take even longer. Your body might try to expel the fibers through coughing, sneezing, or phlegm. Whether this works depends on many factors unique to your health. 
Even if your body can expel or digest PE-PUR within a certain period, you still face health risks if you consumed the substance. Talk to your doctor about your concerns and what treatment options you have. 
CPAP alternatives
Many doctors prescribed CPAP to patients without understanding its health risks. This requires them to reassess patients' health conditions and administer treatment to meet their needs. Other companies make CPAPs, so if you're a high-risk patient, your doctor might order another CPAP machine from a non-Philips-affiliated company.
You could also benefit from these alternatives: 
Medications 
Surgery 
Specialized sleeping positions 
Lifestyle changes, like diet and exercise 
The use of a BiPAP or APAP machine 
Do not make any changes without consulting your doctor. 
Commonly asked questions about the Philips CPAP lawsuit 
Below we've compiled some of the most commonly-asked questions posed by potential clients: 
How long does it take to resolve a product liability case? 
There's no telling how long it could take to resolve your case. If Philips offers claimants fair settlement offers, the case could resolve as soon as those funds become available. However, if Philips does not offer settlements, it could take weeks, months, or even years to reach a resolution. 
Your mass tort lawsuit lawyer will keep you updated on all aspects of your case so you always feel "in the loop." They will also counteract any delays or tactics that prevent your lawsuit from moving forward. 
Can I file a lawsuit if I lost a loved one?
Your eligibility for filing a wrongful death lawsuit depends on where you live. Not only do these cases come with strict filing deadlines, but only certain parties can file these cases in the first place. 
A lawyer can assess your situation and determine whether you can file a wrongful death lawsuit. 
What is the value of my CPAP lawsuit? 
The value of your damages depends on many things, including: 
The severity of your CPAP-related condition 
The value of your medical bills and other related expenses 
Your quality of life and mental anguish 
Whether you lost a close loved one 
How much time you missed from work 
You can look up the conclusions of cases similar to yours. However, every case is judged on its own; the outcome of another case will not dictate the outcome of yours. 
Do I need to work with a lawyer? 
The law does not require you to work with a lawyer on your Philips CPAP lawsuit. However, before deciding to represent yourself, consider the following: 
Do you have an understanding of product liability law? 
Are you prepared to go toe-to-toe with Philips' product liability lawyers? 
Do you understand the value of your damages, including pain and suffering? 
Even if you answered "no" to one of these questions, you should consider partnering with a lawyer. Now is your time to rest and focus on recovering––not navigating the legal process. 
What if my CPAP machine wasn't recalled? 
If a CPAP machine caused you or a loved one to develop adverse health effects, you can file a product liability case––even if your machine wasn't recalled. As long as your lawyer can tie the defective product to your health condition, you could have the basis of a claim or lawsuit.  
We help injured claimants connect with lawyers who can build, manage, and pursue their cases. Some of our lawyers' practice areas include birth injuries, harmful drugs, personal injury cases, and defective medical devices. 
Your first case review with a lawyer is free, and there is no obligation. Dial 844-448-6787 to begin.