Fire Fighting Foam Class Action Lawsuit
Cancerous Compounds Are Found in AFFF
News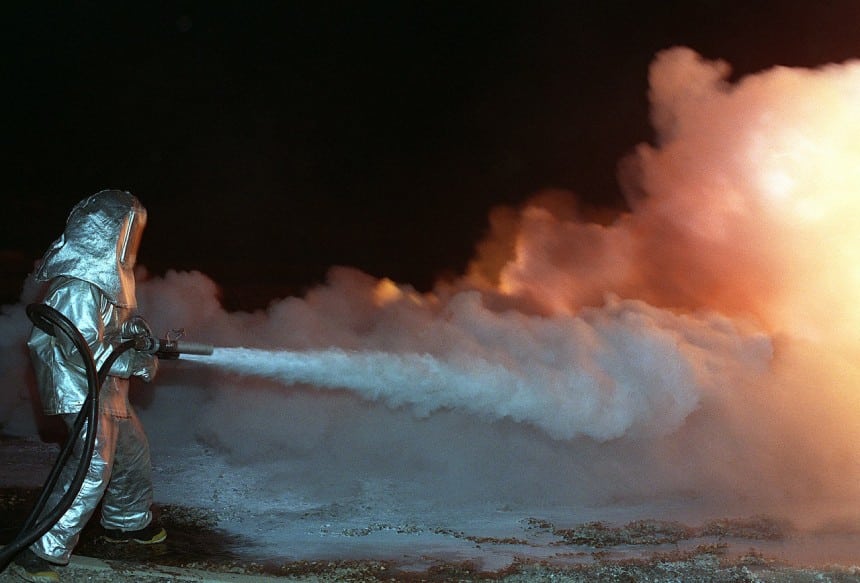 Firefighters perform a heroic community service every day. As part of that service, they often use specific and specialized tools of the trade, including aqueous film-forming foam (AFFF). This foam is used to extinguish liquid and fuel-based fires. However, firefighters learning about the ways components of AFFF may have led to cancer are starting to file lawsuits against the product's manufacturer.
If you or someone you love suffered from long-term exposure to AFFF through work as a firefighter, you could be entitled to compensation for your resulting damages. When you join other injured plaintiffs in seeking monetary recovery in an AFFF PFOA class action lawsuit, your attorney will determine the value of your injuries and prepare a strong case file on your behalf.
Does AFFF Contain PFOA?
Perfluorooctanoic acid (PFOA) is a man-made and fluorinated organic chemical found in many firefighting foams, including AFFF. According to Interstate Technology Regulatory Council (ITRC) research, AFFF is a specialized foam product designed to combat dangerous liquid and fuel fires. When mixed with water, it creates a protective film that effectively puts out these types of fires.
During use, AFFF also creates a protective vapor that prevents fires from reigniting. Because it is an effective fire fighting tool, firefighters all over the country have used it for decades.
Is AFFF Harmful to Users?
AFFF itself does not appear to pose a health hazard to firefighters or other users. However, it does contain dangerous chemical components that might lead to many adverse health conditions. The chemicals can also be linked to certain types of cancer and other adverse health conditions, including ulcerative colitis.
If you or someone you love was exposed to PFOAs in your workplace, you could be entitled to pursue compensation from its manufacturer. A law firm will review your case at no cost to you and identify the right class action case to join. If you decide to move forward with the case, the Mass Tort Lawsuit lawyer representing you and other injured plaintiffs can explain the steps involved in seeking financial recovery from a manufacturer.
Which Cancerous Compounds Are Found in AFFF?
Exposure to AFFF can mean exposure to harmful carcinogens that can damage your health, impact your ability to work, and lead to long-term healthcare and rehabilitation expenses. The cancerous compounds identified in AFFF include:
Perfluorooctanoic acid, which is a byproduct of AFFF and the process used to manufacture it
Perfluorooctane sulfonate, which is an organic acid created when AFFF products degrade
Firefighters who train other firefighters, put out aircraft fires, or work with the military are at a higher risk of exposure.
Other Potential Adverse Health Effects of AFFF Exposure
In addition to its potential to cause certain types of cancers, exposure to AFFF can also pose other health hazards. According to Agency for Toxic Substances and Disease Registry (ATSDR), these include:
High cholesterol levels
Impaired vaccine efficacy
Damaged liver enzymes
Pre-eclampsia during pregnancy
Low birth weights
Exposure to this dangerous chemical can affect your health in many unwelcome ways. PFOA is a possible human carcinogen, which can mean you are forced to undergo chemotherapy, counseling, and other costly treatments. Because you were not made fully aware of the potential risks to you and your family, you could be entitled to compensation for your medical challenges and their related expenses.
What Kind of Cancer Does AFFF Cause?
AFFF exposure can cause more than one type of cancer in afflicted firefighters. According to the Journal of Exposure Science & Environmental Epidemiology, the types of cancer caused by AFFF exposure include:
Prostate cancer
Kidney cancer
Testicular cancer
Types of cancer can also vary from individual to individual based on several factors. The National Institute for Occupational Safety and Health (NIOSH) further cites a connection to the following types of cancer:
Melanoma
Acute myeloid leukemia
Prostate cancer
Brain cancer
Non-Hodgkin lymphoma
Medical records from before and your cancer diagnosis can help your legal team document the cause of your cancer. In combination with your employment records, the attorneys in our network can help you establish your exposure to AFFF and PFOAs.
The Potential Mental Effects of a Cancer Diagnosis
A cancer diagnosis can lead to months-and even years-of mounting medical bills, intensive medical treatments, and daunting emotional anguish. It can also be mentally traumatizing to discover that your or your loved one's cancer may have been caused by the firefighter foam they came into frequent contact with in the workplace.
Understanding what caused the cancer can inform your next steps. In this case, it could allow you to join a class action case for financial recovery. You can fight alongside other firefighters for compensation to cover the ongoing medical care and other damages you now face.
AFFF Class Action Lawsuit Filed on Behalf of TX Community
Firefighters represent only a portion of the people facing possible medical consequences due to AFFF exposure. Others can be affected by residual contamination. In one community in Texas, residents allege that their private wells were contaminated with PFOA, which puts their residents at risk of future health concerns.
Homeowners in the community also cite decreasing property values as another result of the hazardous contamination. Residents are working together to hold the foam manufacturer responsible for their financial damages.
Represented by a New York-based law firm, they are demanding compensation in a class action lawsuit. The town alleges the contamination stems from a former air force base where firefighting foam was used to treat aircraft fires and provide firefighter training.
Class Action Lawsuit Filed for Lubbock Residents Because of Contaminated Water Wells
According to U.S. Environmental Protection Agency (EPA) research, firefighting foam is only one way people suffer exposure to the cancer-causing chemicals found in PFOAs. Additional methods of exposure include drinking water and wastewater that can become contaminated via runoff of the hazardous foam. Such is the case in the city of Lubbock, Texas.
News station KCBD reported that years of contamination from firefighting foam has exposed Lubbock residents to specific health hazards and increased risks of certain cancers. Reportedly, long-term storage and disposal of the foam at nearby Reese Air Force Base led to contaminated groundwater. It is also purported to have contaminated hundreds of privately-owned wells.
Affected residents' lawsuits have been combined into a class action lawsuit, with nearly 500 residents joining in the fight for accountability and compensation. The resulting class action lawsuit suggests that residents who consumed well or groundwater now face potential health risks.
Successful W&L Water Contamination Lawsuits
Safe and healthy water supplies are an important part of life in every community. As a result, EPA officials continually monitor our drinking water for potential pollutants and contaminants. According to their research, the dangers of water contaminated with hazardous chemicals include:
Skin discoloration
Damage to the nervous system
Organ damage
Developmental delays
Decreased reproductivity
Plaintiffs have been and continue to band together in class action cases for the risks to their health. The law firm, Weitz & Luxenberg P.C., has successfully negotiated monetary settlements in the following water contamination lawsuits:
$23.5 Million Settlement for PFOA Contamination in Petersburg, NY
$1.8 Billion in Porter Ranch Aliso Canyon Well Blowout Settlement
$65 Million Settlement in Hoosick Falls PFOA Water Litigation
These lawsuits' success means the class action participants were able to share equally in the settlement funds and start putting their lives back together. Successful settlements also ensure injured parties can receive the medical and psychological care required to treat their cancer diagnosis.
Firefighter Foam Settlement
Reuters cites a 2017 PFOA lawsuit against Teflon manufacturer Dupont, which settled for $671 million. While settlements like these do not happen every day, they do create hope that awards may be possible in pending AFFF and PFOA class action cases.
Of course, there can be no guarantee of any particular settlement amount, but the lawyers representing injured firefighters are working hard to build thoroughly-documented cases. They are inviting firefighters diagnosed with cancer and surviving family members to join others in class action cases against foam manufacturers. As part of a class action lawsuit, you can fight for the following types of recoverable damages:
Medical bills throughout your recovery
Mental and psychological health care
Income loss until you are able to resume working
Physical and emotional pain and suffering
Wrongful death damages, where applicable
If you or someone you love was diagnosed with cancer related to PFOA exposure, you could be eligible for compensation. The lawyer who represents you will carefully evaluate your case and document your range of recoverable damages so they do not go unaccounted for or undervalued.
AFFF Lawsuit Settlement Amounts
A class action lawsuit was filed in 2018 by numerous citizens of Peshtigo, a town in Wisconsin. These citizens alleged that Tyco's Fire Technology Center (FTC) exposed them to dangerous levels of PFOAs. This lawsuit recently settled for $17.5 million. The settlement amount will be shared with Peshtigo residents living within a specified area of the town.
In class action lawsuits, each plaintiff receives a share of the settlement amount. Because others are still coping with their diagnosis and fighting for compensation, additional lawsuits are still being built, and additional settlements might be made in the future.
Firefighter Foam Cash Settlements
While no cash settlements have been reached to date, firefighters are continuing to fight for the compensation they deserve. The sheer volume of injured firefighters and cases filed led to a consolidation in the United States District Court of South Carolina. Multidistrict lawsuit (MDL) litigation is different from class action lawsuits in that the cases remain separate, and plaintiffs can receive individual awards based on their unique damages.
Firefighters who protect our property and lives are now fighting for the compensation they are entitled to due to the threat of cancer as a result of PFOA exposure at work. Lawyers who are spearheading foam cases are continuing the fight for compensation via cash settlements where possible.
AFFF Injury Attorneys for Class Action Lawsuits
Product liability lawyers fight for clients injured by a manufacturer's oversight or negligence. When you trust your case to a law firm, an attorney will guide you toward financial recovery.
While you can focus on your treatment plan and getting better, the law firm that represents you will:
Provide a free review and evaluation of your case
Represent you at no upfront costs to you
Absorb any initial fees related to your case
Not receive any compensation until you do
In addition to making it simple and free to start fighting for your rights and the monetary award you deserve, your legal team will:
Calculate the financial value of your injuries
Prove the at-fault manufacturer's liability
Gather supporting evidence and documents
Consult fire industry and medical experts as needed
Handle all case-related communication on your behalf
Your Mass Tort lawyer will represent you in every legal aspect of your case, including filing motions, attending hearings, conducting discovery sessions, and negotiating an appropriate settlement. They will also notify you of all settlement offers and updates as your case progresses.
Call or Fill Out the Contact Form to Learn More
The attorneys in our network are committed to helping firefighters and others who were diagnosed with cancer from exposure to PFOAs. If you or someone you love suffered from this damaging carcinogen, find out how you can join a new or existing AFFF PFOA class action lawsuit. Call 1.844.448.6787 for a free consultation or fill out our contact form for help with your case.