Firefighting foam (AFFF) lawsuit
Toxic Contamination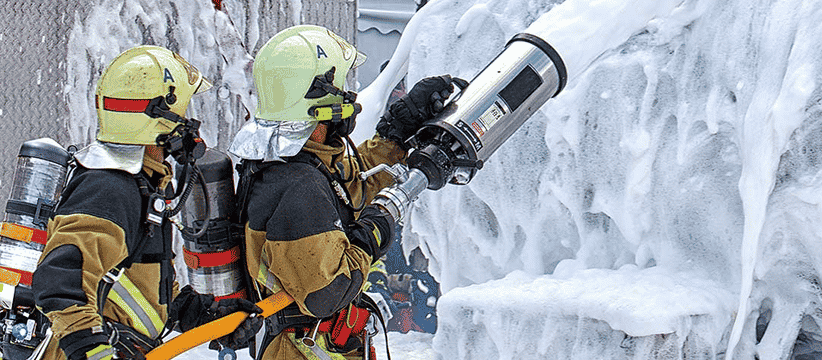 If you were exposed to AFFF substances, such as polyfluoroalkyl substances (PFAS), you may qualify to file an AFFF lawsuit against a liable manufacturer that produces these products. 
You can work with a personal injury lawyer in your state to file an individual lawsuit or join a mass tort action in multidistrict litigation.
What is AFFF?
Aqueous film-forming foam (AFFF) is a concentrate of fluorinated surfactants mixed with hydrocarbon foaming agents. It is used to extinguish fuel fires and fires involving other highly flammable liquids. Firefighting agencies typically use AFFF foam in training sessions and emergency work to put out fires. However, there are two types of AFFF foams:
Class A: Firefighters use Class A firefighting foams to put out wildfires.
Class B: This foam contains substances that effectively put out chemical, fuel, and flammable liquid fires.
The concern about the chemical substances in AFFF foam largely applies to perfluoroalkyl substances (PFOS) and polyfluoroalkyl substances (PFAS), which are found in Class B firefighting foams. 
The Interstate Technology Regulatory Council (ITRC) explains in its fact sheet that there are several environmental and health concerns associated with PFAS chemicals, noting:
PFAS in firefighting foam contaminates groundwater and surrounding water sources near areas where agencies use the foam.
Studies on PFAS exposure show elevated cancer risks.
PFAS can break down into perfluorooctanoate (PFOA), which is considered persistent, bioaccumulative, and toxic (PBT). 
If you live in an area near where the water source may have been exposed to AFFF foam contaminants, and you also suffered an illness as a result, you may qualify to file a firefighting foam lawsuit against the liable parties responsible for this health risk.
Firefighting foam and water contamination
According to the U.S. Environmental Protection Agency (EPA), PFAS and PFOA from AFFF foams can seep into the ground during rainfall because the acids are "water soluble and mobile in water." These substances resist environmental degradation processes. This means they can persist in environments longer because they do not dissolve. They also can contaminate water supply areas throughout the United States, putting people at risk.
This dangerous phenomenon occurs more often in places that are prone to chemical fires or where agents get trained to put them out, such as:
Firefighting stations and training locations
Manufacturing companies
Industrial or municipal waste sites
Chemical plants
Oil refineries and related fuel storage locations
Military facilities
Merchant operations (e.g., offshore oil platforms)
Airports and other aerial bases
Agencies that use AFFF foam cannot wash away PFAS and PFOA like they can with other surface water substances. This enables these toxic chemicals to travel toward bodies of water, including streams and rivers, and mix in with water resources. This also means fish that live in contaminated waters can be affected, which can translate into food consumption for humans.
Are government agencies making any effort to clean contaminated waters?
The U.S. Government Accountability Office (GAO) reported that the U.S. Department of Defense (DOD) is investigating claims about environmental contamination from AFFF foam around 700 military bases and installations. Currently, DOD has taken certain measures to address the water contaminants and provide alternative drinking water (e.g., bottled water and water treatment systems) to assist affected communities. However, it has not implemented cleanup phases yet.
However, in California, Clean Water Action worked together with allied organizations to pass SB 1044, which passed into law in September 2020. This bill mandates phaseout cleaning for PFAS in California water resources.
The Federal Aviation Administration (FAA) also sent out a notice in 2019 to aerial agencies about using alternative AFFF testing systems that don't rely on PFAS.
What are the health risks associated with AFFF exposure?
According to the Journal of Exposure Science & Environmental Epidemiology, career exposure to PFAS—which is common for firefighters, military members, and airport workers—does not increase a person's potential for developing cancer. 
However, the International Agency for Research on Cancer (IARC) did classify PFOA and PFAS as carcinogens. So, while career exposure to PFAS is not likely to cause cancer, communities that drink contaminated water have an elevated cancer risk. Individuals who ingest PFAO- or PFAS-contaminated water have a higher chance of developing:
Kidney cancer
Testicular cancer
Prostate cancer
Bladder cancer
Pancreatic cancer
Liver cancer
Breast cancer
Health journal Toxicology also published a study in 2020 that found pregnant women and their offspring have elevated risks if they get exposed to PFAS chemicals, which can cause:
Thyroid disorders
Metabolic syndrome (increased risk of heart disease, diabetes, and stroke)
Kidney disease, including kidney failure
Placental dysfunction
Increased risk for adult diseases for both mother and child
Hypertensive disorders of pregnancy (HDP), such as preeclampsia and low birth weight
If you suspect you and your family were exposed to PFAS, you should consult your physician for diagnostic exams and blood testing so that you can receive treatment. 
Side effects of AFF exposure
According to the Agency for Toxic Substances and Disease Registry (ATSDR), PFAS exposure can lead to the following side effects:
High cholesterol levels
Increased risk of kidney or testicular cancer
Liver problems caused by liver enzyme changes
High blood pressure, which can lead to preeclampsia in pregnant women
Low birth weights in newborn children
Lower vaccine response for small children
If you experience any of these side effects after discovering you may have been exposed to PFAS, consult your physician for further medical examination.
AFFF exposure symptoms
AFFF exposure symptoms are hard to distinguish without blood testing, but if you begin experiencing unexplained changes in your cholesterol and blood pressure levels or suffer other organ-related problems, you may ask your physician to test whether you have elevated PFAS levels. 
One of the best ways to spot your AFFF exposure symptoms is to identify whether you were exposed to PFAS during daily activities. Water contamination goes beyond drinking water, so you should be aware that you can also be exposed to PFAS by:
Eating seafood that lived in PFAS-contaminated waters
Swallowing soil that got contaminated by PFAS through groundwater and/or rainfall
Inhaling PFAS during career activities (e.g., firefighting, chemical work, and military training), including excessive skin exposure without washing
Whether you were exposed to AFFF chemicals through drinking water or food consumption, pay attention to community reports about potential contamination while looking out for potential side effects. You can always consult your physician and ask if they've treated other people in your area for PFAS exposure. You can then follow up and do necessary lab work to confirm your health status and safety.
A personal injury law firm can help you file an AFFF lawsuit
Personal injury law varies by state, so you will need to understand the specific deadlines and case requirements you must abide by in your state. If you are preoccupied with other life demands, be it related to your health or financial concerns, you can hire a personal injury attorney to manage your AFFF contamination case for you. 
For an idea of how the legal process works, here are some services your lawyer will provide:
First, your lawyer will review available information that you have
Many law firms offer free case reviews before taking on new clients. You will have an opportunity to present any information you already have to the law firm. After that, a representative will explain what legal options you have to pursue compensation from a liable party. During this stage, you may discuss:
What injuries or illnesses you suffered after being exposed to AFFF foam
Whether you have information that confirms your area's water source was contaminated by PFAS (e.g., you live near a military base that uses AFFF foam during training sessions)
Any statements from your physician, including copies of medical test results
News articles that reported on PFAS water contamination in your area
Once you agree to work with a lawyer, your legal team can then start handling your case and take other steps to prepare it for litigation. Your lawyer can also be your primary referral should other parties question you about your case.
Your legal team can conduct a separate investigation into your case
Your lawyer may have access to resources to investigate your case, which may involve confirming whether your area's water resource was contaminated by firefighting foam substances. Steps to confirm this may involve:
Taking water samples from your home and your local area's water source to test for elevated PFAS or PFOA levels
Surveying plants or agencies that use AFFF foam and confirming whether nearby water supply plants are at risk
Consulting industry experts who can testify on environmental and public health risks or damage the community faces from PFAS chemicals
Your lawyer can also retrieve other types of evidence to support other claims you make in your case, such as about your injuries and related damages. This may involve collecting copies of your medical records, witness statements, statements from your physicians, video footage, and financial documents (e.g., receipts or tax returns). 
They will file your AFFF foam lawsuit within your state's statute of limitations
As mentioned, personal injury law varies by state. You must refer to your state's statute of limitations to identify your case's filing deadline so that you don't submit it late. This deadline generally begins on the date of injury or date of discovery (i.e., when you discovered PFAS contamination may have caused your illness).
Your lawyer can determine your case's deadline according to state law and then file your AFFF lawsuit for you. Filing earlier rather than later helps ensure you do not lose your right to pursue compensation from the liable party—because if you do file your case late, a judge may dismiss it on those grounds. Having your case dismissed also means:
You are barred from pursuing compensation through the court system.
You are less likely to negotiate an out-of-court settlement because you no longer have a lawsuit to use as leverage.
The defendant will be absolved of any liability, meaning you will have to cover your damages out of your own pocket.
You want to avoid giving any leverage to the other side to deny you compensation, so you should not hesitate to take legal action if you decide to move forward with a lawsuit.
Your lawyer can handle communications with involved parties
When filing an AFFF lawsuit, there may be multiple corporations named as liable parties, including the government. As such, you may have several inquiring parties—from legal attorneys to insurance adjusters—call you to petition settlement negotiations with you, which can be tempting but also risky. 
Unless you have already calculated the value of your case, taking the first offer another party gives you can put you at risk of undervaluing your case. You want to consider your current and future damages, which your legal team can help you calculate. To protect your case, your lawyer can handle communications with involved parties and compare any potential settlement offers to total figures they reach when reviewing your damages.
Your attorney will work toward negotiating a settlement or represent you in trial
Once your mass tort lawsuit attorney calculates the value of your case, they can then cooperate with the other party to potentially negotiate a settlement. The negotiation process can be long and arduous, so your lawyer will update you when new messages, offers, or information comes in. They can also monitor whether the other party might be stalling the negotiation process and advise you on when you should move forward with your AFFF lawsuit.
Whether your case is in the negotiation or litigation phase, your lawyer will abide by the attorney-client relationship and represent your interests. You will always have the final word on decisions and can dictate which direction you want your case to go. Should your case go to court, your lawyer will present your case in front of a judge and jury and advocate for you until you receive a verdict. 
What compensation is available in an AFFF lawsuit?
How much compensation you might pursue in your case is dependent on the types of damages you experienced due to AFFF foam exposure. You will work with your legal team to work out a total figure that reflects your damages, which may include:
Medical treatment costs: Depending on the type of illness you developed, compensation for your medical expenses may recover costs for surgeries, chemotherapy if you developed cancer, doctor's appointments, diagnostic tests (including bloodwork), and other lab tests, among other necessary treatment you received. You may also demand compensation for future treatment if your injuries are ongoing or permanent, such as costs for dialysis if you suffered kidney failure.
Property damage: If your land contains contaminated soil or water and requires extensive work to clean up PFAS or replace land, then you may petition for compensation to cover these expenses. 
Income loss: If you developed a serious health condition that put you out of work (e.g., cancer) or forced you to take extensive time off work to receive treatment, you may receive awards to cover your lost wages as well as lost benefits or pensions. If you expect to continue missing work because of your injuries or illness, you can also demand compensation for future loss of income.
Reduced earning potential: If you expect to work after receiving treatment but can no longer perform your regular duties, you may receive compensation if your health condition forced you into a lower-paying position or leave your career entirely for separate, lower-paying work. Your lawyer may consult a vocational rehabilitation specialist to testify on these points.
Pain and suffering: If you endured physical and emotional pain because of your injuries, whether that involves suffering chronic pain caused by cancer or undergoing emotional turmoil as you accept and process a terminal or permanent illness, you can pursue compensation for these injuries. These damages do not readily have financial value, but your lawyer can assign one using court-approved methods.
Loss of consortium: If your illness caused significant changes in your relationship dynamics, such as forcing your spouse into a caretaker role or losing your sex drive, which inevitably led to those relationships ending, you may receive compensation for this loss. 
Diminished quality of life: If your injuries caused permanent disabilities that lowered your quality of life, then you may pursue awards to cover these changes. For example, this could apply if you lost your ability to engage in former hobbies and activities (e.g., marathon running) because of your illness or if you can no longer fulfill certain duties as a partner or parental figure.
Your personal injury lawyer may suggest other damages to pursue in your case, which you can discuss during a consultation.
Victims' families can pursue compensation on their behalf if they have passed
Unfortunately, because AFFF foam lawsuits involve people who developed cancer, this may include people who did not survive their terminal illnesses. If your loved one passed away before they were able to take legal action against the liable party or parties, you or another qualifying family member may file a wrongful death action on their behalf to pursue compensation. 
Qualifying family members usually include spouses, children, and parental figures (including legal guardians or adoptive parents), though some states may allow other family members to file claims as well, such as the victim's grandparents. With these types of cases, plaintiffs can pursue these damages:
Funeral expenses: You can petition for damages to cover costs to arrange your loved one's funeral, including additional costs for burial or cremation and wake services. 
Loss of companionship or parental guidance: Depending on your relationship to your loved one (the decedent), you may claim loss of companionship if you are the spouse or loss of parental guidance if you are the child. These emotional damages reflect the total loss of the relationship and how that may affect your family dynamics going forward. 
Loss of financial support from the decedent: If your loved one was a major financial contributor to the family and you now take on the responsibility of caring for dependents, you can claim compensation to cover this loss as well as future loss of financial support.
Other losses may relate to losing love and affection from your loved one or even losing an inheritance from them. Your lawyer will be sensitive to your concerns and guide you throughout this process while you grieve the loss of your loved one.
Have any AFFF foam lawsuits been filed?
Yes. There are current AFFF foam lawsuits out in court throughout the United States, and one can expect more claims to be filed as people learn about PFAS contamination in their area's water sources. 
Two current cases include:
MDL No. 2873: This is multidistrict litigation filed in the District of South Carolina against Middlesex Water Company. Claimants allege that the company's negligence with AFFF foam used in firefighting stations, military bases, and airports led to water contaminations in local groundwater and drinking water supplies. 
City of La Crosse v. The 3M Company: The City of La Crosse in Wisconsin filed a lawsuit against The 3M Company and multiple defendants that contributed to water contamination from AFFF foam. The city alleges that chemical manufacturers purposefully hid information about the dangerous side effects caused by their AFFF foam products.
There may be an ongoing mass tort action in your state that you can join. You can discuss joining an MDL or filing your own individual lawsuit with your legal team.
How do you know if you have a case?
Many law firms will inform you of whether you qualify to file an AFFF lawsuit based on the information you provide. Generally, if you developed an illness after being exposed to AFFF foam substances, you qualify to file a lawsuit against the appropriate parties who caused this exposure to occur.
AFFF lawsuit settlements
Recent AFFF lawsuit settlements include:
January 7, 2021: The Associated Press reported on an AFFF MDL case that reached multiple settlement amounts. These awards include $17.5 million for AFFF foam exposure to residents, $15 million to classwide claims, and $2.5 million to individual disease claims.
February 13, 2017: Reuters reported on a case against DuPont and Chemours Co. that resulted in $671 million being awarded and paid out to affected citizens. The case involved PFOS, which was used to make Teflon and affected surrounding residents when a leak occurred.
Multiple claims against manufacturers that use PFAS in their Class B AFFF foam products allege that the manufacturers knew of the environmental and health risks associated with their products and failed to warn communities about potential dangers. 
If you recently discovered that your local water supply, groundwater, or another affected area was contaminated by PFAS (including PFOS) or PFOA, you may qualify to join an MDL or file an individual lawsuit against the manufacturer(s) responsible for the contamination. 
Within the cases mentioned in this article, many firefighters participated as plaintiffs and won awards. A personal injury lawyer can help you pursue a cash settlement if you worked in an industry that exposed you to PFAS or other toxic chemicals, such as people who work as:
Firefighters
Military members
Airport workers
Chemical plant workers
Industrial workers
A personal injury law firm near you can review your case and determine whether you qualify to file a case.
How can I afford a lawyer for an AFFF lawsuit?
Many law firms that handle personal injury cases work on a contingency fee basis. This allows plaintiffs who do not necessarily have the funds to afford a lawyer due to their current financial state retain legal representation. With this type of fee agreement, the personal injury lawyer agrees to:
Withhold attorney's fees until their client's case settles and only charges fees if they win their client's case
Be transparent about the cost of their legal services
Use a portion of their client's compensation award to cover their attorney's fees so that the client never has to pay out of pocket
The benefit behind contingency fees is that the client can move forward with their case without any risk of paying for a case they lost. If their lawyer does not earn them a settlement or verdict award, clients are not obligated to pay attorney's fees. 
Fill out our contact form to start working with an AFFF lawsuit attorney
If you discovered that you or a loved one might have been exposed to firefighting foam, which caused you to develop a serious health condition like testicular cancer or breast cancer, you may qualify to file an AFFF lawsuit in your state. A mass tort lawyer near you can help you prepare your case against the appropriate parties, including the government if applicable, and pursue compensation on your behalf. 
Fill out our contact form to start your legal journey. Once you connect with a lawyer, you can decide to file an individual lawsuit or join a mass tort action.