Has the Talcum Powder Lawsuit Been Settled?
Product Liability Injuries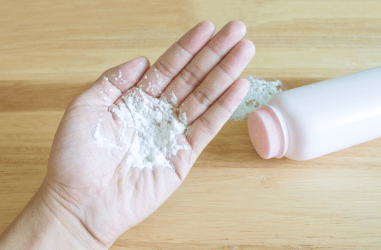 As of June 2022, some talcum powder lawsuits have reached settlements, but thousands are still pending. Many women claimed they developed ovarian cancer after using talc-based powders. An epidemiologist named Dr. Daniel Cramer claimed this product was dangerous when he published his findings that women who used talc-based powders on their genital area were at an increased risk for developing ovarian cancer.
Since then, consumers have filed thousands of lawsuits against Johnson & Johnson and other talcum powder manufacturers. "We sympathize with the plaintiff's family but firmly believe the safety of cosmetic talc is supported by decades of scientific evidence," said Carol Goodrich, spokeswoman for Johnson & Johnson Consumer Companies Inc., according to Reuters. The company reported that it "will continue to defend the product" in court vigorously. If talcum powder harmed you, you may have legal recourse.
Johnson & Johnson Preparing $3.9 Billion for Talc Settlements
In 2019, Johnson & Johnson announced that it'd reserve $3.9 billion to settle lawsuits over its talc products, according to a report in Business Insider.
The settlement would resolve nearly 25,000 lawsuits claimants have filed against J&J related to its talc products. It will compensate women who say they developed cancer after using them for feminine hygiene, as well as cover their legal fees. The company has denied these claims about the harm its products have caused, but multiple courts have ruled in the plaintiffs' favor over the past few years.
Johnson & Johnson's $100 Million Baby Powder Lawsuit
Johnson & Johnson has agreed to settle over 1,000 talcum powder lawsuits for $100 million. The company has been accused of covering up evidence that its baby powder products can cause ovarian cancer and other serious health complications.
The plaintiffs were women who claimed that their use of the company's baby powder and Shower to Shower products caused them to develop ovarian cancer. They argued that the company failed to warn consumers about the risks associated with talcum powder in its products.
Johnson & Johnson is still facing more than 20,000 similar lawsuits from women across the country. In addition, several states are investigating whether the company should be required to warn users about potential toxic contamination associated with talc-based products like baby powder and Shower to Shower body wash.
Settlement Is Overdue for Black & Hispanic Women
The company distributed baby powder through a network of churches and beauty salons targeting specifically Black and Hispanic women. These communities continued to face exposure to these products over the years, especially in areas where women were likely to be less educated.
This shows how racial and ethnic disparities in U.S. healthcare are rife, in addition to facing higher health risks from discrimination. These populations may be more at risk for developing ovarian cancer, mesothelioma, and other related cancers. As a result, several women have sued the company.
While plaintiffs and J&J have settled some of these cases, there are still many active cases that have not yet been resolved. In some cases, the plaintiffs have died before receiving any compensation. Their families are pursuing pursue wrongful death lawsuits against the giant company.
Talcum Powder Lawsuit – Settlement & Recall – Cancer & Mesothelioma
Women have used talcum powder for decades to stay dry and fresh. The soft, white powder is made from talc, a mineral that comes from the earth. It is in many products, including baby powder, body powders, and face powders.
Claims Against Johnson & Johnson
In recent years, many people have filed lawsuits against Johnson & Johnson, claiming that their talcum powder caused ovarian cancer. Johnson & Johnson recently agreed to pay $100 million to settle 1,000 lawsuits claiming that its products contain asbestos and cause ovarian cancer and other serious health problems. This litigation also accuses the powder manufacturer of:
Causing mesothelioma or ovarian cancer to the plaintiffs 
Producing a dangerous product
Using talcum to conceal asbestos contamination
Exposing consumers to an increased risk of cancer without warning them
Making a product that could cause adverse effects on their customers
Injury to the plaintiffs' physical, financial, and emotional well-being
Although the latest lawsuit claims that J&J's talc-based products were contaminated with asbestos fibers, the company continued to sell them without warning consumers about the risks until 2020. At that time, they agreed to recall Baby Powder and Shower to Shower brands of body powders from the U.S. and Canadian market. 
The International Agency for Research on Cancer (IARC) classified talc as "possibly carcinogenic to humans" (Class 2B). This followed several studies showing an increased risk of ovarian cancer in women who regularly used talc-based feminine hygiene products. According to the American Cancer Society (ACS), the most recent study in the International Agency for Research on Cancer classified talc powder among the substances known to be human carcinogens.
Talcum Powder Lawsuit Settlement Amounts
Talcum powder lawsuits are on the rise, with women filing claims that talc-based powders have led to ovarian cancer.
Several large talcum powder settlements have been finalized in this area of law, including the following settlement amounts:
$100 Million Settlement
Plaintiffs have filed more than 1000 lawsuits against Johnson & Johnson, alleging that the talcum powder it manufactured contains asbestos. In October 2020, Johnson & Johnson agreed to pay $100 million to settle these cases.
$29 Million Settlement
In March 2019, a jury in California awarded Teresa Leavitt $29 million. Leavitt was diagnosed with mesothelioma, which the jury determined stemmed from her usage of Johnson & Johnson talcum powder.
$4.6 Billion Settlement
In July 2018, a jury in St. Louis awarded $4.6 billion to 22 women who had sued Johnson & Johnson for causing them to develop ovarian cancer due to using a baby powder that contained asbestos fibers. The women claimed that the use of the baby powder caused them to be exposed to asbestos fibers, which led to their cancer.
$340 Million Settlement 
In August 2017, a jury awarded Eva Echeverria a total of $417 million in damages. Since she had used baby powder daily from the 1950s until 2016, she was in the latter stages of stage 4 ovarian cancer. The jury awarded total damages of $340 million in punitive penalties and compensatory damages of $68 million.
$110 Million Settlement 
Louis Slemp, who was undergoing treatment for severe ovarian cancer that had spread to her liver, was awarded $110 million by a jury in St. Louis in May of 2017. Slemp's illness had spread from her ovary to her liver. She had used baby powder for more than 40 years.
$70 Million Settlement
In November 2016, a jury in California awarded Deborah Giannecchini $70 million as its judgment. She had been using talcum powder for more than 40 years when she was diagnosed with ovarian cancer and was receiving chemotherapy and radiation treatment. The jury decided to award punitive damages of $65 million.
$72 Million Settlement
After more than three decades of using talcum powder for her own personal hygiene, Jacqueline Fox passed away in February of 2016. A jury found that Johnson & Johnson was to blame for her passing. The entire award was $72 million, with punitive damages accounting for $62 million of that amount.
As of June 2022, more than 19,000 lawsuits against the makers of talcum powder allege that their exposure to the product had caused them to get cancer. These individuals were suing the producers of talcum powder. 
Will My Talcum Powder Case Be Handled as a Class Action?
Currently, there are no plans to handle the talcum lawsuits as a class action. The majority of the talcum powder lawsuits are being handled as individual lawsuits. However, a few have been consolidated into multidistrict litigations (MDLs). In 2016, several lawsuits filed against Johnson & Johnson were combined as MDL 2738.
What Is a Class Action Lawsuit?
A class action lawsuit is a type of lawsuit that allows multiple plaintiffs to sue the same defendant(s) while also allowing them to share legal costs. The class representative (or named plaintiff) sues on behalf of all members of the class and seeks to resolve the dispute for all members through one judgment or settlement.
You can bring a class action as either a separate proceeding or as a representative proceeding. In an individual proceeding, each person in the plaintiff class must file his own case against the defendant(s). While in a representative proceeding, one individual sues on behalf of all similarly situated persons.
In talcum powder lawsuits, you can join the MDL and pursue compensation alongside other plaintiffs. You need to consult a talcum powder lawsuit lawyer to determine if you are eligible to start or join one.
What You Need to Prove in Your Claim
Your product liability claim must prove that: 
You must have used a talc-based powder from Johnson & Johnson, such as Johnson's Baby Powder or Shower to Shower powder.
You used the product regularly for at least a year.
You must have been diagnosed with ovarian cancer or mesothelioma.
You must be careful to meet the application deadline according to your state's statute of limitations.
What Is the Average Settlement for Talcum Powder Lawsuits?
Talcum powder claims for mesothelioma and ovarian cancer have no defined average payout amount. Some cases may settle for less than the aforementioned amounts or even more than them — it all depends on the specifics of that case. For example, if multiple defendants are found liable in a single case, then a higher settlement may be warranted based on the total damages involved.
In addition to this lack of standardization regarding average settlements for talcum powder lawsuits, there are other factors that could affect how much money you could receive. 
 The amount to receive depends on:
Level of Exposure
If you were exposed to talcum powder regularly, you might be eligible for a higher settlement than someone who was only exposed once.
Severity of Damages
If you have developed an aggressive form of cancer that is directly linked to your use of talcum powder, you will probably receive a larger settlement than someone who has developed a less serious form of cancer or another birth defect. Life-threatening illnesses may require significant medical treatment, which will increase the amount of compensation awards.
The Type of Damages You Sustained
Since every case is different, as are the damages victims sustained. However, typical damages talcum power lawsuit claimants pursue include:
Past and future medical care costs
Lost income and benefits
Diminished earning potential
Pain and suffering
Disfigurement
Mental anguish
If your loved one passed away from their talcum powder-related complications, you may request wrongful death awards.
Age of the Victim
Younger victims tend to receive higher settlements than older victims because they are more likely to have additional expenses in the future related to their injuries.
Talcum Powder Settlement
A global settlement in the talcum powder litigation is imminent if jurors keep responding to the facts in these cases by awarding enormous punitive damages. This outcome will help the company to avoid dealing with years and years of piling cases of lawsuits. However, this largely depends on the plaintiff and if they feel the settlement would adequately compensate them for the talcum powder damages. 
Get Help with Your Talcum Powder Lawsuit
Since there are pending talcum powder cases to date, you may be eligible to file a lawsuit against Johnson & Johnson and other talcum powder manufacturers after diagnosis with ovarian cancer due to talcum powder. One of the attorneys in our network can help you file a lawsuit and pursue damages, including past and projected medical expenses, pain and suffering, lost wages, lost earning capacity, and other damages that result from your injuries.
Contact us today and let lawyers give you a free case evaluation.