Hernia Mesh Lawsuit
Medical Devices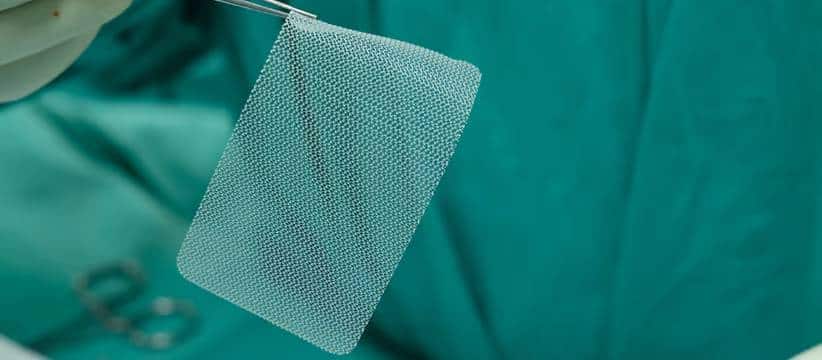 A lawsuit may be an effective way to recover compensation for anyone who suffered physical and mental harm due to faulty hernia mesh. Victims can use—and already have used—such compensation to get the medical care they need and to try to rebuild their lives after a preventable, debilitating injury.
Filing a lawsuit alone—or figuring out if you qualify to join a mass tort action—is not always easy. A hernia mesh lawyer with experience in such cases would be happy to assist you with your hernia mesh lawsuit. Their help could allow you to collect compensation without expending the time and effort that would be better spent recovering from your injury.
Who is liable for injuries from hernia mesh failure?
The party that you sue—also called the defendant—will depend on what type of hernia mesh you used and who manufactured it. In addition, you may be able to sue the surgeon who implanted the mesh, or the medical facility where they work.
Below is a list of some hernia mesh manufacturers who have been sued by others and who you may be able to collect compensation from, as well as the faulty products that have caused harm to patients.
Atrium – Maquet – Getinge Group: C-QUR
Per a New Hampshire District Court document describing a lawsuit against Atrium, Maquet, and Getinge Group (the companies are linked through recent mergers and acquisitions), C-QUR mesh products that were found to be faulty include:
C-QUR
C-QUR Edge
C-QUR Mesh V-Patch
C-QUR Lite Mesh V-Patch
C-QUR Mosaic
C-QUR Tac Shield
You may be eligible for compensation from these companies if you have used any of these products.
Covidien – Medtronic: Parietex
Parietex composite parastomal mesh was voluntarily recalled by the manufacturers in 2018, according to the FDA. This was after Covidien, a subsidiary of Medtronic, received several reports of product failure. The failures required patients to receive revision surgery.
Davol – C.R. Bard: ST hernia patch products
Davol is a subsidiary of C.R. Bard. The Bard Ventrio small oval hernia patch was recalled in 2010 due to a sizing error—the product was not necessarily as large as advertised. This could cause the product to fail after surgery, as it would not have been large enough to fully treat the hernia.
Davol – C.R. Bard: Composix Kugel patch
Per the FDA's recall statement, the Composix kugel hernia patch produced by Bard was recalled in 2007 due to the risk that the product might break once implanted. This increased the patient's risk of bowel perforation.
C.R. Bard: 3Dmax
In 2008, Bard recalled the 3D max mesh due to mislabeling.
C.R. Bard: PerFix Plug and Marlex
The PerFix Plug and Marlex products produced by C.R. Bard have also been named in lawsuits against the company. Their use may cause a variety of health complications in patients.
Ethicon – Johnson & Johnson: Proceed Mesh
Ethicon is a subsidiary of Johnson & Johnson. Per Ethicon's website, Proceed surgical mesh comes in a variety of shapes and variations, including:
Ethicon's ventral patch is also sold under the Proceed brand name.
Ethicon Physiomesh
Another Ethicon product, Physiomesh, has also been the subject of lawsuits. A Georgia District Court document, for example, claims that Physiomesh flexible composite mesh was responsible for "personal injuries to plaintiffs."
Ethicon: Prolene Hernia System (PHS)
Ethicon's Prolene polypropylene hernia system (PHS) comes in sizes ranging from medium to extended. The use of the wrong size by a doctor, or a defect in the product itself, could harm patients.
Who can file a hernia mesh lawsuit?
A mass tort lawsuit lawyer with experience handling hernia mesh cases can tell you whether or not you qualify to file a lawsuit. They can do this by:
Evaluating your case: Many firms offer this service at no cost or obligation to callers. They may ask when you had the hernia mesh implanted, what type of hernia mesh was used, and what injuries you suffered because of the mesh.
Coming to see you: If your injuries are so serious that you are unable to travel, your lawyer can come to see you. This may also have the benefit of allowing the lawyer to see for themselves how the injury has affected your daily life.
Reviewing any evidence you have: It is your lawyer's job to find evidence to support your case. However, if you have any helpful materials (such as photographs or bills for medical care), you can give this to your lawyer.
Reviewing state laws: Each state has its own statute of limitations, or deadline, regarding when personal injury victims may start a lawsuit. Usually, this deadline is within a few years of the injury or your discovery of the injury.
Your lawyer can also tell you if you should file a lawsuit on your own or join a mass tort or multidistrict litigation (MDL) action. The requirements, pros, and cons for each option are often very different, so it is a good idea to seek legal advice before making any decisions.
Hernia mesh failure symptoms
According to the U.S. Food and Drug Administration (FDA), the following symptoms may be a sign that something has gone wrong with your hernia mesh:
Hernia recurrence (the hernia went away and then returned)
Pain in the treated area
Infection (e.g., pain, swelling, redness, and/or tenderness in the treated area)
Bowel obstruction (e.g., pain, swelling, vomiting, and/or inability to evacuate the bowels)
Adhesion of scar tissue (e.g., pain and vomiting, though some adhesions have no symptoms at all, per Cleveland Clinic)
According to a 2021 study published in Annals of Medicine & Surgery, hernia mesh may be an effective way to treat the pain and other symptoms associated with a hernia, even in complex cases. However, hernia mesh complications can have severe and devastating consequences. If you experience any of the above symptoms, please see a doctor right away. They can:
Conduct tests to confirm the cause of your symptoms
Eliminate the possibility that other conditions are causing your symptoms
Perform necessary treatments to fix the problem or relieve your symptoms, including surgery to remove the mesh
Maintain a medical record that can help prove your case if you file a lawsuit
Prompt medical treatment can both save your life and make it easier to receive financial compensation down the road.
What are the grounds for filing a hernia mesh lawsuit?
In order to file a lawsuit, you (or your lawyer) need to prove that you have an injury, it was caused by the hernia mesh, and it could have been prevented if the manufacturer or doctor had taken appropriate precautions. Below is a sampling of some of the grounds on which other plaintiffs have based their lawsuits.
Defective design
This means that there was a flaw in the mesh even before it was manufactured. Something about the product—its shape, its stated purpose, or the material selected to make it—places patients at increased risk of harm. 
Manufacturing defect
Instead of a problem with the design, something went wrong during the manufacturing process. For example:
The product was contaminated by an unsafe material that should not be put in the human body.
A part of the product is weaker than it should be and may fail after it has been in use for months or years.
The product was not put together in the right way.
Improper labeling/failure to warn
When a company knows that there are risks associated with a product, it is their responsibility to warn consumers. They may do this by:
Placing a warning label on the product
Releasing a public statement
Recalling the product, if the risk of injury is substantial
It is also the manufacturer's duty to make sure that the product is placed in the correct packaging. For instance, if the mesh's stated qualities and its actual qualities do not match, a well-meaning doctor may implant a product that is inappropriate or unsafe for a particular patient. In addition, before you undergo any type of medical procedure, your doctor should:
Review all possible risks associated with the procedure with you
Answer all of your questions about the procedure and the associated risks
Tell you about viable alternative treatments
If the doctor fails to do this, then you cannot give proper consent to the medical procedure. In such a case, you may be able to file suit against your doctor instead of (or in addition to) the hernia mesh manufacturer.
Medical malpractice
Medical malpractice occurs when a medical professional or the facility in which they work somehow fails to provide patients with the safe, competent care they are entitled to receive. You may have a medical malpractice case if your doctor:
Used hernia mesh when they should not have: Hernia mesh surgery is not an effective treatment for all hernias. A doctor should determine when hernia mesh will be effective by performing tests and examining your medical history.
Implanted the mesh improperly: The doctor diagnosed you correctly and selected the correct treatment, but they did something wrong during the surgery that led to complications.
Failed to provide proper follow-up care: As with any surgery, your doctor should have talked to you about symptoms you might experience afterward and how to care for yourself properly as you heal. They should also conduct a follow-up exam to determine if further care, including additional surgery, may be necessary.
Failed to warn you about risks: As already discussed, your doctor's job is to make sure you are informed about a surgical procedure before you go under the knife.
How much is a hernia mesh lawsuit worth?
There is no "average" payout for a hernia mesh lawsuit or any other type of lawsuit. The amount a plaintiff can receive—or whether they receive any compensation at all—depends on if they can prove the following chain of events occurred in their case.
One: The party or parties who manufactured and/or implanted the hernia mesh had a legal responsibility to ensure your wellbeing by producing a quality product and/or implanting the product properly.
Two: The party or parties responsible for your wellbeing failed in their duty.
Three: This failure of duty caused the injury over which you are now filing a lawsuit.
Four: The injury has had a noticeable and negative effect on your physical, emotional, and/or financial health.
To show a clear connection between all of these factors, your hernia mesh lawyer will seek evidence such as:
Medical records
Expert testimony, including statements from a doctor who examined you or has acknowledged expertise in treating hernias
Witness testimony, including statements from family and friends who can discuss changes in your health since the initial hernia mesh surgery
Photos or video recordings that speak to any aspect of your case, from the doctor's misconduct to the symptoms you have experienced
Compensatory damages for hernia mesh failure
In personal injury lawsuits, there are two main types of compensation that you can win for your physical, emotional, and financial losses. There is also one type of damage that a jury may decide to grant you based on the specifics of your case. These are:
Economic damages 
Economic damages reimburse victims for the financial damage they sustained as a result of hernia mesh complications. In essence, if you spent or lost any money due to the injury, you could qualify for economic damages. Specific examples include:
Additional surgeries
Medication
Home care
Assistive devices (e.g., a cane or a walker)
Travel expenses related to receiving medical care
Hiring a babysitter to watch your kids while you receive medical care
Hiring a housekeeper or landscaper, if you cannot take care of your property while you recuperate
Paychecks you missed out on when you stayed home to recover
Paychecks you have received since returning to work, if they are less than what you earned before the injury
To prove that you need economic damages, you can show:
Paychecks from before you were injured (to prove how much you normally earned)
Proof from your employer that you were out of work for the stated time period
Receipts and bills from injury-related expenses
Non-economic damages
If you experienced any form of physical or psychological distress due to the injury, you may recover non-economic damages. Specific examples include:
Physical pain associated with the injury
Emotional worry, distress, or discomfort
Psychological anguish requiring psychiatric help
The inability to fulfill familial responsibilities, like cooking or caring for your children
The inability to take care of yourself (e.g., you used to be able to do your own grocery shopping, and now you cannot)
The inability to connect physically, emotionally, or sexually with your spouse the way you did before the injury
Scar tissue and all of the physical and emotional discomfort it causes
The inability to use any body part, such as a limb or an organ, in all of the ways you did previously
Non-economic damages may be harder to prove than economic damages, because there is little in the way of concrete evidence to prove what you have suffered. Potential sources of evidence may include:
Your testimony
The testimony of family, friends, or anyone else who sees you regularly
Any of your treating physicians who can confirm your injuries and how painful they may be
Punitive damages
In some cases, a jury may decide that the defendant's actions are so egregious that they should be forced to pay the plaintiff more than economic and non-economic damages. Punitive damages are awarded in cases where the jury feels a need to further penalize a defendant for extreme negligence or malice.
However, punitive damages are the rarest of all types of damages. They can only be awarded when a plaintiff has especially compelling evidence to prove the defendant's bad behavior.
Hernia mesh lawsuit settlements and verdicts
The amount of money you can receive depends on a wide range of factors, including but not limited to:
The extent of your injuries: In general, the more serious or long-lasting the injury is, the more money the victim may be able to recover.
The strength of the connection between the product and the injury: This is why collecting sufficient evidence is so important.
The jury's decision: In a trial, it is up to the jury to decide how much money you deserve and whether you should receive punitive damages in addition to your main settlement.
The laws in your state: As previously mentioned, your ability to collect damages may be limited in some cases, depending on where you live, the type of case you file, and the type of damages you seek.
Many hernia mesh cases are still ongoing or have not yet been litigated. The settlement amounts in past cases vary widely and include:
A 2010 verdict against C.R. Bard for $1.5 million, to be awarded to a single plaintiff
A 2011 settlement by C.R. Bard for $184 million, to be split among 2,600 plaintiffs
A 2018 verdict against Johnson & Johnson for $35 million, to be awarded to a single plaintiff
There are thousands of other cases still waiting to go through the legal system. If you suffered damages due to faulty mesh or a doctor's negligence during a hernia mesh surgery, a hernia mesh attorney can fight for fair compensation on your behalf.
Will the hernia mesh lawsuit settle soon?
When you receive a settlement is up to either the defendant, if they offer you a fair settlement, or a judge or jury, if the defendant does not negotiate in good faith. In general, receiving a settlement means you will get your money faster than if you have to go through the courts. Your case may go through several different courts, including:
State courts
United States district court
Federal courts
Where your case ends up depends on:
The outcome of your case: If both you and the defendant are satisfied with a lower court's decision, there is no need to take the case any further.
If you decide to appeal: If you do not receive a favorable outcome the first time around, you have the right to keep appealing so long as higher courts keep accepting your case.
If the defendant decides to appeal: Likewise, if the defendant disagrees with a court's decision, they may appeal to a higher court.
The more appeals there are, the longer it will take for you to receive compensation. Having a dedicated lawyer on your side can make it easier for you to handle your case and all of the legal tasks that go with it.
Are hernia mesh lawsuits handled as a class action?
Hernia mesh claims are not class action lawsuits. You do, however, have the right to:
File an individual lawsuit: You and your lawyer will go it alone against the manufacturer or medical entity.
Join a mass tort: You can join your lawsuit with those of victims who suffered the same type of injury as you and face off against one or more defendants.
Join an MDL: A multidistrict litigation is similar to a mass tort, but somewhat larger in scope. You may be able to join your lawsuit with those of victims all across the country.
Mass torts and MDLs can have several advantages over a class action suit, including the ability to file suit against more than one party and to receive a larger amount of compensation (if your injuries warrant that larger amount). However, it is still a good idea to consult with a law firm first to:
Learn about your options in detail: With knowledge of and experience with the law, a legal team is well-equipped to explain how individual lawsuits and mass torts work.
Weigh the pros and cons of each: Some cases may do better if handled on an individual basis, while others may benefit from joining a mass tort or MDL. It all depends on your specific circumstances.
Receive impartial advice: It can be hard to make sound legal decisions when you are angry and in pain following a hernia mesh failure. A lawyer can provide a more neutral view of events so that you can be sure you are making the best possible choices.
Filing a hernia mesh lawsuit
The steps for filing hernia mesh litigation may include the following:
Building a case by collecting evidence, like documentation, expert testimony, and more
Filing your case with the proper parties, including the defendant and the appropriate court
Meeting with the defendant's representatives to try to come to a prompt, mutually agreeable settlement
If the defendant offers you a fair settlement during negotiation, your lawyer can draw up the agreement for your signature. Once you receive compensation, this marks the end of your hernia mesh case. However, if the defendant refuses to negotiate or only offers a settlement that does not meet your needs, you may have to take your case to trial. This involves:
Arranging court dates
Organizing evidence into trial exhibits to be submitted to the court
Exchanging evidence and other documents with the defendant
Paying court fees, deposition fees, and other legal expenses
Filing briefs, motions, and other legal documentation
Delivering opening and closing arguments
Presenting your case before a judge and jury
Preparing witnesses to testify on the stand
Questioning and cross-examining witnesses
Trials can be very time-consuming and strenuous for both sides. This is why many defendants end up settling out of court; it is cheaper and easier to offer a settlement than it is to go to court, especially if the plaintiff has strong evidence on their side.
Hernia mesh lawsuit lawyers
To get help with your hernia mesh lawsuit, fill out a contact form today. A hernia mesh lawsuit lawyer in our nationwide network can evaluate your case, figure out the best course of action, and take all possible steps to get you fair compensation. In this way, our team hopes to enable medical malpractice and defective product victims to get the monetary assistance they need.