How Much Do You Get for a Hernia Mesh Lawsuit?
News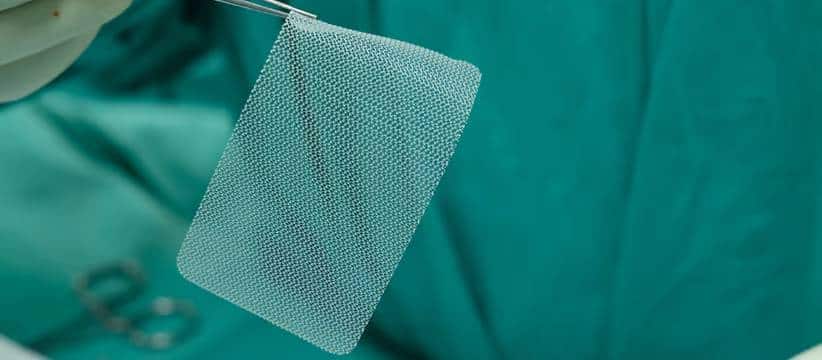 If you or someone you know had hernia mesh surgery, you may have suffered complications. You are not alone, as thousands of hernia mesh patients have experienced serious health problems after their surgeries. Depending on the outcome of your surgery, you may qualify for financial compensation. 
While not all patients need it, most hernia operations use mesh – in fact, more than 1 million hernia mesh operations are performed in the United States every year. Hernia mesh operations are intended to prevent hernias from coming back. But unfortunately, these operations can also come with a high level of side effects.
Hernia mesh failures occur for thousands of patients, and sometimes a lawsuit is the best way to get compensation for your injuries. What is the average payout for a hernia mesh lawsuit? Keep reading to learn more.
What Is Hernia Mesh Failure?
Net-like hernia mesh is intended to be a permanent addition to the patient's body. The mesh keeps the patient's organs in the right place and also helps prevent hernias from coming back. If the mesh fails, the patient can suffer serious health issues, discomfort, and financial hardship. 
Lawsuits brought on by hernia mesh patients allege there are defects in certain kinds of mesh that make it more likely to fail. The hernia mesh must be surgically removed if it causes complications. Hernia mesh failure can also cause infection, bowel obstruction, and other life-threatening health problems.
How Long Does a Hernia Mesh Lawsuit Take?
Every case is unique, and the timing of any lawsuit depends on a number of factors. For example, the timeframe of your hernia mesh lawsuit could be affected by: 
The types of health problems you have experienced
The amount of time it takes your hernia mesh attorney to investigate and prepare your case
The track record of your medical team
Hernia mesh lawsuits are usually more complicated than other kinds of personal injury lawsuits. Medical cases of any kind require intense amounts of research, not only for the faulty product itself but your medical history as well.
If your case goes to trial, there will likely be significant reviewing and motions. Extensive research is needed to link your medical setbacks to the correct source, whether it is the hernia mesh material, the medical team who performed your hernia mesh operation, or a combination of the two. Therefore, hernia mesh lawsuits may take years to be resolved. 
Class-Action and Multidistrict Litigation (MDL) Lawsuits
Sometimes, when there are many plaintiffs suing a company for the same basic reasons, large numbers of cases may be lumped together. In the case of hernia mesh lawsuits, plaintiffs who are in the same "class" get placed under one umbrella.
These cases, if settled, will each get the same amount of financial compensation. However, class-action lawsuits often take as long as three years to resolve. In very special circumstances, they might be settled in under a year, but that is considered rare.
Some federal courts have tried to speed up the legal process for hernia mesh cases. The courts have placed many of these lawsuits into multidistrict litigation (MDL) to help the people suffering from hernia mesh complications see resolution faster. 
Understanding How Hernia Mesh Settlements Work
As with many legal matters, hernia mesh settlements can be complicated. If you seek a settlement for your hernia mesh failure, you have your own individual case. However, depending on the circumstances of the overall hernia mesh litigation, your case may be settled collectively. 
How an Individual Settlement May Work
Consider this hypothetical example:
If your hernia mesh attorney negotiates on your behalf with the mesh manufacturer and reaches a settlement agreement you both approve, that agreement ends the case. You as the plaintiff would receive financial compensation for your medical expenses, pain and suffering, lost wages, and other losses in a mutually agreed-upon amount.
For the corporation, a settlement means saving the time and money required to fight the case in court. It also prevents the company from being judged as "wrong" by a jury and possibly paying higher punitive damages intended to punish the corporation for its transgressions. 
Depending on the circumstances surrounding your case, you may qualify for compensation to help pay for medical expenses that resulted from your hernia mesh complications. These medical expenses could include procedures to correct the problem and/or remove the hernia mesh.
Other expenses might include loss of wages while you recover from your medical procedures. You may also be able to seek compensation for future lost earnings if you will continue to miss work. 
You may also receive financial compensation for your pain and suffering and other expenses that are not tied to a specific dollar amount. As such, non-economic damages are more difficult to estimate because each person's case is unique to them. Your hernia mesh lawyer can calculate these damages for you.
Once the settlement is reached, the case ends. You as the plaintiff then drop the case. 
How Multidistrict Litigation May Work
As stated above, MDLs or class-action lawsuits combine individual cases into one federal court case. The legal process generally moves much faster for individual cases this way. The court system also saves time on pre-trial measures like discovery, witness depositions, and many other procedures.
After these pre-trial processes are finished, the judge (or judges) allows a small number of what are called "bellwether trials" to be tried in the courtroom. These cases often determine how future settlement negotiations may proceed.
When Do Companies Decide to Settle?
If the defendant is soundly defeated in these "testing the waters" cases, they may choose to have serious settlement discussions with plaintiffs' counsel sooner rather than later. Several definitive courtroom losses can also lead the company's decision-makers to settle the remaining cases out of court to reduce bad publicity and high judgments against them. 
However, if the defense is victorious in the bellwether trials, the company may decide to continue pursuing courtroom victories to bolster their public image and avoid paying settlements to the large number of cases that have not been tried in court. 
Global Settlements
If a company decides to settle, it can do so by paying a global settlement. This is an agreed-upon lump settlement amount established to pay all the claims against the company. Not every person would get the same amount in a global settlement.
If one plaintiff needed several surgeries to correct their hernia mesh issue, that plaintiff would likely receive a higher payout than a plaintiff who needed no surgery. 
Current Hernia Mesh MDL Lawsuits in the United States
As of this writing, there are three multidistrict litigation (MDL) lawsuits involving hernia mesh manufacturers in this country:
Georgia
From the United States District Court in the Northern District of Georgia:
Case 1:17-md-02782-RWS:  Ethicon Physiomesh Flexible Composite Hernia Mesh Products Liability Litigation
Ohio
From the United States District Court in the Southern District of Ohio:
Case 2:18-md-2846: Davol, Inc./C.R. Bard, Inc., Polypropylene Hernia Mesh Products Liability Litigation
New Hampshire
From the United States District Court in the District of New Hampshire:
Case No: 16-md-2753 LM : Atrium Medical Corp. C-Qur Mesh Products Liability Litigation
Have There Been Any Hernia Mesh Settlements?
Over the last decade, there have been several hernia mesh group settlements. Some prominent examples are listed below. 
Ethicon Mesh (2016)  
In 2016, Ethicon paid $120 million to settle thousands of hernia mesh cases. These lawsuits claimed that Ethicon's mesh products were dangerous and the company did not inform doctors and patients of these dangers. About 3,000 women filed lawsuits, claiming the mesh broke down in their bodies and injured their surrounding organs.
Pinnacle (2015)
In 2015, manufacturer C.R. Bard (Bard) paid $119 million to settle nearly 3,000 lawsuits alleging their pelvic mesh was defective and caused severe side effects, including pain, bleeding, and infections. Many of the plaintiffs claimed they needed additional surgeries to remove the mesh from their bodies. 
Second Pinnacle Settlement (2015)
The first batch of 3,000 cases was not the end of Bard's 2015 settlement expenses. Soon after the above cases were settled, Bard agreed to pay another 3,000 plaintiffs an additional $200 million. As with the previous cases, these lawsuits stemmed from complications resulting in adverse side effects from the Pinnacle hernia mesh device. 
Endo International (2014)
American Medical Systems' parent company, Endo International, settled 20,000 lawsuits from plaintiffs alleging that its Elevate, Apogee, and Perigee hernia mesh products caused various side effects and injuries. The company paid $830 million to settle the cases.
Approximately six months later, the company paid hundreds of millions of dollars more to settle another 10,000 cases. Endo International would ultimately pay over $1 billion in 2014 to satisfy lawsuits against the company.
Endo International (2013)
Perhaps as a harbinger of things to come, Endo International settled 7,000 hernia mesh lawsuits to the tune of $54.4 million. 
Kugel (2011)
Bard paid approximately $184 million in a 2011 global settlement. A total of 2,600 plaintiffs alleged their Kugel hernia mesh products caused them to suffer from various injuries, including abscesses and fistulas.
What Is the Status of Today's Hernia Mesh Lawsuits?
Many victims of hernia mesh failure and subsequent medical complications have been waiting years for justice. Because of COVID-19, many cases were stalled. With the courts gearing up for trials again, two hernia mesh trials are due to start very soon. 
For the last 10+ years, we have seen thousands of people file lawsuits against hernia mesh manufacturers. These individual claims allege the plaintiffs suffered serious medical setbacks because of the poorly-designed mesh used in their hernia operations. As noted above, thousands of these cases have been consolidated into three separate MDL lawsuits in New Hampshire, Ohio, and Georgia.
Lawsuits Against Atrium Medical Corporation
There is also a growing number of lawsuits against Atrium Medical Corporation, makers of the ProLite, Strattice, and ProLoop mesh. These lawsuits claim the material used in Atrium's mesh will degrade in the human body over time, negating the intention of the procedure as a permanent solution. These lawsuits also contend that Atrium ignored scientific evidence clearly showing their product is defective. 
The company is opposing efforts by several plaintiffs' lawyers to consolidate the Atrium lawsuits into a new MDL. Unless there are further delays, there will be a March 2022 hearing to determine if the ProLite and ProLoop lawsuits will be combined into the fourth MDL for hernia mesh lawsuits.
Hernia Mesh Lawsuit Settlement Amounts in 2021
In 2021, Atrium Medical Corporation agreed to a global settlement for their previous batch of hernia mesh lawsuits, and Bard settled over 5,000 lawsuits in Rhode Island State Court. 
To qualify for a settlement, potential plaintiffs must file their lawsuits within that jurisdiction's statute of limitations. A skilled hernia mesh attorney can explain your state's statute deadlines and assist you in filing the paperwork correctly and on time. Missing these deadlines could lock you out of any potential financial compensation for your medical expenses, pain and suffering, lost wages, and more. 
Please be aware there is no current settlement average in hernia mesh litigation. As more cases move to trial, the pending results could significantly impact how the defendants respond. 
When Should I See a Doctor?
The timeline for side effects from hernia mesh operations is difficult to predict. Complications may arise within weeks of the procedure, or they could manifest months or even years later.
If you have had a hernia mesh operation, you will need to monitor yourself for any changes in your health after your procedure. Some signs can be obvious, but others are more subtle and easy to miss. Consult a doctor right away if you suspect that you have side effects from your hernia mesh procedure. 
Consult a Hernia Mesh Lawsuit Attorney Today
The lawyers in our network are dedicated to raising public awareness about defective or harmful products released by negligent companies. Consumers like you deserve to know about the potential dangers you could face by using toxic or faulty products and medications. 
We believe in holding these companies responsible for their actions. To learn more about your legal rights and if you might qualify for financial compensation stemming from your hernia mesh operation, visit us online today or call 1-844-44TORTS (1-844-448-6787) to schedule your free case evaluation.