Philips Recalls Millions of CPAP Ventilator Machines
Medical Devices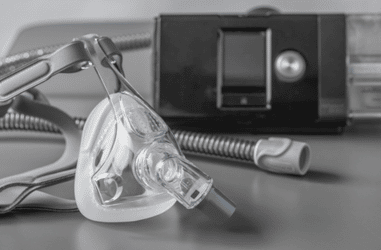 If you or someone you love uses a CPAP ventilator made by Royal Philips NV (Philips), you may be at risk of exposure to cancer-causing particles. The company has recalled several million of its sleep apnea ventilators due to the foam used in the devices. This foam has the potential to break down into harmful particles that users can inhale. 
The foam in question is installed to help reduce the noise level of the machines, allowing users to sleep more peacefully. According to Philips, the company has received consumer complaints about the foam, which can degrade over time into particles. Some users experience headaches and breathing issues after inhaling these particles created by the foam. The company also warned the foam might release harmful gases, which users could also inhale. 
How Many CPAP Machines Are Being Recalled and Why?
A company spokesperson for Philips revealed that between 3-4 million machines are currently being recalled, with over half of the affected machines located in the United States. Of the machines being used, approximately 80% are used by people with some form of sleep apnea – a condition that severely disrupts sleeping patterns. People with sleep apnea wake up frequently during the night, preventing restful sleep. The remaining 20% of machines that are being recalled are used for patients on life support systems. 
FDA Warnings About Philips CPAP Devices
The U.S. Food and Drug Administration (FDA) warns the risks associated with Philips breathing devices may be life-threatening, cause permanent impairment, and require medical intervention. 
According to the FDA, the health risks caused by exposure to the degraded foam particles include:
Asthma
Skin and respiratory tract irritation
Toxic or carcinogenic effects on the kidneys, liver, or other organs
The agency also intends to add Trilogy Evo ventilators and Trilogy Evo repair kits to the recall list. 
How CPAP Machines Work
CPAP machines help people with sleep apnea get better sleep by forcing air into their lungs. With this additional air, CPAP users are much less likely to have their sleep disrupted due to a lack of oxygen. 
People who suffer from sleep apnea are at greater risk of:
Hypertension
Heart failure
Heart attacks
Stroke
Quality of life issues
Recall Notification Advice for CPAP Patients and Customers
If you suspect you are using one of the recalled Philips CPAP machines, experts recommend that you do not stop using the device until you meet with your health care provider or breathing specialist. 
Depending on your specific condition, alternate options for the machine may not be available or may be limited, especially if you use the device for life-sustaining therapy. After assessing your case, your healthcare provider may recommend that you continue using your CPAP machine – especially if you are at greater risk of injury by not using it. 
Possible Filter Alternative for Your CPAP Machine
An inline bacterial filter may improve how your device filters the foam particles. Before using the filter, talk to your healthcare provider. While there is some belief that inline bacterial filters may help, the FDA warns there is no evidence to support the use of these filters at this time. 
One hazard of adding the filter to your CPAP machine is how it can affect air resistance. If the filter increases air resistance in the machine, the machine's benefits to you are lessened. Also, the inline bacterial filter does not block exposure from the carcinogenic gases the degraded particles may release. 
If your healthcare provider recommends adding the filter to your CPAP machine, be sure to check for any increases in air resistance and foam debris accumulation.
Additional Recall Information
Most of the recalled CPAP machines gave no indications of any malfunction. If you live in a climate with higher heat or humidity, the sound-dampening foam in your machine may degrade into black particles faster. 
Philips also warns that certain cleaning products can accelerate foam degradation, such as ozone-based cleaning devices. After Philips made this claim and specifically named SoClean equipment, that manufacturer sued Philips on what it claimed was a "smear campaign."
Possible Health Risks of CPAP Machine Foam Particles
On September 1, 2021, Philips announced a plan to either replace or repair the defective CPAP machines. However, it might take up to a year to complete this process. Further complicating matters, the FDA released an update saying the replacement foam for the machines may also pose safety risks. 
According to the FDA, Philips knew back in 2015 that the foam in its CPAP machines – known as PE-PUR – could possibly degrade. 
Symptoms of Exposure to Philips CPAP Machine Foam Particles
There are several possible short-term and long-term health risks associated with using the affected Philips CPAP machines, including:
Headaches
Skin irritation
Allergic reactions
Coughing
Shortness of breath
Nausea
Vomiting
Asthma 
Liver problems
Kidney problems
To date, there have been no deaths linked to Philips CPAP machines. 
Potential Health Risks of Inhaling PE-PUR Foam Chemical Emissions
Short for polyester-based polyurethane, PE-PUR foam is used to reduce sound not only in breathing ventilators but other medical devices as well. When used in breathing and ventilator machines, this foam may break down into black particles that users can ingest.
PE-PUR foam may also release chemicals into the pathway of the machine that users can inhale. Both the particles and chemicals have the potential to be life-threatening. Users may be at risk of permanent injury and may need medical procedures to avoid any permanent health issues. 
While several complaints have been lodged against Philips, no definitive link to symptoms has been established. However, some CPAP users have noticed black particles in their devices and become concerned. Some of the symptoms mentioned in the complaints include:
Upper airway irritation
Coughing
Chest pressure
Sinus infection
Potential Risks of CPAP Particulate Exposure vs. Chemical Exposure
While some of the reported side effects of Philips CPAP machines are listed above, it may be helpful to understand the different side effects for black particle exposure (particles of foam) vs. chemical exposure (gases released from foam).
Potential Risks of Particulate Exposure 
The risks of ingesting particles of PE-PUR foam from a Philips CPAP machine include:
Skin irritation 
Eye irritation
Respiratory tract irritation
Inflammatory response
Headaches
Asthma
Toxic or carcinogenic effects to the kidneys, lungs, or other organs
Potential Risks of Chemical Exposure
The risks of being exposed to chemicals released by PE-PUR foam from a Philips CPAP machine include:
Headaches
Dizziness
Eye irritation
Nose irritation
Respiratory tract irritation
Skin irritation
Nausea
Vomiting
Toxic or carcinogenic effects to kidneys, lungs, and other organs
Toxic Gases Produced by Philips CPAP Machines
Philips warns that their recalled CPAP machines may cause life-threatening side effects, including the risk of cancer. When the PE-PUR foam breaks down, toxic gases produced include:  
Toluene diamine
Toluene diisocyanate
Diethylene glycol
Dimethyl diazine and phenol
Philips CPAP Machine Repair and Replacement Program
When Philips announced its CPAP repair and replacement program, the company offered to replace the defective foam with new material. Unfortunately, the company did not have replacement devices ready. 
To combat this problem, Philips announced that it would step up the production of the DreamStation 2 machines. The company claims these devices are not affected by the foam breakdown issue.
Replacement and Repair Program Update 
In a recent quarterly report, Philips mentioned the replacement and repair program was "underway." Specifically, the statement said:
To date, Philips has produced a total of approximately 750,000 repair kits and replacement devices, of which more than 250,000 have reached consumers.
Again, the company expects the program may take up to a year to complete.
Philips CPAP Machine Lawsuits
Philips has already been the subject of several individual lawsuits and class-action lawsuits. The suits claim the company was negligent in warning users of its CPAP products about the possible dangers. The suits also allege the company either should have known about the foam issues sooner or did know about the issues years ago.
The lawsuits also criticize Philips for recalling the CPAP machines without having replacements ready for users. Currently, plaintiffs are left to their own devices to find a replacement or alternative therapies for their breathing issues. 
Legal experts expect the number of lawsuits to increase in the coming months. All lawsuits related to the Philips CPAP machines were recently ordered to be gathered for pre-trial proceedings in Western Pennsylvania by the U.S. Judicial Panel on Multidistrict Litigation (JPML).
More About CPAP Machines and Sleep Apnea
Over time, users have found that the Philips CPAP machines in question produce similar side effects to other CPAP machines on the market. Users sometimes have difficulty sleeping the first few nights as they adjust to wearing a CPAP machine. They often complain that the masks are uncomfortable. Some users also complain about improper air pressure. 
CPAP machines are a common treatment for sleep apnea, a sleep disorder that blocks a person's airway while they sleep at night. This blockage may be partial or complete and wakes up the person several times during each sleep cycle.
There are two main types of sleep apnea – obstructive sleep apnea and central sleep apnea.
Obstructive Sleep Apnea
Known as obstructive sleep apnea or OSA, this condition causes the soft tissue in the back of a person's throat to relax while sleeping. The relaxation of this tissue blocks the person's airways, interrupts their breathing, and can pose major health risks over time. 
If you suffer from obstructive sleep apnea, you are probably familiar with the feeling of being jolted awake in the middle of the night – this is your brain's way of protecting you so you can start breathing again. You also probably wake up multiple times while sleeping and snore a lot (or are told you snore by your spouse or other loved ones). When you wake up, you may find yourself gasping for breath.
Simply feeling tired the next day is not the only side effect of obstructive sleep apnea. Long-term issues may include an increased risk of:
High blood pressure
Heart attack
Stroke
Depression
Central Sleep Apnea
Central sleep apnea is different from obstructive sleep apnea, even though they may seem similar. While obstructive sleep apnea causes tissues in the throat to relax and obstruct breathing, central sleep apnea originates in a person's brain. 
When your brain does not send the right signals at the right time to your breathing muscles, you stop breathing momentarily. Like obstructive sleep apnea, your breathing stops and starts multiple times throughout the night.
Of the two, obstructive sleep apnea is far more common.
When to See a Doctor
If you wake up each morning feeling tired, it's likely that you are not getting quality, uninterrupted, restful sleep. Talk to your healthcare provider about scheduling a sleep study. Your doctor may want a complete history of your sleep issues, including input from a spouse or loved one who sleeps next to you. Depending on your doctor's recommendation, you may be referred to a sleep specialist for additional insight and evaluation. 
Get a Free CPAP Machine Case Evaluation Today
If you use a Philips CPAP machine with PE-PUR foam, your health may be at risk. Be sure to check your device's serial number to find out if it is one of the recalled units.
Has your health been affected by a faulty Philips CPAP machine? If so, you may be entitled to financial compensation. The lawyers in our network are here to help you.
We are dedicated to fighting for the rights of people who get hurt by faulty products produced by negligent companies. Some companies knowingly and willfully sell products they know are defective for the sake of corporate profits. Consumers like you deserve to have their voices heard.
Contact Us for Help
If you or someone you know has suffered severe health issues after using a Philips CPAP machine or any other defective product, contact us today. We will fight for you and help you seek the compensation you deserve. 
To connect with a Philips CPAP Lawsuit lawyer from our network, visit us online or call 1-844-44TORTS (1-844-448-6787) for a free case review.