Potential Cause of Cancer: Should You File a Talcum Powder Lawsuit?
Product Liability Injuries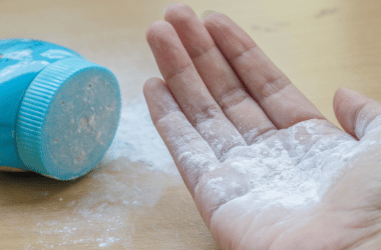 Talcum powder lawsuits have been making headlines recently. Many women have used talcum powder for feminine hygiene for decades, and now some of them claim that this product caused their ovarian cancer. If you or someone you love has been diagnosed with ovarian cancer after using talcum powder, you may be considering filing a talcum powder lawsuit.
Claimants have filed these talcum powder lawsuits all over the country, and the number of cases seems to be growing. The lawyers bringing these cases against talc manufacturers argue that these companies knew about the link between talc and ovarian cancer for years but failed to warn consumers. The big question is whether these claims are legitimate. There's no doubt that many women use talcum powder regularly, but do they really need to file a talcum powder lawsuit?
Talcum Powder and Talc Exposure Claims, Lawsuits, and Settlements
Talcum powder is made from talc, a soft mineral that is mined from the earth. Consumers use it on babies and children to prevent diaper rash, but some people also use it to absorb moisture and keep skin dry. Talcum powder has been linked to deadly cancers in women who use it for feminine hygiene. Many products contain Talcum powder, including baby powders, foot powders, and adult body powders.
However, some studies have shown an increased risk of developing ovarian cancer when women use these products on their genital area. For decades, Johnson & Johnson sold their brand of talcum powder, Baby Powder, and Shower to Shower without any warnings about the potential health risks associated with it. It wasn't until 2020 that the company withdrew the product from the US and Canada. Later, many women filed lawsuits against Johnson & Johnson, alleging that they developed ovarian cancer after using their products.
Talc powder lawsuits are popular because they have produced multimillion-dollar verdicts for plaintiffs who sued the company for failing to warn consumers about the risks associated with using their products. In fact, these cases have resulted in several hundred million dollars in settlements so far!
List of Talcum Powder Lawsuit Verdicts
Recently, there have been numerous talcum powder lawsuits against Johnson & Johnson and other companies that produce talcum powder. The plaintiffs claim that talcum powder caused them to develop ovarian cancer or mesothelioma.
Below is a list of some verdicts from recent talcum powder lawsuits:
$753.73 Million Verdict
Four New Jersey women received $37.3 million in compensatory damages and another $750 million in punitive damages in their suit against Johnson & Johnson (J&J). The company was found liable for failing to warn consumers about the link between ovarian cancer and talc-based products, including Shower to Shower and Baby Powder. It is anticipated that the punitive award will be reduced to $185 million.
$4.69 Billion Verdict
In 2018, a St. Louis jury ruled in favor of 22 women who claimed that their use of Johnson & Johnson's talcum powder products caused them to develop ovarian cancer. The verdict set the record among the largest awards for Talc settlement. 
$110 Million Verdict
In 2017, Lois Slemp was awarded more than $110 million after a jury found that she developed ovarian cancer from using Johnson & Johnson's baby powder and shower-to-shower products for years.
$70 Million Verdict
In May 2016, a California jury ordered Johnson & Johnson to pay $70 million in damages to Deborah Giannecchini, who had ovarian cancer after using baby powder for decades. She was diagnosed with cancer after using the product for years. 
$55 Million Verdict 
In 2016 a jury awarded $55 million to Gloria Ristesund who had been using Johnson & Johnson's Baby Powder for decades before being diagnosed with ovarian cancer. The jury determined that Johnson & Johnson should have warned consumers about the risks.
Criteria for a Talcum Powder Lawsuit
If you have been diagnosed with ovarian cancer and believe that your talcum powder use may have contributed to your condition, it is important to talk to a personal injury lawyer to help you file a lawsuit.
One of the first things you should know about filing a talc lawsuit is that you must have used talc products between 22 and 65 years old. If you were not exposed to talc through these products, there would be no link between your exposure and your illness; therefore, you will not be eligible to collect damages.
You must prove that you received an ovarian cancer diagnosis between 2000 and now. As such, the link between ovarian cancer and talc only recently became known. Also, women with BRCA genes will likely be unable to file suit. According to the National Cancer Institute, up to 44% of women who inherit a BRCA1 variant and up to 17% who inherit a harmful BRCA2 variant will develop ovarian cancer by 70–80 years of age. These inherited genetic mutations are linked to ovarian cancer. 
Recoverable Damages 
If you have had ovarian cancer after using talcum powder products for years, you may be able to recover damages from the manufacturer of those products. Recoverable damages include:
Medical bills for past and future care
Loss of consortium 
Physical pain and suffering 
Mental anguish
Lost income and wages
Loss of enjoyment of life
Reduced life expectancy
If your loved one has developed ovarian cancer due to exposure to talcum powder and has died, you may be eligible for compensation through a wrongful death suit.
What Is the Talcum Powder Lawsuit Statute of Limitations?
The period a person must file a lawsuit varies from state to state. The state of Maine, for example, has one of the most generous statutes of limitations in the country — it allows up to six years from the date of injury to file a lawsuit. However, other states do not allow that much time. For example, in Louisiana, you usually have one year to take legal action.
The State May Toll The Statute of Limitations
However, as with many legal issues, there are exceptions to these general rules. For example, some cancers have unusually long latency periods—meaning that someone might not know they have cancer for many years after it has developed.
As such, if you have been diagnosed with ovarian cancer or mesothelioma after using talcum powder products for decades, you may be able to extend the statute of limitations by bringing your lawsuit under a "discovery rule." Under this rule, you can file a lawsuit as soon as you learn about your illness.
The discovery rule is especially important in cases involving asbestos exposure because many people don't discover they have cancer until decades after the exposure.
Wrongful Death Cases
In wrongful death cases, regardless of which state you live in or where the defendant resides, the statute of limitations begins on the date of death. This means that if an individual dies from exposure to talc and you want to file suit against a manufacturer for wrongful death damages, you must do so within your state's statute of limitations. This timeline begins from the date when he or she died.
Overall, it is always beneficial to speak with a talcum powder lawsuit attorney as soon as possible so that they can help you determine whether or not you have grounds for bringing a talcum powder lawsuit. As a result, it will be more likely to develop filing strategies early and meet deadlines. 
What Is the Average Settlement for Talcum Powder Lawsuits?
The settlement amount for talcum powder lawsuits can range widely. Some plaintiffs have received multimillion-dollar settlements, while others were awarded damages in the tens of thousands.
Also, the average settlement for ovarian cancer talcum powder product liability injuries is unknown because some cases are settled before they go to trial. When product manufacturers agree to settle out of court, they attach a confidentiality clause to the settlement, which keeps the settlement details out of public view. However, juries have rendered verdicts that honored damages in generous amounts.
The following are factors that can affect your settlement payout:
The Severity of Your Injuries
If your injuries are minor, the payout will likely be less than if they are more serious. Minor injuries are often easily treatable without specialized medical care. Severe injuries may require surgery or other treatment that carries a greater risk of complications. For example, the settlement payout would be higher if you suffered an amputation due to talc powder.
The Strength of Your Overall Talc Powder Lawsuit
If your case went to trial, then it's likely that there would be a significant settlement amount. You must prove negligence on the part of Johns & Johnson or other companies who manufacture products with talcum powder to make a strong case.
Your Age at the Time of Injury or Illness
An older person would probably have more difficulty recovering from their illness than a younger person who may have been able to return to work sooner than someone older than them. As a result, the older person may need more financial support.
Available Assets to Settle the Case
Some defendants have more money available for settlements than others. For example, large corporations like Johnson & Johnson can afford to pay millions or even billions of dollars in settlements so long as they don't go bankrupt due to paying out all those damages claims.
In other cases, companies do not have sufficient assets, so they may end up declaring bankruptcy or going out of business altogether, which means that plaintiffs may not receive any significant compensation.
It's Not Too Late to File a Talc Lawsuit
If you or a loved one has been diagnosed with ovarian cancer, it's not too late to file a talc lawsuit. The clock doesn't start ticking on your lawsuit until after you have been diagnosed with ovarian cancer. So if you were diagnosed after 2000, you still have time to file suit for toxic contamination.
But after discovering your injuries as a result of talc exposure, there isn't much time left before the deadline. You will need to do several things to protect your rights and fight for compensation for your injuries.
Seek Medical Attention
After suffering from talcum powder exposure, the first thing you should do is seek medical attention immediately. An oncologist will be able to determine whether your exposure resulted in any health problems, including:
Coughing up blood (hemoptysis)
Difficulty breathing
Chest pain
Constipation and other bowel changes
Pelvic-area discomfort
Frequent urination
Loss of weight
Vaginal bleeding or abnormal discharge
Gather All Evidence Related to the Usage of Talc Powder
You will also want to gather any evidence related to your use of talcum powder and its potentially harmful effects on your body. This documentation could include receipts for purchases made at stores where such products were sold, personal notes about how much time you spent using these products, or any other documentation related to your use of these substances that could help prove your case.
Get a Personal Injury Lawyer
Unfortunately, many people believe that they cannot afford legal representation regarding Talcum powder lawsuits. However, most law firms offer free case evaluations and can explain your options and how best to proceed.
They will help you file a case against the company or possibly join other victims in a class-action lawsuit. Most importantly, you'll get help navigating the legal system, so you don't have to do it alone.
Take Action with the Help of a Talcum Powder Lawyer
If you or a loved one has been exposed to talcum powder, you should contact a firm that handles talcum powder cases as soon as possible. A talcum powder lawyer will help you determine if your talcum powder claim is legitimate. If so, they can seek compensation for your injuries on your behalf.
We maintain a network of lawyers who can help ensure that the product manufacturer is held responsible for their negligence in producing an unsafe product. Contact us today for a free consultation with one of the lawyers within our network.