Pursuing Paraquat Lawsuit Settlement
Product Liability Injuries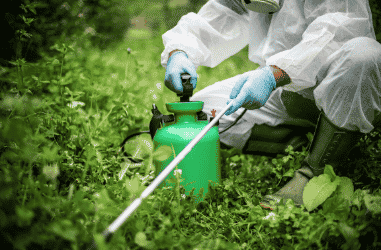 People who were exposed to Paraquat are at an increased risk of developing Parkinson's disease and other health problems. The manufacturer is legally responsible for any damages if the chemical was used appropriately yet caused injuries. This type of civil lawsuit is known as product liability law and is one of the most common forms of legal action in America today.
Pursuing a Paraquat lawsuit settlement is the first step toward recovering the damages that you have suffered from Paraquat. While pursuing a legal solution may not be your only choice, it could be beneficial, especially if your case results in an optimal outcome. If you or a loved one has been diagnosed with an illness caused by Paraquat exposure, a Paraquat personal injury attorney can tell you more about your legal rights and options.
What Is Paraquat?
Paraquat is an herbicide for use on crops, woody plants, and some grasses. It's a chemical that has been used in agriculture for over 50 years. Professional landscapers also use it to kill weeds and brush, and it's sold under several brand names.
Paraquat is still used today to control many types of weeds throughout the United States and around the world. However, it has also been found to be toxic to humans in high doses. Its poisoning can be deadly, especially to children who play in areas where the chemical was sprayed.
Who Is at Risk of Paraquat Exposure?
The most likely people to be exposed to Paraquat are those who work with it in the following ways:
Groundskeepers: Paraquat is used to control weeds and grasses on golf courses, soccer fields, and athletic fields. Groundskeepers using Paraquat may be exposed through direct contact with the substance or by inhaling the dust or vapors. 
Farmers: Farmers may be exposed to Paraquat while spraying weeds on their crops or pastures. 
Growers: Growers may be exposed when using Paraquat in commercial crop production settings such as nurseries or greenhouses.
Pickers: Pickers are the people who gather plants for use in agriculture or landscaping. They are often exposed to pesticides during this work.
Herbicide applicators: Herbicide applicators are exposed to the herbicide while applying it, and they may inhale it while blowing it into the field. 
Chemical mixers: Chemical mixers mix herbicides, which can result in accidental exposure to Paraquat. 
Tank fillers: Tank fillers are people who fill up pesticide tanks with pesticides before they are used on fields. Tank fillers tend to expose themselves while filing herbicides on tanks before they are used on the fields. 
According to the Occupational Safety and Health Administration (OSHA), workers may be at risk of poisoning if they:
Handle contaminated tools or equipment that weren't properly cleaned between uses
Handle chemicals in poorly ventilated areas
Use their face masks improperly
Expose themselves to toxic substances on their clothing
Smoke while working with weedkillers
Paraquat Linked to Parkinson's Disease
There is a growing body of evidence that Paraquat exposure can cause Parkinson's disease, a neurodegenerative disorder that affects motor function and can cause symptoms such as tremors, rigidity, slowness of movement, and cognitive difficulties.
In 2002, a study published by the National Library of Medicine found Paraquat responsible for causing Parkinson's disease in mice. The study showed that Paraquat exposure caused dopaminergic neurons in the substantia nigra to degenerate. The substantia nigra is a part of the brain responsible for controlling movement, balance, and other functions related to movement.
Filing a Paraquat Lawsuit for Parkinson's Disease
If you've been diagnosed with Parkinson's Disease, you may have reason to file a lawsuit against the company that manufactured or sold the product. A chemical company may be held liable for causing injuries or deaths due to an accident caused by its product.
If you're considering filing a Paraquat lawsuit, a toxic contamination lawyer can help. Your Paraquat lawsuit attorney can review your situation and determine if the law protects you.
Choosing a Paraquat Lawyer
Product liability injuries are complicated cases. If you've been exposed to Paraquat, have been diagnosed with a serious illness or condition, and want to pursue legal recourse, a lawyer can determine whether you have a legal claim against the company that manufactured or sold the product. 
If your attorney is part of a network experienced in dealing with toxic contamination litigation, they can help you understand your options, make informed decisions about your case, and provide sound advice throughout the process.
Most importantly, your mass tort lawsuit lawyer should be able to take care of all of the legal issues surrounding your case, from filing documents with the court to negotiating settlements with insurance companies and other parties involved in the accident. This is a complicated legal process and many victims can feel overwhelmed, not knowing where to begin.
Here are a few more factors to consider when choosing a Paraquat lawyer:
Personal injury lawyers in your state who have handled Paraquat cases in the past
The reputation of their firm 
How long they've been practicing law 
Their success rate 
Any awards or honors they've received for their work
Their legal fees and whether they accept contingency arrangements
What Are Paraquat Settlements?
Paraquat settlements are the result of lawsuits filed against companies that produce or market products containing Paraquat. The lawsuits allege that these companies knew about the dangers of Paraquat but continued to sell it anyway. 
The lawsuits seek monetary damages for individuals who were exposed to Paraquat while using these products. The Paraquat settlement is an agreement that requires Paraquat companies to pay damages to the victims who claim injuries due to the manufacturer's negligence.
What Is Paraquat Poisoning?
Paraquat poisoning occurs when someone comes into contact with Paraquat or Paraquat-containing products and then ingests it. This can happen when someone inhales the toxic chemical or it penetrates their skin through contact with Paraquat-contaminated clothing or equipment.
Paraquat poisoning is a serious health problem that can cause severe damage to your internal organs and other parts of your body.
What Is Paraquat Used For?
Paraquat is a highly effective herbicide that kills broadleaf plants, including trees, bushes, and grasses. It's also used to kill weeds in gardens and around houses that are not being treated with other herbicides.
Paraquat works by attacking the plant's chlorophyll, which gives plants their green color. This affects photosynthesis, disrupting the weed's metabolic processes and causing it to die. 
The United States Environmental Protection Agency (EPA) has set strict guidelines for using Paraquat because of its potential to cause harm to humans if ingested.
Paraquat Exposure and Poisoning Symptoms
Paraquat exposure can be fatal. Symptoms of Paraquat poisoning include:
Headache
Nausea
Vomiting
Abdominal pain
Pulmonary edema (fluid in the lungs)
Diarrhea
Skin discoloration
Breathing difficulties 
Kidney failure
Confusion
Coma
Fast heart rate
Heart failure
Liver failure
Lung scarring
Seizures
The weed killer has been associated with Parkinson's disease in severe cases. If you suspect that you or a family member has been exposed to Paraquat, contact your health care provider immediately.
Symptoms of Parkinson's Disease
Parkinson's disease is a progressive nervous system disorder that affects how your brain controls movement. The cause of Parkinson's disease is unknown, but it appears to result from the death of dopamine-producing neurons in a small brain region known as the substantia nigra. Dopamine is a brain chemical that regulates motor function and can be released by neurons in the midbrain tegmentum.
The symptoms of Parkinson's disease are divided into two categories: motor and non-motor symptoms. 
Motor Symptoms of Parkinson's Disease
The motor symptoms of Parkinson's include:
Rigidity
Falls and dizziness
Freezing of movement
Slowness of movement
Tremors
Muscle cramps and dystonia (involuntary movement causing abnormal posture)
Non-Motor Symptoms of Parkinson's Disease
Parkinson's disease may be characterized by one or more of the following non-motor symptoms:
Constipation
Sleep disorders, such as restlessness and insomnia
Early satiety
Dementia or cognitive impairment
Fatigue
Increase in dandruff (seborrheic dermatitis)
Hallucinations and delusions
Am I Eligible to File a Paraquat Lawsuit?
A current or former resident of an agricultural community may be eligible. A current or former commercial farm worker who has been diagnosed with Parkinson's disease may be able to file a claim if they worked directly with Paraquat while operating farm machinery or performing tasks like spraying crops. 
You must have been either directly handling Paraquat or living or working in an area where Paraquat was sprayed. According to the EPA, this includes farmers and their families who lived and worked on farms near Paraquat spraying sites. There must be a diagnosis of Parkinson's disease caused by exposure to Paraquat. This could be fair grounds for filing a claim against the Paraquat manufacturer.
In addition, you must file a claim within the statute of limitations. This differs depending on your state. States have different statutes of limitations for filing a product liability lawsuit. In some states, the defective product claims have one year, and a few states have over three years. The majority of states have a two-year limit for filing defective product claims.
How Do I Prove I Was Exposed to Paraquat?
The best evidence for exposure to Paraquat is the presence of Paraquat in your body. If you've been exposed to Paraquat, your body will likely have a level of the chemical in it. You'll need to take a blood test to determine this.
Also, if you lived or worked near farms where Paraquat was used – and you can prove it – you may have grounds. This is because Paraquat exposure can also result from living near farms where Paraquat was used for agricultural purposes.
You may also use medical records to challenge the defendant's refusal of responsibility. Even if you have been exposed to Paraquat, the other side may challenge your claim. Paraquat manufacturers often try to discredit their product as a cause of Parkinson's disease.
How Much Does a Paraquat Lawsuit Cost?
The cost of filing a Paraquat lawsuit may be subject to various factors. First, the cost may depend on the magnitude of your case. If the case involves lots of evidence to prove the case, then it may cost more. Also, it would depend on the number of claims brought against the Paraquat manufacturer. The more claims there are, the higher the cost of the lawsuit will be.
Fortunately, many attorneys work on a contingency basis. This means you don't pay anything until you win compensation, then the law firm will deduct their fees from a percentage of the payout. 
Is There a Link Between Paraquat and Parkinson's Disease?
Yes, many studies prove that there is a link between Parkinson's disease and the herbicide Paraquat.
How Does Paraquat Cause Parkinson's?
When you ingest Paraquat, the chemical is absorbed into the bloodstream and then the brain. It gets into a small brain region called substantia nigra pars compacta. The chemical destroys the dopamine neuron cells through a process called oxidative stress. 
This means there is an imbalance between the production and accumulation of reactive oxygen species (ROS) and your body's ability to detoxify these reactive products. As a result of this dysfunction, you develop Parkinson's disease. 
Why Should I File a Paraquat Lawsuit?
A Paraquat lawsuit is the only way to pursue compensation to cover damages resulting from Paraquat injuries, such as lost wages and medical expenses. Also, a lawsuit could help you seek justice for the wrongful death of a loved one who was killed by Paraquat exposure.
Paraquat Lawyers Can Help You
If you think Paraquat has affected your health or that of a loved one, you may have grounds to seek compensation. You can file a lawsuit with claims of negligence against the manufacturer. Lawyers within our network are ready to help.
Contact us online to receive a free initial consultation.