Roundup Lawsuit
Toxic Contamination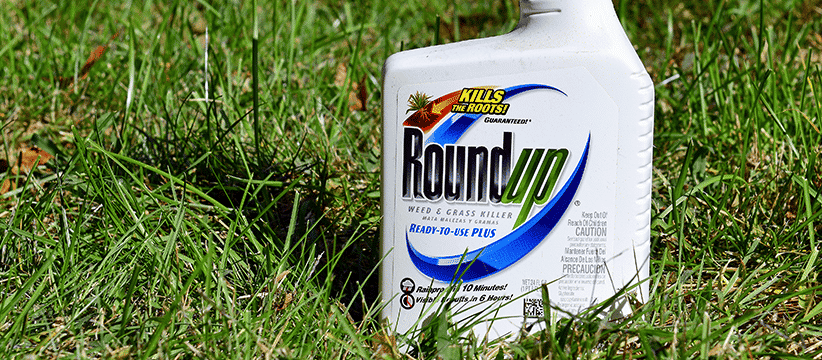 If you or a loved one developed cancer after using RoundUp weed killer, you might be eligible for compensation from Bayer AG, the parent company of Monsanto RoundUp. The chemicals in RoundUp can take many years to cause cancer. If you were not in the previous RoundUp lawsuits, you might still be able to file a case seeking money damages for the harm you suffered.
A RoundUp lawsuit lawyer can help determine if you have a viable claim. The statute of limitations will expire before too long, so please do not delay. After the deadline passes, it may be difficult or impossible to seek the compensation you deserve.
What is RoundUp?
Monsanto's RoundUp weed killer contains chemicals to control weeds in parks, yards, and many other places where people enjoy the outdoors. One of those chemicals is glyphosate. Glyphosate is now linked to cancer, non-Hodgkin's lymphoma, and other injuries. Any of these illnesses can turn your life upside down and possibly kill you. 
Bayer has already agreed to pay billions of dollars to two people who were harmed by their RoundUp use. Surprisingly, this dangerous product is still on the market. However, in August 2021, Bayer announced it will stop selling RoundUp with glyphosate in the United States.
RoundUp ingredient glyphosate may cause cancer
Initially, scientists disagreed about whether glyphosate was actually responsible for causing certain types of cancer, like leukemia, B-cell lymphoma, and non-Hodgkin's lymphoma (NHL). In time, it became clear that glyphosate not only can cause cancer, but Monsanto knew about this possibility for years. In 2015, the World Health Organization (WHO) warned that glyphosate is a possible human carcinogen.
Monsanto/Bayer disagrees with WHO's findings and other highly respected scientific groups' conclusions about the cancer risk of the chemicals in the weed killer. In the lawsuits that have already taken place, juries believed scientists who said RoundUp is unsafe, rather than Monsanto's employees who claimed their products are perfectly safe for humans and animals.
RoundUp and the risk of non-Hodgkin's lymphoma
According to a study in ScienceDirect conducted by researchers at the University of Washington, glyphosate increases a person's risk of developing cancer by 41 percent in people with exposure to the dangerous chemical. There are just as many studies that question glyphosate's carcinogenic effects as there are those that link the chemical to the development of certain cancers, including non-Hodgkin's lymphoma. 
World Health Organization (WHO)
For many people, the debate ended in 2015, when the International Agency for Research on Cancer, a division of WHO, placed glyphosate on its list of substances that are "probably carcinogenic to humans."
The explosion of lawsuits for cancer from RoundUp
Within two years of that classification of glyphosate, there were more than 800 lawsuits against Monsanto for glyphosate-caused non-Hodgkin's lymphoma. By 2018, thousands of people had filed similar lawsuits.
Grounds for RoundUp lawsuits
Attorneys for people who developed non-Hodgkin's lymphoma say Monsanto failed to warn people who used its products of the potential risk of the chemical. Apparently, juries agree. In one of the first lawsuits against Monsanto and Bayer for non-Hodgkin's lymphoma caused by RoundUp, the jury awarded a terminally ill man $250 million in punitive damages and $39 million in compensatory damages.
One of the plaintiff's lawyers said the jury believed Monsanto knew it was selling a dangerous product yet continued to do so with reckless disregard for human life. After this verdict, a Monsanto executive made this statement: "Today's decision does not change the fact that more than 800 scientific studies and reviews… support the fact that glyphosate does not cause cancer, and did not cause [the plaintiff's] cancer."
RoundUp injuries and side effects
Multiple researchers associate glyphosate, the main ingredient in RoundUp, with causing other types of cancer, including skin cancer and other lymphomas. Some people develop illnesses that are precursors to cancer, and later, the disease progresses into a malignancy.
People exposed to RoundUp have developed these diseases:
T-cell non-Hodgkin lymphoma
B-cell non-Hodgkin lymphoma
Burkitt lymphoma
Chronic lymphocytic leukemia (CLL)
Follicular lymphoma
Hairy cell leukemia (HCL)
Diffuse large B-cell lymphoma (DLBCL)
Mantle cell lymphoma (MCL)
Small lymphocytic lymphoma (SLL)
Cutaneous T-cell lymphoma (mycosis fungoides and Sezary syndrome)
People trusted Monsanto when the company assured the public that RoundUp was safe, even advertising that the weed killer was as safe as table salt.
Who is at risk of developing RoundUp-related cancer?
Agricultural workers are expected to be at the greatest risk for developing non-Hodgkin's lymphoma. These employees are exposed to farm chemicals day after day for many years. Their exposure is at a much greater magnitude than that of the typical homeowner who might use a small amount of weed killer once or twice a year to maintain their yard.
Other people who might have a heightened risk of developing cancer from RoundUp include anyone who regularly uses the weed killer as part of their job tasks. For example, people who work on maintenance crews for public parks, hotels, and other large venues responsible for taking care of green spaces, as well as individuals who work for yard services and landscaping companies, could be at risk.
How to file a RoundUp lawsuit
Because these lawsuits involve scientific studies, highly technical issues, and expert witnesses, you will want to hire a personal injury attorney. Also, since Monsanto and Bayer are fighting these lawsuits tooth and nail, sparing no expense, and filing appeals of the cases they lost, you may want to consider hiring legal representation. 
Your RoundUp lawsuit attorney will need to have resources to withstand the aggressive defense Monsanto and Bayer mount in these cases. You do not want your lawyer to get outgunned or outspent by these multibillion-dollar corporations. Because time is running out on unfiled cases due to the statute of limitations, you should not delay in starting the process of finding an attorney for your RoundUp lawsuit. 
If I file a RoundUp Lawsuit, am I joining a Monsanto class action?
No. The Monsanto class action lawsuit involves people from six states (New York, New Jersey, Illinois, California, Wisconsin, and Florida) who filed suit in federal court in Wisconsin. In this lawsuit, the plaintiffs allege that Monsanto engaged in false advertisement of RoundUp as a product that only targets a particular enzyme. 
Monsanto marketed RoundUp as safe for humans and animals on the grounds that only plants have the targeted enzyme and that people and animals do not have the enzyme in question. The truth is that humans have the enzyme in their skin and elsewhere inside their bodies. Since we have the enzyme that glyphosate targets, we are vulnerable to harm from the dangerous chemical.
The class action lawsuit says Monsanto violated trade and business practices laws when it lied about the safety of its RoundUp products. The plaintiffs allege economic losses on behalf of themselves and other consumers who would not have bought RoundUp or would not have paid as much money for it had they known the truth.
What is the difference between an individual RoundUp lawsuit and the RoundUp class action?
In the thousands of individual lawsuits against Bayer and Monsanto, the plaintiffs blame Bayer and Monsanto for harming them with a dangerous product. Each plaintiff wants the corporations to compensate them for their personal injuries, including medical bills, lost wages, physical pain, mental anguish, loss of enjoyment of life, and in some cases, wrongful death.
The class action lawsuit accuses Monsanto of unjust enrichment based on the false marketing statements. The plaintiffs in the class action case say they would never have bought RoundUp if they had known the truth about the risk of cancer. 
The class action litigation also says Monsanto was able to charge more for RoundUp than they would have if purchasers had been told the truth. The monetary damages the plaintiffs seek in the class action lawsuit are for the purchase price they and other consumers paid for RoundUp.
RoundUp lawsuit statute of limitations
The statute of limitations will depend on your state because every state sets its own deadlines for filing different types of lawsuits. The statute of limitations might be two years in one state and three or four years in another state.
One factor in determining when the statute of limitations started to run in your situation is when you were diagnosed with a type of cancer that is linked to glyphosate. If your cancer was diagnosed a long time ago, the statute of limitations might have already expired by now, but you really should reach out to a law firm to find out if there is any way to toll the deadline due to claims about Monsanto's fraud or deception.
It can take years after exposure for cancer from glyphosate to develop. Since Bayer has not yet taken RoundUp off the market, its risk of liability is unlikely to go away anytime soon. Even though Bayer now says it will stop selling RoundUp to U.S. consumers for household use, it still plans to market it to commercial users, like agricultural companies.
How many RoundUp lawsuits have been filed to date? Has anyone won a lawsuit against RoundUp?
According to The Guardian, Monsanto and Bayer had faced about 125,000 claims and lawsuits alleging harm from RoundUp as of June 2020. Bayer set aside $10.9 billion to settle the existing claims. Because many lawsuits have been filed against Monsanto and Bayer for RoundUp-related injuries, the United States federal court system set up a Multidistrict Litigation group to handle RoundUp cases (RoundUp MDL). 
MDL panels consolidate pending and future lawsuits filed against the same defendants alleging similar harm into one giant case in one court and with one judge. The MDL court then holds trials on a few test cases, called bellwether cases. Rather than going through a long and expensive process of trying thousands of individual cases, the plaintiffs' attorneys share resources and information. They must only present the evidence to the court in a small number of cases instead of thousands of times. 
The judge usually urges the lawyers to settle the pending lawsuits after seeing the outcome of the initial cases. The jury returned a verdict of $289 million in the first RoundUp test case in 2018. The next year, a California jury awarded the plaintiff $2 billion in the second RoundUp test case. 
Findings in three recent RoundUp cases
Here is some more information about three of the early RoundUp lawsuits:
2018 RoundUp lawsuit. The jury awarded $289 million in damages, $250 million of which were punitive damages. Afterward, the judge put a cap on the punitive damages, bringing the total recovery down to $78.5 million. The trial lasted eight weeks in state court in San Francisco County, California. The plaintiff had used RoundUp frequently for years in his job as a groundskeeper for a school district. He got diagnosed with non-Hodgkin's lymphoma with large cell transformation while only in his 40s. Johnson v. Monsanto.
2019 RoundUp lawsuit. The jury awarded $80 million to the plaintiffs, including $75 million in punitive damages. This was the first bellwether trial in federal court from the RoundUp MDL. The plaintiff had used RoundUp for several decades to control weeds and other undesired plants on his 56-acre exotic animal refuge. He developed non-Hodgkin lymphoma. Hardeman v. Monsanto. 
Second 2019 RoundUp lawsuit. Just a few months after the Hardeman verdict, a California State court jury awarded the two plaintiffs more than $2 billion. Punitive damages accounted for $2 billion of the verdict. After years of consistent use of RoundUp on their yard, the husband developed non-Hodgkin lymphoma, large B-cell type. The plaintiff's wife developed central nervous system lymphoma, which eventually became non-Hodgkin's lymphoma. Pilliod v. Monsanto. 
These results gave Monsanto and Bayer incentive to try to settle remaining RoundUp claims and prevent or limit future RoundUp lawsuits.
What compensation can I recover in a RoundUp lawsuit?
As with any other kind of personal injury case, a plaintiff in an individual RoundUp lawsuit can seek to recover money damages for the harm they suffered as a result of the dangerous product. A person who develops cancer from a harmful chemical will incur medical bills, have lost wages, experience pain and suffering, as well as the mental anguish of a life wrongfully cut short.
RoundUp lawsuit settlement
In 2020, Bayer proposed it would set aside $10 billion to resolve pending cases worldwide. The judge refused to approve the settlement proposal because it contained controversial terms that could have damaged future RoundUp claims. In August 2021, when the company made the announcement about pulling RoundUp with glyphosate from the U.S. market, Bayer said it earmarked $4.5 billion for future claims against RoundUp.
RoundUp lawsuit settlement amounts
Following the two bellwether cases, Bayer has settled thousands of pending RoundUp cases. Settlement amounts are seldom a matter of public record; in fact, injured people often must sign a non-disclosure agreement to get their money. Many more lawsuits remain to be tried or settled. 
RoundUp lawsuit payout
Before the plaintiffs can receive their settlement proceeds, the judge must approve the terms of the settlement agreement. Bayer has orchestrated settlement terms that would severely limit the legal rights of future victims who have not yet been diagnosed with cancer or other illnesses caused by RoundUp. Because of these unfair terms, the judge has rejected the terms of the settlement.
The judge has announced that the court will go forward with additional trials on bellwether cases if Bayer refuses to remove the objectionable terms from the proposed settlement agreement. Here are the terms that Bayer is insisting upon for all future RoundUp lawsuits before it will pay the thousands of cases it has already settled:
No new cases could be filed for four years.
The factual determination of whether RoundUp causes cancer would be taken out of the jury's hands. Bayer wants a controversial scientific panel to make this decision instead of the jury.
There would be no more punitive damages assessed against Monsanto or Bayer in future RoundUp lawsuits, even though juries have awarded massive punitive damages in existing cases.
Bayer would limit the amount of compensatory damages people harmed by RoundUp could receive for their out-of-pocket losses.
Also, Bayer has so far refused to place a strong warning on RoundUp containers that the product might cause non-Hodgkin's lymphoma.
Recent developments in RoundUp litigation
Monsanto appealed the jury verdict that awarded Alberta and Alva Pilliod each $1 billion in punitive damages and compensatory damages of over $37 million to Alberta and more than $18 million to Alva for developing non-Hodgkin's lymphoma from RoundUp use. The basis of the lawsuit was that the weed killer has a defective design, and Monsanto failed to warn consumers of the risk of harm from the product.
First, Monsanto filed a motion for a new trial. The Pilliods resolved that dispute by agreeing to accept a much lower amount for their compensatory and punitive damages. Alberta accepted a reduction that left her with around $56 million, $45 million of which was punitive damages. Alva agreed to a reduced award of about $31 million, around $25 million of which was punitive damages.
Monsanto's appeal of the Pilliod decision 
After getting the successful plaintiffs to walk away from nearly $2 billion the jury had awarded them, Monsanto then filed an appeal that alleged six different grounds. In August 2021, the state appellate court in California entered its order affirming the trial court's decision. The appellate court stated that the data is showing the carcinogenic likelihood of glyphosate was available to Monsanto as far back as 1980.
RoundUp contains glyphosate, a dangerous chemical linked to the development of non-Hodgkin's lymphoma in exposed humans, but other chemicals as well, including a surfactant. The purpose of the surfactant is to improve the absorption of the weed killer by the plant. The appellate court noted that the surfactant in RoundUp also causes human skin to absorb the weed killer better.
Europe bans the U.S. version of RoundUp 
The RoundUp product sold in the United States is more toxic than the version that Monsanto sells in Europe. The surfactant contained in RoundUp sold to Americans is banned in Europe because it is more toxic and genotoxic than the chemical used in the European version of the weed killer.
Monsanto's internal emails
Internal emails among senior employees at Monsanto as far back as 2003 reveal that Monsanto decided to tell the public that glyphosate is not a carcinogen, even though it could not say the American formulation of RoundUp is not a carcinogen. Monsanto decided to let consumers infer from their statement about glyphosate, one ingredient of RoundUp, that the entire product is safe and will not harm them.
Because Monsanto denies that RoundUp can harm people who use the product, the corporation also denies that there is any reason to warn consumers about the dangers of the product, including non-Hodgkin's lymphoma. The Pilliods testified that they used RoundUp without any concern for their personal safety because the packaging and labels did not carry any warnings.
Monsanto failed to warn consumers about the dangers of RoundUp
The marketing materials and television ads showed people wearing shorts and sandals while using RoundUp products. Those marketing pieces, however, did not show consumers covering their arms or legs or wearing gloves or eye protection when using RoundUp.
One of the expert witnesses for the plaintiffs at the trial, a forensic toxicologist who has studied glyphosate for decades, made two essential points during his testimony:
RoundUp can cause non-Hodgkin's lymphoma, and
The toxic surfactant found in the American formulation of RoundUp makes RoundUp around 50 times more genotoxic than glyphosate is by itself.
He also noted that the sprayers used to apply RoundUp can cause the chemicals to get on the skin of the person using the product. The risk of the plaintiffs getting non-Hodgkin's lymphoma from RoundUp would have been reduced if they had worn protective gear, but the RoundUp label did not contain warnings or advise users to wear gloves or other protective gear.
A medical expert for the plaintiffs testified that, to a reasonable degree of scientific certainty, repeated exposure to RoundUp "was a substantial factor in causing non-Hodgkin's lymphoma" [p. 14 of appellate opinion] in both plaintiffs. 
Risk factors v. causation
There are multiple risk factors for non-Hodgkin's lymphoma, including advanced age, male gender, and Caucasian descent. The defendants were not allowed to blame the disease of either plaintiff on any of these factors. Although these and other factors merely increase a person's likelihood of developing non-Hodgkin's lymphoma, none of these factors cause the illness.
Monsanto's expert witnesses
Monsanto found scientific professionals who directly contradicted the expert witnesses of the plaintiffs. These defense expert witnesses testified that:
There is no evidence that RoundUp causes non-Hodgkin's lymphoma.
RoundUp did not contribute to the development of Alberta's non-Hodgkin's lymphoma.
There is no known cause of Alva's non-Hodgkin's lymphoma. The defense expert blamed Alva's "deficient and abnormal immune system" as a "very prominent" risk factor in his disease. [appellate opinion, p. 18]
The jury did not believe the defense experts. Instead, the jury awarded the plaintiffs compensation on all grounds of their lawsuit:
Negligent failure to warn
Design defect under the consumer expectations test
Negligence
Strict liability
Punitive damages
The bottom line is the jury believed the expert witnesses the plaintiffs hired and not the one the defendants used. On many different issues in lawsuits, it is possible to find experts on both sides. For instance, one expert witness might say a particular chemical caused a person to develop a disease, while another expert might say the exact opposite.
It is the jury's job to decide who it believes. On the first three trials in the cases against Monsanto and Byer, the juries believed the expert witnesses for the plaintiffs.
The EPA's initial approval of RoundUp
The U.S. Environmental Protection Agency (EPA) relied on the studies of an outside laboratory, Industrial Bio-Test Laboratories (IBT), when it gave approval of glyphosate for consumer use in 1974. The EPA found out two years later that the IBT studies were invalid because the raw data it discovered in the study of glyphosate and several other pesticides did not support the report's findings. 
The pesticide industry frequently hired IBT, a privately owned commercial lab, to run studies and provide reports to support the registration of various pesticides with the EPA. Multiple experts have since accused IBT of fraud. One of the scientists involved in the pesticide studies and reports was a Monsanto employee who left Monsanto in 1971, worked at IBT for 2.5 years during the studies of glyphosate and many other products, and then returned to Monsanto in late 1973.
Studies revealed cancer concerns about glyphosate
The EPA required Monsanto to repeat the glyphosate studies using EPA guidelines, but Monsanto did not repeat the tests on whether glyphosate was a carcinogen until 1981. The report on the carcinogen study came out in 1983 and raised serious concerns about glyphosate causing lymphomas. Still, Monsanto did not take RoundUp off the market. 
Monsanto tried to keep this information out of the trial, arguing that these facts would prejudice the jury against Monsanto; the judge allowed the testimony. 
RoundUp lawsuit lawyers
RoundUp lawsuit attorneys are still accepting new claims from people who suffered harm like non-Hodgkin's lymphoma from using the glyphosate-based weed killer. You can fill out our contact form for help with your case.