Surgical staples lawsuit
Product Liability Injuries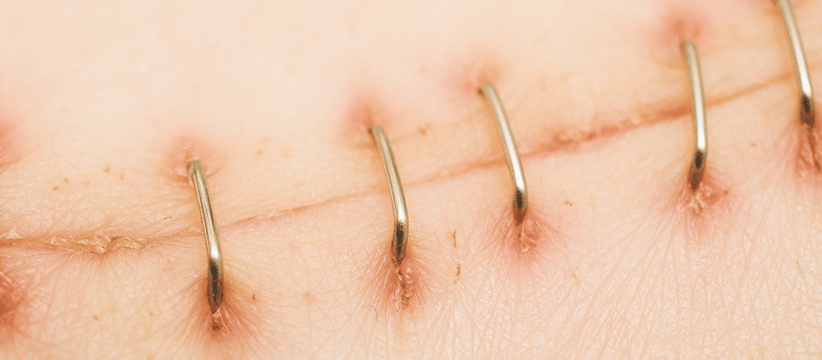 Complications from surgeries involving surgical staplers and staples that led to serious injuries, infections, and deaths are on the rise in the United States. Between January 2011 to March 2018, the U.S. Food and Drug Administration (FDA) received more than 41,000 reports involving surgical staplers and staples that have malfunctioned, causing injury and, in some cases, death. The investigation is ongoing.
If you were injured or a loved one passed away as a result of a surgical stapler malfunction, you may be eligible to receive compensation in a surgical staples lawsuit against the manufacturer of the medical device. If the company that made the surgical stapler is responsible for the design defect that led to your resulting injuries and possible additional surgeries, it should be held legally accountable in a mass tort lawsuit. 
What are surgical staples, and why are some harmful?
Surgical staples are medical devices used to close wounds. They can be used externally or internally to close tissues during surgery. Surgical staples have been used in gastrointestinal, thoracic, and gynecological procedures. As opposed to sutures or stitches, these medical devices are favored for their quick placement, secure wound closure, and typically less chance of inflammation or infection.
How surgical staplers are used
Physicians use surgical staplers for varying purposes. According to the FDA, examples of these include:
Resection – or removing part of an organ
Transection – or cutting through organs or tissues
Anastomoses – or making connections between structures
When surgical stapling goes wrong
Many surgeries involving surgical staplers or staples have been performed successfully and without issue. But when complications do occur, the results can be catastrophic. The FDA has determined that surgical stapler malfunction is in many cases the result of improper function of the device and improper use of the stapler.
Some of the most commonly reported problems in the reports to the FDA include:
Stapler does not fire a staple
Staples applied incorrectly (e.g., applying staples to the wrong tissue or applying the wrong size staples)
Opening of the staple line
Letter from the FDA
On March 8, 2019, the FDA released a report titled Safe Use of Surgical Staplers and Staples – Letter to Health Care Providers. The letter aimed to address increasing concerns over adverse events linked to the use of surgical staplers and staples during surgery. It also provided recommendations to those in the medical field to better protect patients. 
The numbers in the report were staggering. The FDA discovered that between January 2011 and March 2018, there were more than 41,000 reports of surgical stapler internal use that included:
More than 32,000 malfunctions
More than 9,000 serious injuries
If any of these adverse events happened to you or a member of your family following surgery using surgical staples, you may be eligible to take part in a mass tort lawsuit against the device manufacturer. A surgical stapler lawyer can investigate your individual case, identify the at-fault party or parties, and pursue fair and just compensation on your behalf. 
Ethicon surgical staples lawsuit: who's affected?
Ethicon, a subsidiary of Johnson & Johnson, is the manufacturer of surgical stapler products, including the Endo-Surgery and Echelon stapler systems. In April 2019, Ethicon launched its own recall of its Endo-Surgery staplers used during gastrointestinal procedures to connect internal structures.
The FDA said a design flaw in the stapler led to "insufficient firing" and "staple line failure." It reported the failure caused two patients to suffer serious injuries when the misfiring occurred, resulting in an additional resection of their intestines. Both patients died from their injuries.
An investigation uncovered that the company made a change in the manufacturing process of its circular staplers, and that could be linked to the potentially dangerous defect. Thousands of devices were included in the "Class I" recall, considered the FDA's most critical level because the defect can cause severe injury or death.
Products that were recalled 
The Echelon staples were used in various surgeries, including stomach stapling (weight loss) surgeries. The recall states the staples that were used during these procedures had reportedly misfired, causing them to break, which could result in severe complications. The products recalled in October 2019 included:
ECHELON Flex 60 Endopath Stapler, Articulating Endoscopic Linear Cutter (EC60A)
ECHELON Flex 60 Powered Plus Articulating Endoscopic Linear Cutter, 44cm Shaft Length (PLEE60A)
ECHELON Flex 60 Powered Plus Articulating Endoscopic Linear Cutter, 34cm Shaft Length (PSEE60A)
ECHELON Flex 60 Powered Plus Compact Articulating Endoscopic Linear Cutter (PCEE60A)
It may be difficult to identify which surgical staples were used in your specific surgery. But if you suffered complications after your procedure, you may be eligible to join a surgical staples lawsuit. Your mass tort lawsuit lawyer will be able to help you in starting your case.
Do you qualify to file a surgical staples lawsuit?
If you or a loved one suffered from surgical complications that have been linked to Ethicon surgical staplers, you may qualify to file a lawsuit against the surgical stapler manufacturer. A law firm familiar with surgical staples cases near you can analyze the details of your case, identify the party at fault, and hold them legally liable in a mass tort lawsuit.
What is a mass tort lawsuit?
A mass tort is an act or a failure to act that causes harm or injury to many people. A mass tort lawsuit is made up of many plaintiffs, typically against one defendant, such as a corporate manufacturer.
The benefit to these types of cases comes down to basic economics. Lawsuits are costly, and many people can't afford to take on big companies or corporations on their own. As opposed to an individual lawsuit, plaintiffs in a mass tort share the costs associated with proving their case, including the high price of expert witnesses. If the case is won, the plaintiffs take an equal share of the settlement or court award. 
If you were injured or a loved one died as a result of a surgical stapler malfunction, you could be eligible to join a mass tort lawsuit against the maker of the medical device. An attorney who is familiar with surgical staples lawsuits in your area can determine if your case qualifies for compensation.
Symptoms of surgical complications
Symptoms you may experience as a result of complications from surgical stapler or staple malfunction following surgery could vary from patient to patient. The FDA lists the following as reported complications from surgical stapler malfunction:
Sepsis (your body's extreme response to an infection)
Tearing of internal tissues and/or organs
Recurrence or higher risk of cancer
Fistula (an atypical formation between two body parts or organs)
Additional or prolonged surgery
When surgical staplers fail to seal tissue, the consequences for patients can be devastating. The failure can lead to massive bleeding and severe infection, which can be debilitating or fatal. 
If you or a loved one suffered physical injury and emotional harm due to the failure of a surgical stapler device, you do not have to suffer in silence. You can hold the device manufacturer legally accountable for the design flaw that caused your damages. A surgical stapler lawyer near you can pursue compensation on your behalf as part of a mass tort lawsuit.
How do you know if you are at risk?
You are at risk of complications from a surgical stapler or staples malfunction if you had surgery that involved the use of the medical device. Of course, it may be difficult for patients to determine if their surgery involved the surgical staplers or staples that were part of the recall.
But if you underwent surgery that required the use of surgical staples, and you later needed another surgery or a corrective procedure to repair the problem, you could be affected by the recalled medical devices. 
A products liability law firm in your area can investigate your case during a free case review. A lawyer will place a value on the damages you have suffered due to this defective product and pursue the maximum amount of compensation you are due.
Hidden database covered up reports of surgical stapler risks
Medical device makers are required to report serious injuries and fatalities linked to the use of their products to the FDA, which keeps these reports in a public database accessible to others. But it was discovered that reports of surgical stapler malfunction that led to injuries and deaths in patients were submitted to a hidden database between 2011 and 2018. 
As we mentioned earlier, while 41,000 instances of medical device malfunction were reported to the public database, an additional 56,000 were sent to the hidden database and concealed from the public. That revealed 46 more deaths than first reported and over 2,000 additional injuries. A Kaiser Health News (KHN) report uncovered that 10,000 incidents of surgical stapler malfunction were sent to the hidden database. 
How to file a surgical staples lawsuit
If you believe you were injured or a loved one died due to a surgical stapler malfunction, you may be able to file a surgical staples lawsuit against the medical device manufacturer. A surgical stapler lawyer from a law firm near you can investigate the details of your case, determine who the liable party is, and file a claim on your behalf. It all starts with a free case review.
Proving negligence in your surgical staples case
In order for you to receive compensation for your damages, your lawyer will need to prove negligence in your case. Your attorney will need to show the following:
Duty of care: The manufacturer owed the plaintiff (you or your loved one) a duty of "reasonable" care to keep you from harm (i.e., the manufacturer was legally obligated to ensure the product was free from hazardous defects or concealed risks).
Breach of duty: The defendant's negligent or reckless actions or inaction (releasing the defective product into the market) breached that duty of care.
Causation: That breach caused your injuries (the defective surgical stapler caused internal bleeding, infection, or other issues, and that led to other surgeries, pain, and more).
Damages: The defendant owes you physical and emotional damages as a result of the injury.
Surgical stapler lawyers in your area will be able to determine if your case meets the burden of proof and qualifies you for compensation. You have nothing to lose because there is no obligation.
Evidence in your surgical staples case
During your initial free consultation, the legal team you choose to represent you will want to know the evidence involved that will help build a solid case. They will ask you questions, such as:
Did you have a procedure that involved internal surgical staples?
What year was the surgery performed?
What type of surgery did you undergo? (e.g., thoracic, gastrointestinal, lung, bariatric, gastric bypass, bowel, appendectomy, etc.)
Did you suffer injuries as a result of that surgery due to a surgical stapler malfunction? (e.g., internal bleeding, bowel rupture, organ damage, fistula formation, sepsis, a family member's death, etc.)
Did the injury require additional or prolonged surgery or surgeries?
Do you know the brand (name) of the surgical stapler used in your surgery?
Your lawyer will also want to review any evidence that relates to your case that you have collected and kept in a safe place. This might include:
Medical records (e.g., itemized hospital bills, the name of the facility, the surgery performed, the surgeon and other health care providers, ambulance trips)
Photos or home video (e.g., you in the hospital bed, receiving treatment pre- and post-surgeries)
Daily journal (e.g., a daily journal documenting how you are feeling since the surgical stapler malfunction and how the injury has prevented you from doing what you did before)
Collecting evidence in a defective products case is not always so easy. The critical evidence—the surgical staples—have most likely been removed by now and destroyed. This is where an attorney who has handled product liability cases, specifically surgical staples, can do the tough investigative work for you. Your lawyer will manage all aspects of your case while you focus on your family and recovery.
How much does a surgical staples lawsuit cost?
It can be overwhelming when you face multiple surgeries, lengthy recoveries, time missed from work, and bills piling up in your mailbox due to someone else's negligence. Many potential plaintiffs are reluctant to pursue legal help because they think they cannot afford a lawyer's help. That is and should never be the case.
Most personal injury law firms work on contingency
Product liability cases fall under personal injury law. Most personal injury law firms work on a contingency–fee basis. That means you, the plaintiff, pay nothing up front or out of pocket unless you win a settlement or court award in your case. 
If you win, your attorney's fees are taken as a percentage of your winnings. That percentage is a number you and your lawyer mutually agree on before work on your case begins. If you do not win your case, you pay nothing.
In the meantime, any costs associated with your case are typically covered by the law firm of your choosing. This includes the cost of:
Court documents that need to be filed
Expert witnesses (e.g., medical experts, engineers, scientists, medical device manufacturers)
Any props (medical devices such as a surgical stapler and staples) for demonstration in the courtroom
If you have been injured or a loved one died because of a surgical stapler malfunction, you have the right to legal representation and the pursuit of compensation for your damages and other losses. You have the right to hold the liable party legally accountable for the physical and emotional pain suffered due to your staple injuries. Your journey to justice begins with an initial free case review to determine if you qualify to join a surgical staples lawsuit.
Settlements in Ethicon surgical stapler lawsuits
Even though Ethicon continues to make surgical staplers and to stand by its products, a growing number of people have been hurt by the recalled staplers, and they are seeking justice through legal means. Those patients and their families injured by the defective products may take legal action against Ethicon and Johnson & Johnson to seek compensation for their damages.
Some plaintiffs have already been successful in their claims. Here is a closer look at some of the verdicts and settlements awarded in Ethicon surgical stapler lawsuits:
$80 million verdict – A California jury awarded what is now the largest surgical stapler verdict to a former police officer who suffered life-threatening injuries due to a defective product. Just days after Florence Kuhlmann had surgery in 2012, doctors discovered her bowel had been stapled to her rectal wall. This caused her bowel to rupture and a resulting blockage that led to sepsis. An Ethicon PPH 03 surgical stapler was found to be to blame and later recalled. In 2018, an appeals court reduced the punitive damages award from $70 million to $19.6 million. 
$5 million court award – In 2007, a jury awarded $5 million to the family of a patient who died after an Ethicon stapler malfunction. When the stapler failed to seal the surgical area, the patient's stomach contents spilled into her intestinal cavity, which led to her death. Jurors found that the defective product caused the wrongful death.
Medtronic also held liable 
The husband of a woman who died after surgical stapler complications in 2013 later agreed to a $5.5 million settlement. The lawsuit named a doctors group in Illinois and Covidien, a subsidiary of Medtronic, as the defendants. 
April Strange died after surgery to remove a benign mass from her liver. She suffered massive internal bleeding when the stapler dissected a blood vessel but failed to properly close it. Covidien agreed to pay $250,000 as part of the lawsuit but defended its product, saying there was no proof it caused the fatal error.
If you believe a defective surgical stapler or staples led to internal bleeding, an infection, sepsis, and/or additional surgeries that caused you pain and suffering, you may be eligible to join a surgical staples lawsuit. You may qualify for compensation for medical bills, lost wages, pain and suffering, and more. A surgical stapler lawyer in your area can analyze the details of your case and determine how much you are owed for your losses.
How to claim your compensation
If you suffered injuries or a family member died due to a surgical stapler malfunction, you may be able to receive economic and non-economic damages from the defective product's maker through a lawsuit.
You are most likely worried about paying the increasing number of bills coming in, especially if your injuries have made it difficult for you to work. Financial recovery you may receive from a settlement in a surgical staples lawsuit can help make the healing process easier on you and your family. 
Economic damages
Economic damages are easier to put a dollar value on because they can be added up using bills, receipts, and other documented paperwork, such as:
Your medical bills (e.g., ambulance transport, hospital stays, multiple surgeries, imaging tests, prescription medicines, assistive medical devices, such as wheelchairs)
Your future medical costs (e.g., rehabilitation, physical therapy, additional surgeries)
Your lost income (time missed from work due to your injuries)
Your reduced earning capacity (perhaps you had to take a lesser-paying job or can no longer work at all)
Your need for assistance (e.g., you had to hire domestic help for the household chores you can no longer perform, such as laundry, cooking, or grocery shopping)
Non-economic damages
Non-economic damages are less tangible but account for your physical and emotional damages due to your injuries. These include:
Pain and suffering (the physical pain you have had to deal with since the surgical stapler malfunction, which may involve additional surgeries)
Mental anguish (the emotional pain you have had to cope with that may require counseling sessions, anti-anxiety, or anti-depressant medications)
Loss of enjoyment of life (e.g., you can no longer enjoy the activities you did before the surgical staples complications, such as jogging, gardening, or riding your bike)
Disfigurement or disability (if the incident has left you permanently scarred or with a disability, for example, a limp)
Loss of consortium (if the incident has left you unable to be intimate with your spouse)
Loss of companionship (if you lost a loved one due to a defective surgical stapler)
If you lost a loved one due to a surgical stapler malfunction, please accept our deepest condolences. You may qualify for different types of damages in a wrongful death lawsuit. If you qualify, your family could receive compensation for the decedent's medical bills before their passing, in addition to funeral and burial expenses. Surgical stapler lawyers in your area can determine if your case qualifies for a wrongful death action. 
You may only have a limited time to file a lawsuit
In order to pursue compensation from the at-fault party, you must comply with the statutory deadline for filing a personal injury or wrongful death action in civil court. The statute of limitations provides a window of opportunity for filing a lawsuit. Of course, that period varies from state to state. 
Most states have between a two- and five-year limit on the amount of time you have to file your lawsuit. No state has less than a one-year statute of limitations for product liability cases. 
If you miss that window and the statute of limitations passes, you could be barred from pursuing compensation. But keep in mind, there may be exceptions. Your surgical staples lawyer knows the laws and statutes in your state and will ensure all paperwork is filed with the court on time. You can discuss the details of your case with a law firm's team member during a free consultation.
Consult a surgical staples lawsuit attorney
If someone else's negligent or reckless actions caused you harm, you should not have to bear the financial burden on your own. A surgical stapler lawyer in your area can investigate your case, determine who is liable, and hold them legally accountable in a lawsuit. The medical device manufacturer needs to be held responsible for making a defective product that left you injured and in pain.
Filing a surgical staples lawsuit on your own can be complex and overwhelming. In addition to all the paperwork, you are trying to heal from your injuries while you take care of your family. 
A surgical staples lawsuit lawyer can guide the legal process
Allow a surgical stapler attorney near you to handle all aspects of your case from start to finish. This includes filling out documents, gathering evidence, and communicating with all parties involved. Do not delay in your pursuit of justice and compensation. 
Simply fill out our contact form for help with your case. You will receive a free case review, and there is no obligation.