Zantac lawsuit
Prescription Drug Injuries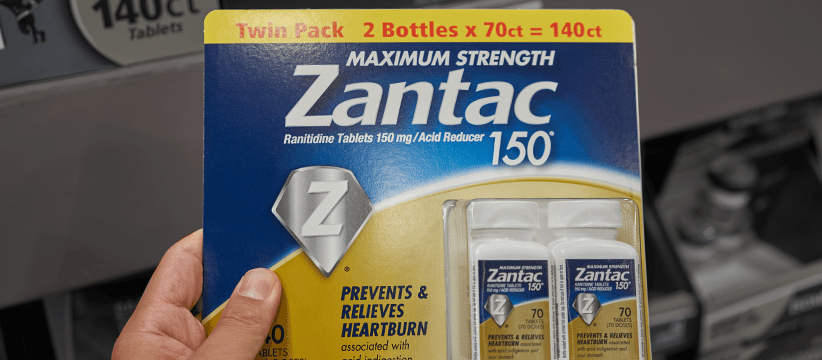 Zantac, the popular heartburn medication sold in U.S. stores for years, has been linked to cancer risks. If you have taken Zantac and have been diagnosed with cancer, you may qualify to take legal action against the drug's manufacturers. You could file your own lawsuit or join others in a class action to hold manufacturers financially liable for your losses.
If you are considering legal action over a Zantac-related cancer diagnosis or condition, the information below can help as you weigh your legal options. If you are interested in filing a Zantac lawsuit, you can fill out our form for more information today. 
An overview of the case against Zantac 
Hundreds of plaintiffs have filed Zantac lawsuits, saying the medication caused them to develop cancer or exposed them to a cancer-causing contaminant. They allege that the makers of Zantac—and its generic form, ranitidine—knew about their products' cancer risks but still exposed consumers and failed to warn of the danger. 
Zantac litigation is currently underway and in the early stages in Florida. You may be able to join either a multidistrict litigation (MDL) case or a class action lawsuit. You also have the option of enlisting a lawyer's help. 
Below is an overview of the issues surrounding Zantac use, including cancer claims and why individuals are suing the makers of ranitidine products. There is also information that can help you or a loved one determine if pursuing legal action for a Zantac-related diagnosis is the next step. 
Securing representation can help you prepare for the legal battle ahead with drug manufacturers so that you understand your case and what a fair settlement could look like.
What is Zantac, and why is it dangerous? 
Zantac is an over-the-counter and prescription heartburn medication. It is also known by its generic name, ranitidine. The antacid drug, a histamine-2 blocker (or an H2 blocker), reduces the amount of stomach acid in the body, relieving people of indigestion and heartburn. 
As Drugs.com notes, ranitidine is also used to treat other various conditions, including:
Gastroesophageal reflux disease (GERD)
Stomach ulcers
Intestinal ulcers
Erosive esophagitis
Zollinger-Ellison syndrome, which is when the stomach produces too much acid
Despite its therapeutic uses, Zantac has been linked to cancer risks in recent years. It is thought that ranitidine, the active ingredient in Zantac, produces high amounts of the contaminant N-nitrosodimethylamine (NDMA) when the drug goes through the body.
What makes N-nitrosodimethylamine (NDMA) harmful? 
Per the U.S. Environmental Protection Agency (EPA), N-nitrosodimethylamine (NDMA) is a chemical once used to produce rocket fuel and antioxidants, among other purposes. Now, it is mainly produced for research purposes, the agency says. It also describes NDMA as a drinking water contaminant of concern because of its toxicity and carcinogenicity (its ability to cause cancer).
FDA urged the removal of Zantac and generic ranitidine from the market in 2020
The U.S. Food and Drug Administration (FDA) first announced in September 2019 that lab tests found small amounts of NDMA, a probable human carcinogen, in ranitidine—the main ingredient in Zantac. 
Small amounts of the chemical are also naturally found in water and food items, such as grilled meat, dairy products, and vegetables, says Harvard Health Publishing. While the body can break down these small amounts, large amounts can be toxic. 
At that point, the FDA did not issue a recall because it was still investigating the issue.
Recalls, lawsuits follow FDA's announcement
Soon after its announcement, Sandoz Inc. issued a voluntary recall of 14 lots of prescription ranitidine capsules. Other manufacturers followed suit and recalled their Zantac (ranitidine) medications. 
In November 2019, the FDA issued a report of laboratory results of ranitidine and nizatidine medications. It concluded that NDMA levels in ranitidine and nizatidine were comparable to those one would find in grilled or smoked meats. 
Yet, after further investigation, the FDA requested the immediate removal of all prescription and over-the-counter ranitidine medications across the United States in April 2020. It also advised consumers to stop taking over-the-counter ranitidine products immediately and properly dispose of the ones they had. However, the FDA advised those on prescription ranitidine to speak with their doctor about other treatment options before quitting the drug.
Why did the FDA issue warnings about ranitidine?
The FDA has determined that some heartburn medications contain NDMA levels that could put consumers at risk of developing cancer. Additionally, its test results showed that older ranitidine products contained high levels of NDMA.
The FDA determined that NDMA levels in ranitidine products increased over time when stored at normal and higher-than-normal room temperatures. Thus, the agency believes older ranitidine products could pose higher cancer risks the longer they are stored. 
Since the FDA's 2020 announcement, major pharmacy retailers have stopped selling Zantac and other generic ranitidine medications. Also, Zantac litigation has gained steam since this announcement, as plaintiffs began filing lawsuits against the makers of the heartburn medication.
Why are lawsuits being filed against Zantac drugmakers?
Soon after the FDA confirmed that Zantac and ranitidine use can expose consumers to dangerous NDMA levels, Zantac lawsuit lawyers began filing lawsuits. They filed on behalf of plaintiffs diagnosed with cancer to hold the drug's manufacturers responsible for the claims regarding NDMA. 
Some plaintiffs allege that Zantac's makers were aware of the medication's cancer risks going back to the early 1980s but did not warn the public about them, including medical professionals. Zantac lawsuit defendants include:
Sanofi-Aventis U.S., LLC
Sanofi US Services Inc.
Chattem, Inc.
Boehringer Ingelheim Pharmaceuticals, Inc.
Pfizer Inc. and GlaxoSmithKline, LLC
Many lawsuits claim that these manufacturers:
Created a defective drug that causes NDMA exposure: Defective drugs mean the medications do not work properly and could cause serious health complications and death. A person injured as a result of using defective drugs must show how they suffered injuries or losses due to the product's defects to recover compensation. They must also show that they used the drug as it was intended.
Failed to properly warn consumers via labeling about the drug's cancer risks: Failure to warn due to improper labeling means a product's label was unclear about the health-related dangers present. This negligence claim is also known as a marketing defect.
What is the status of the Zantac lawsuits?
There are two kinds of Zantac lawsuits. One category consists of multiple lawsuits grouped into multidistrict litigation (MDL); the others are part of a class action. These lawsuits are not the same. Below are explanations of both.
Zantac MDL lawsuits 
Hundreds of plaintiffs throughout the United States have filed lawsuits after the FDA's findings about NDMA in ranitidine. In February 2020, the Multidistrict Judicial Panel for Litigation formed MDL No. 2924 to consolidate all Zantac cancer cases into multidistrict litigation (MDL) for pretrial discovery. 
This consolidation is temporary, as an MDL's purpose is to streamline these cases and speed up litigation. U.S. District Judge Robin L. Rosenberg presides over the MDL in the Southern District of Florida in West Palm Beach. 
Under an MDL, all plaintiffs can each recover financial compensation according to their individual losses. They are also able to continue Zantac litigation if they decline a settlement offer. While there is only one Zantac MDL right now, others can still come about. These likely will involve the drug's manufacturers and distributors or other parties.
How sample trials could affect a potential case settlement
The Zantac MDL is in the early stages of litigation, which is the discovery phase. During this period, all sides review a case's facts. 
Sample trials, known as bellwether trials, are also underway. The results of these trials are important because they could signal how other juries would respond in similar cases. Their response could also influence the MDL and each plaintiff's potential settlement amount. The deadline for the MDL to end is December 2021.
Plaintiffs in the Zantac MDL have alleged they have cancer or have received a cancer diagnosis. They may be representative of other consumers who developed cancer after Zantac use. More individuals alleging they developed cancer due to Zantac use could also come forward.
Zantac class actions
Some people who have used Zantac can join or start a class action. Class actions are different from MDLs. Under a class action, similar cases are grouped together into one case under one plaintiff or one lead representative. This grouping means litigation takes place for the group of lawsuits instead of individual lawsuits.
Zantac class actions do not require claimants to have cancer or a cancer diagnosis. They are only required to show they used the drug and were not warned about its link to cancer. If they receive compensation, it would be for the medication costs they paid, not for cancer-related expenses.
No Zantac settlement has been reached as of yet
As of this writing, no settlement has been reached regarding Zantac lawsuits. This also means no compensation has been decided yet. If you or a loved one believes you have developed cancer after Zantac use, you still have an opportunity to join the MDL or class action. 
A Zantac lawyer can help you explore your potential settlement in an individual lawsuit, which would depend on several factors, including how your cancer has affected your life and your finances.
Zantac lawsuits list various types of cancer 
While it has not been definitively confirmed that Zantac causes cancer, the drug has been linked to various types of cancer because of its active ingredient, ranitidine. People who have used the medication and been diagnosed with cancer have listed the following in their Zantac cancer lawsuits:

Bladder cancer
Breast cancer
Colon cancer
Esophageal cancer
Liver cancer
Kidney cancer
Melanoma
Non-Hodgkin lymphoma
Ovarian cancer
Pancreatic cancer
Prostate cancer
Stomach cancer

You may be diagnosed with a type of cancer that is not listed here. You are encouraged to speak with your doctor if you feel Zantac use caused or led you to develop cancer. When you meet with your physician, tell them:
How long you had been using Zantac
How often you took Zantac
The dosage of Zantac that you took
If you are experiencing Zantac side effects
If you took Zantac with other medications
If you have a family history of cancer
Get medical help right away
You will need to pursue medical treatment promptly for a cancer diagnosis, as a delayed diagnosis and treatment could affect your case. If you wait for medical care or don't follow your treatment as prescribed, it may be argued that you made your condition worse. 
After you have taken care of your health, you may want to review your legal options for financial recovery due to your Zantac use, especially if you have been diagnosed with cancer. You can fill out our contact form for help with your case.
Does Zantac cause cancer?
Research on whether Zantac directly causes cancer is ongoing; a clear answer has not been determined. What is widely agreed upon is that NDMA is a probable human carcinogen that has been identified as a possible cancer-causing ingredient in certain heartburn medications. 
Low levels of NDMA exposure are not expected to lead to a cancer diagnosis. However, exposure to high levels of the toxin can be problematic, some scientists say.
Valisure brought its ranitidine concerns to the FDA in 2019
Millions of Americans have used Zantac to treat various conditions since its arrival on the market in the early 1980s. The prescription form of the medication could be taken as a tablet, capsule, and an oral syrup, according to StatPearls. It was also available as an injectable solution. 
The FDA had been investigating impurities in certain medications, including blood pressure medications, since 2018, according to this report. A year later, more doubts about ranitidine's safety surfaced in September 2019, when the FDA received a petition from Valisure, an online pharmacy company. 
Valisure detected concerning levels of NDMA during testing
In the petition to the FDA, Valisure asserts it had tested and found more than 3,000,000 ng of NDMA per ranitidine tablet. This exceeds the amount the FDA says is safe for consumption. According to this FDA guide, 96 nanograms (96 ng) is the acceptable daily intake limit. 
Valisure also reported that it believes this high amount of NDMA is likely due to an "inherent instability of the ranitidine molecule." As a result, the online pharmacy urged the FDA to recall ranitidine and suspend its sale because of "its propensity to form the probable carcinogen NDMA." It also urged it to investigate ranitidine products further, which the FDA subsequently did. 
Still, the FDA says it does not have scientific evidence that allows it to determine how long NDMA has been present in ranitidine products. It is continuing to investigate the source of NDMA that is present in the medication. 
Zantac can cause side effects
Zantac use has caused minor-to-severe side effects that can go away within a two-week period. Per Healthline, it can cause:
Nausea and vomiting
Stomach pain and discomfort
Headache
Constipation
Diarrhea 
Serious Zantac side effects usually require a doctor's care. They include:
Abnormal or sped-up heart rate: Tiredness and shortness of breath are usually signs.
Cognitive impairments: These can present as confusion, agitation, hallucinations, blurred vision, and depression.
Liver inflammation: A person may have discolored urine, yellowed skin, or yellowing of the whites of their eyes.
As noted earlier, see your physician if you experience serious Zantac side effects or if you have any concerns about taking the medication. Whether you experience side effects or not, you may want to stop taking Zantac or any other ranitidine product as advised. 
Who is eligible to file a Zantac lawsuit?
Any consumer who believes they developed cancer from Zantac use can sue a drugmaker or manufacturer over their illness and other related losses. Whether you win your case will hinge upon your ability to prove that using Zantac led to your cancer diagnosis.
You could join a class action or the MDL that is underway in West Palm Beach, Florida. The option to file your own lawsuit may also be available if you cannot join existing legal actions. Note that you must pay attention to the statute of limitations in your state. In many cases, the clock starts ticking toward the filing deadline on the date you discovered the cancer. 
Injury lawsuits set out to prove negligence, and Zantac litigation involves two types of negligence: defective design and failure to warn consumers of the drug's cancer risks, as noted earlier.
Determining if you should file a Zantac lawsuit
If you can prove your Zantac use led to the development of cancer, you could explore various legal options for holding the drugmaker responsible. However, before you can recover compensation for your injuries and related losses, you will need to do the following:
You must show that you took Zantac
You will need to present evidence that you took Zantac. If you have a doctor's prescription, that can serve as documentation that you took the drug under the guidance of a medical professional. 
If you bought an over-the-counter version of Zantac, you can prove this with a receipt. Your medical records can also indicate that you took either version of the medication if they note that you spoke with your doctor about it before your cancer diagnosis.
You must be able to show the connection between your Zantac use
You will need compelling evidence to show how your cancer diagnosis and your Zantac use are connected and that the drug caused your illness. Medical documentation will also play a considerable role in proving this. Your doctor's testimony—or that of another medical provider—could help your case. You may also be able to use a third-party medical professional as an expert witness who could testify to support your claims.
Is a lawsuit an option if you took Zantac and did not develop cancer?
Yes, a lawsuit is still an option for consumers who bought and used Zantac but did not develop cancer. In this case, legal action against drugmakers will focus on their failure to warn users about the product's cancer risks. If these claimants recover a settlement, it will not be for compensation for cancer costs.
Should you sue Zantac if you suffered adverse health conditions? 
Pursuing legal action is an important decision because it involves a great deal of time, money, effort, and resources. If you want to explore your legal options, you can reach out to a personal injury law firm. A legal team can review the facts and circumstances of your situation and determine if you can take civil action for compensation. 
How a Zantac attorney can help with your case
Hiring an attorney to handle your Zantac case can help ensure there is someone on your side to serve as your advocate during the entire litigation process. Your mass tort lawsuit lawyer will meet and communicate with all involved parties and fight on your behalf. 
They also will answer your questions, explain all applicable laws, and keep you updated on all developments in your case. Legal representation can save you time and ensure all essential paperwork related to your case is handled properly and that no key deadlines are missed.
Possible recoverable compensation in Zantac lawsuits
 Victims who have filed Zantac lawsuits may be able to recover various damages based on how the drug affected them. For example, if you developed cancer after taking a Zantac product, you may be eligible to collect economic and non-economic damages.
Financial losses 
You likely have economic damages if you have been diagnosed with cancer. These are the financial losses you endured due to your medical condition. Your diagnosis could mean that you have missed time at work, you cannot return to work, or that your work duties had to change because of your illness. All of these can affect your income. 
If you receive a monetary settlement, you could recover:
Chemotherapy costs and other required cancer treatment
Hospital stays and ambulatory care
Diagnostic tests, such as MRIs, CT scans, X-rays, and bloodwork
Medications
Transportation for your medical appointments
Other related medical expenses
Medical equipment, assistive devices
Home health aide or in-home help services
Lost wages and work benefits
Lost pension or other retirement benefits
Reduced earning capacity
Lost promotions, sick leave pay
Zantac lawyers will calculate your losses and consider how they determine what future medical care you will need. They will also review how your illness affects your future earning ability. 
Cancer-related treatment expenses are important to calculate, as your illness can affect your quality of life for the rest of your life. We want to ensure you get the help you need to pay your bills so that you are not left trying to manage overwhelming expenses on your own.
Non-financial losses 
Zantac victims may also be able to recover compensation for the physical, mental, and emotional effects of their cancer. Non-economic damages are designed to compensate you for how non-financial losses have affected your life. 
There are many ways that your illness has affected you. For example, you may now need help with doing everyday tasks where you were able to do them before by yourself. You may not be able to participate in hobbies or activities that you once did, and you may have depression, anxiety, insomnia, or post-traumatic stress because of your illness. 
An attorney can review with you how your life has changed since your cancer diagnosis and treatment. It is important to have evidence showing how your life has been affected, so you may want to document your daily routine with a video journal or a written one. You can also include photos and more to prove the toll cancer has taken on your health, daily life, and loved ones.
Damages if you lost a loved one 
If you lost a loved one who developed cancer after Zantac use, you may be able to seek damages on their behalf. If you recover a wrongful death award, it could cover the costs of your loved one's:
Final medical expenses
Funeral, cremation, and burial costs
Pain and suffering before their death
You could also be compensated for:
The loss of companionship your loved one provided
Income that the decedent contributed to your household
Family members' pain and suffering due to the loss of a loved one
You can work with an attorney to learn which family members qualify to pursue wrongful death damages. State laws usually determine who can file on behalf of the family and which members would benefit from legal action. 
If the decedent left a will that names an estate representative, then that individual can file the lawsuit and split the potential settlement or court award among the eligible family members. If no representative is named, then a court could appoint one.
A Zantac lawyer understands that no amount of money can bring back your loved one. However, compensation can offer some financial relief as you rebuild your life after the loss of your loved one. Your legal team can take care of all Zantac litigation for you while you take care of your family.
Get started on pursuing a Zantac lawsuit today
If your cancer diagnosis came after you used Zantac for heartburn or other conditions, you can connect with a law firm to explore your legal options. Your mass tort attorney will determine the best path for your case and what compensation you may be able to receive. To get started today, fill out our contact form for help with your case.