3M AFFF Lawsuit
News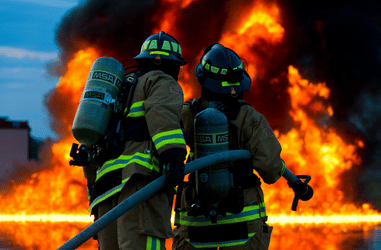 The 3M AFFF lawsuit is a legal action filed against the manufacturer of aqueous film-forming foams (AFFF). This foam contains polyfluoroalkyl substances (PFAS) and perfluoroalkyl substances (PFOS), which can cause serious health problems even years after exposure.
If you worked with or were exposed to AFFF, you may now reasonably ask yourself, "Do I qualify for the AFFF lawsuit?" Only a lawyer can provide a conclusive answer to that question. An attorney serving your area would be happy to answer that and any other questions you may have.
Do You Qualify for the AFFF Lawsuit?

To qualify for the 3M AFFF lawsuit, you must prove that you meet the following criteria:
The liable party—in this case, the manufacturer 3M—had a responsibility to produce high-quality firefighter foam that did not pose a serious risk to human life or the environment. They also had a duty to recall any products they knew to be hazardous.
3M failed to live up to these responsibilities: despite knowing the dangers AFFF presented, they continued to sell it without warning buyers of its risks.
Thanks to 3M's negligence, you or someone you love was exposed to AFFF, either in the course of employment or through the toxic contamination of the environment you live in.
Exposure to AFFF has caused you or someone you love serious harm, including health problems, loss of income, high medical expenses, or even death.
The harm you suffered due to AFFF exposure is substantially similar to the harm done to the other people who have already joined the lawsuit. This includes having the same liable party (3M, as opposed to another manufacturer or an employer) and similar injuries (e.g., the same or a similar disease).
How can you prove these facts to a judge's satisfaction? Potential evidence includes:
Employment history, like paystubs or an employer statement, to prove you worked in a position that put you at high risk of exposure
Residential history, like mail, to prove you lived in an area exposed to AFFF chemicals
Medical records, to prove you were diagnosed with a condition that has been linked to AFFF exposure
Financial information, like tax information or bills, to prove how the illness has affected your ability to support your family and maintain your standard of living
You may also have the opportunity to engage in discovery with 3M. This means they would have to give you access to any information they have that is relevant to the case and vice versa.
When you file a lawsuit against someone else, the burden of proof is on you. You may find it helpful to hire an attorney, as they are more accustomed to looking for and collecting evidence.
AFFF Class Action Lawsuit
The reasoning behind the 3M AFFF lawsuit is simple: the plaintiffs allege that 3M's product was dangerous and caused them to develop severe health issues, including but not limited to:
Cancer of the bladder, thyroid, pancreas, and other organs
Non-Hodgkin's lymphoma
Kidney disease and kidney failure
Pregnancy complications
Metabolic syndrome
High blood pressure
High cholesterol
Liver problems
These and other illnesses diminished the plaintiffs' physical and mental health and cost them the ability to live independently, make a living, or take care of their families. In some cases, the plaintiffs also owned property that was contaminated by the PFAS/PFOS in AFFF, diminishing the property's value.
Despite having good reason to file suit, these plaintiffs face a long road to receiving compensation. 3M is a large company with a vast number of resources at its disposal, including:
Money
Lawyers
Time to wait out lawsuits filed against them
For this reason, any ordinary individual who files against them because they are in desperate need of a payout is at an automatic disadvantage. Fortunately, the law gives regular citizens a way to fight back against corporations: the mass tort.
There Are Multiple Kinds of Mass Tort
"Mass tort" is the umbrella term for any legal action in which multiple plaintiffs consolidate their cases in some way to take on a much larger defendant. Two of the main types of mass torts are class actions and multidistrict litigations (MDLs).
In a class action, many similar cases are lumped together into a single case. In an MDL, the cases—which can come from all over the country—are kept separate while still allowing the plaintiffs to pool their resources. The benefits of mass torts may include:
Potentially shortening the legal process
Allowing plaintiffs to share evidence and other materials
Splitting the cost of litigation between all of the plaintiffs
An attorney can provide you with more information on the differences between mass torts and determine which type of legal action is best for you.
Firefighter Foam Settlement
Some cases against AFFF manufacturers have already been concluded, but many more are still ongoing. More cases may be filed shortly.
How much you can get from a settlement—and whether your case settles at all instead of going to trial—can depend on a variety of circumstances that your lawyer can review with you.
AFFF Lawsuit Cash Settlement Amounts
Both PFAS/PFOS and AFFF have been the subject of numerous lawsuits. Some of the settlements that have already been reached in PFAS cases include:
In September 2022, 3M and another company, Wolverine Worldwide, agreed to settle a case filed against them by 1,700 individuals in Kent County, Michigan. These individuals split a $54 million settlement paid as compensation for the fact that these companies' use of PFAS contaminated the local water supply (the two companies had previously been ordered to pay $69.5 million to help provide fresh water to local communities).
In January 2021, three companies—Tyco Fire Products, L.P., ChemDesign, Inc., and ChemGuard, Inc.—were ordered to pay a total of $17.5 million to the plaintiffs for both property damage and personal injuries.
Settlement amounts vary on a case-by-case basis, even when the cause of harm and the harm done are similar. This is why trying to calculate your damages based on prior cases alone is not necessarily helpful, and why hiring an attorney to determine your case's worth can save you a lot of time and trouble.
What AFFF Settlements Include
You and your lawyer can work together to come up with a complete list of how your exposure and subsequent illness have impacted your life, including:
The physical toll and pain of the illness
Emotional stress
Medical expenses and other bills
Loss of past or future income
Your lawyer can then use this list to calculate the dollar amount you should ask for in your lawsuit.
High-Risk Occupations for AFFF Exposure
The more you were exposed to AFFF, the more your risk of developing a serious illness could increase. You can absorb PFAS by:
Drinking contaminated water
Eating seafood that lived in contaminated water
Breathing contaminated air
Having topical contact on your skin with the foam itself
Anyone who either personally used AFFF regularly or worked in an environment where it was regularly used could be at risk, including:
Firefighters: Firefighters can spend a lot of time using AFFF, and they may remain at the site of use even after the fire is out, helping to clean up or rescue people who were trapped by the flames.
Members of the military: AFFF was frequently used on military bases. Not only are military firefighters at risk on the job, but they and their families could have been exposed through soil or water contamination around the base where they lived.
Factory or plant workers: When a fire breaks out at a factory, AFFF may be used to smother the flames and any toxic chemicals given off by the smoke.
Oil refinery workers: AFFF is particularly effective against fires caused by fuel, so it is commonly used in oil refineries.
With the dangers of PFAS/PFOS becoming more and more evident, some states are taking steps to restrict or prohibit their use. Such actions may protect the workers listed above in the future.
Who Else May Be at Risk of AFFF Exposure?
You do not need to have worked with AFFF or even been near the scene of a fire to have been exposed to the chemicals in firefighter foam. According to the Environmental Protection Agency (EPA), part of what makes PFAS so dangerous is the fact that they break down so slowly. This means:
They can stay in the environment for a very long time after use
It is more likely that the environment and humans will be exposed to PFAS and suffer the consequences of that exposure
PFAS can easily spread from the initial site of use into the soil, the water supply, and elsewhere
For these reasons, anyone who lives in or near an area where PFAS-containing AFFF is (or was) regularly used could be at risk.
Children in utero could also suffer the effects of AFFF exposure if their parent is exposed to it on the job, in their drinking water, or through other means. These children may be at increased risk for:
Low birth weight
Placental dysfunction, which can lead to lifelong neurological issues, according to a recent study published in Placenta
Developing other health problems as they get older
Consulting an AFFF Lawsuit Attorney

It's easy to feel overwhelmed or unsure when considering legal action. You may feel more reassured and be able to build a stronger case if you get help from an attorney who has experience with mass torts.
Benefits of hiring a lawyer include having someone to:
Advocate for your rights: An attorney can explain your rights and options, negotiate for a fair settlement, argue your case in court, and much more.
Speak to the other parties: 3M has representatives to speak for them and protect their interests. A lawyer can do the same for you and ensure that 3M does not try to interfere with your rights or reduce your compensation.
Strengthen your case: Lawyers know where and how to find the most convincing types of evidence, including medical records, expert testimony, and witness testimony.
Answer your questions: This includes the question of whether you can join a preexisting AFFF lawsuit. Even if you do not qualify for the ongoing AFFF lawsuit, there may be other ways for you to get compensation, like joining a different suit against a different liable party or even starting a new mass tort.
Hiring a lawyer does not have to cost you a lot of money out of pocket. Many firms work on a contingency fee, which you only have to pay if you get compensation. In addition, you may be able to include attorney's fees as part of your settlement, alongside compensation for medical bills, pain and suffering, and other losses.
How to Select an AFFF Lawsuit Attorney
There are several factors to keep in mind when looking for a toxic contamination lawsuit attorney:
Whether they serve clients in your area
Whether they have experience in mass torts
Whether they handle toxic contamination cases
Whether you get along with them and can trust them to handle your case properly
While researching law firms online is a good way to start, you may also find it helpful to consult a referral firm like ours. We can assess your case at no charge and connect you with firms that we think have the right qualities to tackle your case. You would then have the opportunity to:
Meet with the firm in person
Ask them any questions you have about how they handle cases, what their pay structure is like, and so on
Decide if you would like to move forward with that firm or if you would like to try someone else in our network
Find Out if You Qualify for the 3M AFFF Lawsuit
For a free case review, call 1.844.44TORTS (1.844.448.6787) today. The mass torts lawyers in our network can determine if you qualify for the AFFF lawsuit and how to get fair compensation for the harm 3M has done to you and your family. Members of our team are ready to help.