How Do I Get a Lawyer for My Roundup Lawsuit?
Product Liability Injuries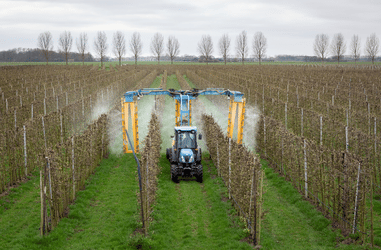 After experiencing Roundup's damaging health effects, you may have to get a Mass Tort lawsuit lawyer who can help you file a lawsuit for damages. You can look for a lawyer who handles mass torts and class action lawsuits. You can also choose from Roundup lawsuit attorneys who have had success with similar cases. 
If you have experienced Roundup exposure and are seeking an attorney to represent you, attorneys in our network can help. You could receive counsel on whether you qualify to receive compensation for medical expenses and other diagnosis-related damages.
How Do I Know if I Have a Roundup Legal Case?
If you have a history of using Roundup and recently received a cancer diagnosis, you could file a lawsuit against Monsanto Company (Monsanto), the herbicide's manufacturer. You can speak with an attorney in our network who handles mass tort lawsuits to find out if you have a legal case.
Several cancers are linked to Roundup exposure, including:
Non-Hodgkin's lymphoma (NHL)
Leukemia
Multiple myeloma
If you developed any type of cancer after using Roundup, it's possible that the weed killer caused your illness. You may be eligible for compensation from Monsanto if medical evidence shows that Roundup caused your cancer.
Lawsuits Link Cancer Diagnoses to Roundup Use
Monsanto faces thousands of lawsuits from individuals claiming that using Roundup led to their cancer development. The World Health Organization (WHO) has listed glyphosate, Roundup's active ingredient, as a "probable carcinogen." 
However, the U.S. Environmental Protection Agency (EPA) has concluded that glyphosate is "not likely to be carcinogenic to humans." This is opposite to the California Office of Environmental Health Hazard Assessment's mounting evidence, which lists Roundup's glyphosate as carcinogenic. 
Getting Legal Advice About a Roundup Lawsuit
An attorney can help you determine whether your case has merit and if it would be worth it to seek legal action. Mass tort lawyers have access to medical experts and can help prove that Roundup caused your cancer. They also know how to deal with insurance companies and defense lawyers. If you pursue compensation in court, a lawyer will guide you throughout the process.
What to Ask Candidate Lawyers When Exploring a Potential Roundup Lawsuit
First, you need to ask a lawyer about their case portfolio in mass tort litigation and what resources they have to build a strong case for you. Before deciding on a lawyer, you can ask these questions:
What's Your Experience in Similar Cases? 
The longer someone has been in the legal field, the more experience they should have. You want an attorney who handles similar situations and can give you the best possible representation. Generally, an attorney who has been in practice for a few years has more experience than someone who has just graduated from law school. 
How Long Do You Think It Will Take Before My Case Is Resolved?
You may not get an exact answer, but your lawyer should give you a general idea based on their experience with similar cases. This gives you a sense of how long you'll have to set aside for the legal process. 
Can You Tell Me What Happens in a Typical Day of the Case?
A lawyer will give you an idea of what happens during a regular day in your case. Ask them to walk you through the process, step by step. This gives you a better understanding of what lies ahead and what will be required of you. 
Do You Take Cases on Contingency?
Fees, charges, and costs can vary widely among lawyers, so it's essential to understand what and when you'll be expected to pay. In some cases, Roundup lawsuit attorneys will take cases on contingency, which means they will not be paid unless and until they win your case. Also, find out what percentage of the award will go to them if they recover damages in your Roundup case.
Will Anyone Else Work on My Case? 
Ask if other people will be working on your case and their duties. This can ensure your case receives proper attention and doesn't fall through the cracks because of miscommunication or neglect.
How Are Roundup Attorneys Paid?
Most Roundup lawsuit attorneys will work on a "contingency fee" basis. While you are responsible for paying these costs, the contingency plan dictates that you will not pay unless the lawyer obtains recovery for you. If a lawyer recovers damages for you, you will pay them a percentage of your settlement or verdict award.
These expenses include:
Legal research
Expert witness fees
Court filing fees
Investigative work
Other case-related costs
The percentage that lawyers charge for their services is something you can discuss with them before they start work on your case. However, how much you can expect to pay will depend on the lawyer and your case's details. 
Recent Roundup Verdicts
Whether you are a consumer, farmer, or landscaper, if you have been diagnosed with non-Hodgkin's lymphoma after Roundup exposure, you could recover compensation. Monsanto has been ordered to pay billions of dollars in verdicts and settlements for plaintiffs diagnosed with cancer after using the company's herbicide.
Some most recent verdicts include: 
Alva and Alberta Pilliod from California were awarded $2 billion in punitive damages and another $55 million in compensatory damages. This was after a jury found that the company's glyphosate-based herbicides caused them to develop non-Hodgkin's lymphoma (NHL). 
Mr. and Mrs. Pilliod had used Roundup for more than 30 years to landscape their property. On May 13, 2019, the jury determined that Monsanto knew or should have known that people exposed to Roundup could develop NHL but should have warned them of this risk. Monsanto was also found to act with malice, oppression, or fraud, which warranted liability for its behavior.
"We finally had an opportunity to demonstrate to the jury that Monsanto has been guilty of corporate malfeasance over the past 45 years," said Brent Wisner, the Pilliods' lawyer.
The award included $1 billion in punitive damages for each plaintiff and $5 million in combined compensatory damages.
On August 10, 2018, a California jury awarded $289.2 million to Dewayne Johnson in the first Roundup cancer lawsuit to go to trial. The jury found Monsanto liable for failing to warn Johnson and the public of the cancer risks associated with its weed killer products, specifically Roundup and Ranger Pro (a glyphosate-based herbicide). 
The verdict came after weeks of trial proceedings. During closing arguments, the plaintiff's counsel presented evidence that Monsanto had ghostwritten scientific articles that claimed glyphosate was safe and that it had influence over regulatory agencies like the EPA.
After hearing the evidence, the jury unanimously found for Johnson on all counts. It awarded him $39 million in compensatory damages and $250 million in punitive damages. 
The verdict against Monsanto was highly publicized across the globe and drew attention to thousands of other lawsuits pending against Monsanto. They alleged that Monsanto failed to warn consumers about the risks linked to Roundup and Ranger Pro exposure. 
On March 27, 2019, the jury in the Hardeman v. Monsanto Company trial awarded plaintiff Edwin Hardeman a significant sum of $80 million in compensatory and punitive damages. 
The verdict comprised $5 million in compensatory damages, which is meant to cover the medical expenses Hardeman incurred and the pain and suffering he experienced after exposure to the herbicide. Additionally, Hardeman was awarded $75 million in punitive damages on account of "malice or oppression." Punitive damages punish defendants for engaging in especially egregious conduct. They intend to deter similar conduct in the future.
Hardeman was diagnosed with B-cell non-Hodgkin's lymphoma after using Roundup products on his property for more than 20 years. The plaintiff's counsel argued that Roundup's manufacturer, Monsanto, failed to warn consumers about the potential health risks of using Roundup products. 
What if I Can't Afford a Lawyer?
If you can't afford a lawyer, many Roundup lawsuit attorneys handle such cases on a contingency fee basis. That means you won't pay a dime until they win your case, and their payment comes out of the settlement or award they negotiate for you. 
This enables people who otherwise couldn't afford to hire a lawyer to get legal representation. The amount the attorney receives is set at the beginning of the case, so both you and your attorney will know how much is coming out of any recovery. 
Although no attorney can guarantee that you'll win any particular claim, they will inform you about whether you have a valid claim and help you navigate the process. 
Lawyers Also Consider Their Involvement in Roundup Cases 
In addition to contingency fees, some law firms also charge small upfront costs (usually called "costs"), but these costs are typically very modest compared to what attorneys usually charge. If you can't afford small costs, some law firms might be willing to waive them for qualifying claimants.
Lawyers typically get involved in a case only when they think they can win big; not every Roundup case requires legal representation. Here are some things to keep in mind:
Lawyers usually only take cases that have a potential payout high enough to cover their time and effort
The more serious your product liability injuries are, the more likely it is that you'll qualify for a lawyer
You might have trouble qualifying for a lawyer if someone else was clearly at fault
Be ready to prove that Roundup caused your injury by showing medical records and test results from before and after the diagnosis
Get Legal Aid
If you can't afford a lawyer, you may qualify for legal aid services. There are legal aid programs in your area that provide free or low-cost legal assistance. If you've been injured after Roundup use or exposure and meet the income requirements, you could qualify to receive help from a legal aid service.
Requirements for legal aid in the U.S. include the following: 
You may be entitled to a court-appointed attorney if you receive assistance from any of these programs:
Supplemental Security Income (SSI)
Temporary Assistance for Needy Families (TANF)
Veterans' Benefits (VA)
TANF (Temporary Assistance for Needy Families)
Free and Reduced-Price School Lunch Program
If you have HIV/AIDS. You can get free and low-cost legal services if you live with HIV or AIDS. Look for services in your state on the U.S. Department of Health and Human Services (HHS)' website.
Your case involves a civil rights issue. If the plaintiff is fighting for something with the potential of a class action suit, they can qualify for free legal aid. 
You have low income by the court's definition. The court may determine that your income is too low to pay for representation. The standard used to measure poverty is usually based on federal poverty guidelines, as the Office of the Assistant Secretary for Planning and Evaluation (ASPE) outlines. Also, if your household income is below 125% of the federal poverty guidelines, you will be considered eligible for appointed counsel.
Get Help from a Roundup Lawsuit Attorney 
If you have been diagnosed with non-Hodgkin's lymphoma and have a history of Roundup exposure, you may be eligible for compensation. While Monsanto continues to deny that Roundup causes cancer, juries across the country have held the company responsible for its failure to warn consumers about its product's dangers.
You may want to talk to a mass tort lawsuit attorney about your legal rights and other concerns you have. They will help you navigate the legal issues surrounding Monsanto's liability and the validity of your claim. Fill out our contact form today to connect with a Roundup lawsuit attorney in our network as you explore your legal options.