The Link Between Firefighting Foam (AFFF) and Cancer
News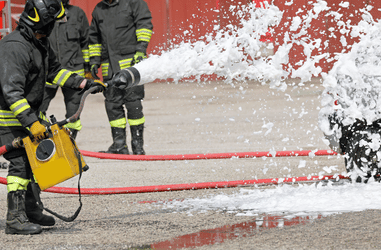 Since the 1960s, many organizations have applied firefighting foams to extinguish high-risk fires. When spread over a volatile fire, firefighting foam deprives the fire of oxygen and eliminates the threat, even when the fire is fueled by petroleum or oil. Because it is highly effective, firefighting foam is the preferred fire suppressant for military installations, fire departments, and petroleum operations.
Recent research links certain types of cancer to Class B Aqueous Film Forming Foam (AFFF). The foam contains per- and polyfluoroalkyl substances (PFAS), also known as forever chemicals. Over time, PFAS can accumulate in the body and create significant health issues, including deadly cancers.
What Kinds of Cancer Does AFFF Cause?

Exposure to even low levels of PFAS can affect human health. Recent studies link cancer to AFFF exposure, particularly for firefighters and other professionals who regularly encounter the fire suppressant. People are most often exposed to PFAS through ingestion, skin absorption, or inhalation. This affects the way PFAS-related symptoms and illnesses present.
According to the National Cancer Institute, PFAS in AFFF can cause a wide range of cancers, including:
Endometrial and ovarian cancer
Kidney cancer
Testicular cancer
Prostate cancer
Thyroid cancer
Child leukemia
Non-Hodgkin's lymphoma
Some studies also show a correlation between PFAS exposure and bladder cancer, breast cancer, and liver cancer.
If you or a loved one have cancer associated with AFFF, you may be able to file a claim against the manufacturer. You could speak with a mass torts attorney who handles AFFF exposure cases to discuss your legal options.
How Much Exposure to AFFF Do You Need to Develop Cancer?
PFAS from AFFF accumulate in biological tissues and do not biodegrade. Scientists and medical experts do not yet know how long it takes for AFFF to cause cancer. However, there is a correlation between cancer risk and ongoing occupational exposure to AFFF.
Studies show that firefighters and those in other occupations with ongoing exposure to AFFF have a higher cancer risk. They further indicate that higher AFFF exposure for longer periods can increase someone's risk of cancer.
How Many Firefighters Get Cancer Due to AFFF?
According to a study by the National Institute for Occupational Safety and Health (NIOSH), cancer is one of the leading causes of firefighter deaths. Approximately 20 percent of firefighters in the study were diagnosed with cancer during their lifetimes. More fire hours correlated with greater rates of cancer.
Although firefighters encounter a wide range of harmful chemicals in their line of work, including formaldehyde, asbestos, and benzene, the PFAS in AFFF is a significant concern. As a result, the U.S. military began conducting research in 2017 to phase AFFF use on military installations. Unfortunately, these measures do not address the damage firefighters already suffered.
AFFF Exposure Symptoms
The harmful PFAS present in AFFF can enter the body through the skin, lungs, and gastrointestinal tract. In addition to its carcinogenic, or cancer-causing, effects, AFFF exposure can cause numerous health conditions that affect your quality of life.
According to the U.S. Agency for Toxic Substances and Disease Registry (ASTDR), other health problems linked to AFFF and PFAS exposure include:
High cholesterol
Liver damage
Reduced infant birth weight
Reduced immune response in children
Greater risk of preeclampsia and hypertension during pregnancy
Birth defects
Thyroid disease
Asthma
If you or a loved one suffered any of the above illnesses after exposure to AFFF, contact a mass torts lawyer to learn about your legal right to compensation.
AFFF Cancer High-Risk Occupations
Cancer risk from AFFF correlates to the extent of exposure, so people in certain occupations face higher risk levels. AFFF is a critical firefighting tool, so firefighters are at the greatest risk, including:
Professional firefighters
Volunteer firefighters
Airport firefighters
Ship firefighters
Military firefighters
Some studies show that people who live or work near areas of high AFFF use also face a higher risk of AFFF-related health issues.
Firefighters Stationed at Airports
Jet fuel is flammable and explosive, so firefighters must extinguish any fires on airport property as quickly as possible. AFFF is the go-to option for such situations as it is so highly efficient.
After an airport fire, first responders and cleanup crews are the most likely to come in contact with the PFAS in AFFF foam residue.
Military Firefighters
Until recently, AFFF was the standard firefighting technique used to control fires on U.S. military properties. Military establishments rely on AFFF foam to rapidly extinguish fires fueled by highly flammable oil or petroleum materials.
Military planes and ships must eliminate fire risks immediately while in the air or at sea to avoid catastrophic loss of life. Firefighters stationed on bases, ships, and planes use AFFF to prevent intense onboard fires from spreading.
As more details about the risks of AFFF come to light, local fire stations and the Department of Defense have begun researching less toxic alternatives.
How Do I Know If I Have an AFFF Cancer Case?
If you received a cancer diagnosis after long-term exposure to AFFF, you could have a case to seek compensation. The first step is to establish your level of AFFF exposure. Such exposure may include occupational exposure as a firefighter or first responder.
You can also suffer from AFFF exposure symptoms and illness if you lived in an area near where AFFF has been frequently used. For instance, if you live near an airport that uses
AFFF, you may be exposed to it through groundwater contamination.
An attorney familiar with AFFF claims can help you understand the potential health risks associated with AFFF exposure and help you determine whether you have grounds to file a claim against negligent AFFF manufacturers.
Firefighting Foam Class Action Lawsuits
Since scientists discovered potential links between AFFF and cancer in 2015, 3,019 plaintiffs have filed lawsuits against 3M, the primary manufacturer of AFFF products. The cases allege that 3M was aware of the potential dangers of AFFF exposure and failed to warn the public of those dangers.
In January 2019, the courts consolidated most existing AFFF injury cases under MDL 2873 in the District of South Carolina.
If you suffered from cancer or another illness related to AFFF exposure, you may be eligible to join the ongoing litigation. You can consult with a mass torts lawyer to see whether joining a class action suit is in your best interests.
How Do AFFF Lawsuits Work?
Local fire departments and other entities used AFFF for several decades, unaware of the potential health issues associated with PFAS exposure. However, the manufacturers and distributors of AFFF may have been aware that the PFAS chemicals in AFFF could be harmful.
Lawsuits under MDL 2873 allege that the manufacturers were aware of the dangers of prolonged AFFF exposure. Despite this information, they continued to market, manufacture, and distribute the products without warning users or the public at large.
If you are a military or civilian firefighter who received a cancer diagnosis after using AFFF, you have the legal right to file a lawsuit for compensation. You should not have to pay for the manufacturer's negligent or wrongful practices.
Building a Case for Negligence
An AFFF lawsuit attorney can help you compile the necessary evidence to show that you experienced AFFF exposure. They can establish proof that 3M and other manufacturers and distributors of AFFF were aware of the potential carcinogenic effects of certain chemicals in AFFF. They can show that your illness occurred as a direct result of the companies' failure to warn you of those dangers.
Based on the evidence, your attorney can seek a settlement for the losses you suffered due to 3M's negligence. If you are part of the class action lawsuit, your attorney may be able to negotiate a settlement before the end of the trial. If not, you could receive a portion of the settlement after both sides reach an agreement or the judge renders a verdict.
If your case is not appropriate for inclusion in the current MDL, your toxic contamination lawsuit attorney may advise you to proceed with a personal injury lawsuit instead.
Firefighter Foam Cash Settlements
Reach out to a personal injury attorney as soon as you receive a diagnosis for AFFF-related cancer. Your lawyer can discuss your legal right to fair compensation for the losses related to your illness. While every case is unique, most personal injury claims include similar damages:
Economic Damages
After a cancer diagnosis, you may require surgery, chemotherapy, and other expensive medical care. Your illness and treatments can make it difficult or impossible to continue working. Even after treatment, cancer can cause chronic disability that requires long-term care and in-home assistance. Your attorney can seek compensation for the financial costs associated with your AFFF cancer diagnosis. These economic damages may include:
Medical bills
Lost income
Reduced future income
Rehabilitation and therapy
In-home nursing care
Domestic assistance
Assistive devices
Modifications to account for disability
Non-Economic Damages
In addition to the economic losses above, your lawyer can seek non-economic damages. Non-economic damages include losses that you cannot quantify with bills, invoices, or receipts. They include:
Pain and suffering
Mental and emotional distress
Loss of use (generally, the loss of a body part's use)
Reduced mobility
Impaired cognitive function
Diminished quality of life
Wrongful Death
If you lost a loved one to cancer due to AFFF exposure, you could seek compensation through a wrongful death lawsuit. A wrongful death claim allows the surviving family of the deceased to seek financial compensation for their losses. Damages you can include in a wrongful death suit are:
Funeral and burial expenses
Lost income
Pain and suffering
Emotional anguish
Loss of counsel and advice
Loss of companionship
Loss of consortium
What to Look For in Firefighting Foam Cancer Lawyers

If you are a firefighter with AFFF-related cancer, an attorney can help you file a lawsuit for the compensation you deserve. Choosing the right lawyer is a crucial aspect of your firefighting foam cancer case. Consider the following factors when selecting the right attorney for your case:
Contingency Fees
Most class action attorneys will take your case on a contingency basis, which means that you pay nothing upfront. Instead of itemizing attorney's fees and costs, your lawyer will deduct an agreed percentage from the final settlement. Some attorneys still operate on an hourly basis, so ask questions and do not hesitate to explore your options to find the right fit for your budget.
Personalized Representation
An attorney who is sympathetic to the challenges you face as an AFFF cancer victim will know how to ease your financial and legal burden. They will know how the diagnosis affects every aspect of your life. A personal injury lawyer who handles class action claims can also help you seek medical care and avenues of financial support while you pursue justice for your injuries.
Experience With Mass Torts
When you pursue compensation from a large company, you need an attorney who has experience handling mass torts cases. A seasoned class action lawyer will know what it takes to build a solid case for the maximum settlement value. They will know which evidence they need to meet the burden of proof and establish the financial value of your losses. By leveraging extensive experience and resources, a mass torts lawyer can help you navigate the complex legalities of a class action suit, so you have the best chance for a positive outcome.
Mass Torts Attorney Referrals for Your AFFF Cancer Case
If you or a loved one has cancer because of extended or repeated exposure to firefighting foam, you do not have to suffer alone. The mass torts attorneys in our network are well-versed in mass torts cases against large international corporations like 3M. Fill out our contact form to request a referral from a class action AFFF attorney in your area or call 1.844.44TORTS (1.844.448.6787) today for your free consultation.