What are the First Signs of Asbestos Exposure?
Product Liability Injuries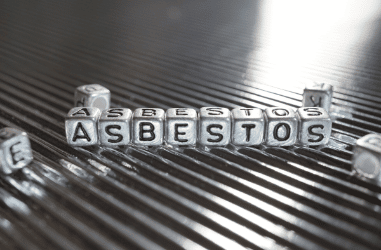 The first signs of an illness related to asbestos exposure can include a persistent cough, shortness of breath, extreme tiredness, and pain in the shoulder or chest. Before being regulated, asbestos was widely used in many commercial and industrial products across many industries, putting hundreds of thousands of people at high risk of developing serious illnesses.
The U.S. Environmental Protection Agency (EPA) describes asbestos as 'a known carcinogen' and has been taking action to protect the American public from exposure to its harmful effects since 1989. Exposure over time can cause irreparable damage to the lungs identified by symptoms that may take decades to develop and are associated with certain cancers and other serious health conditions. If you have been affected, you may be able to pursue compensation.
Information in This Guide
The information in this guide answers common questions many people have about pursuing compensation for asbestos-related injury and illness claims, specifically:
Can you sue an individual or business for exposing you to asbestos?
How much can you sue for asbestos exposure?
How do you test for asbestos exposure?
How do you prove asbestos exposure?
What do you do if you develop symptoms that could be related to asbestos exposure?
Which diseases and illnesses are associated with asbestos exposure?
What legal options do you have if you suffer from illness or disease related to asbestos exposure?
How can MassTortsCentral.com help with my claim?
Can You Sue Someone for Exposing You to Asbestos?
Since the 1970s, business corporations and manufacturers who were aware of the dangers of asbestos and failed to warn people about its risks have caused many thousands of Americans to suffer from severe health conditions. This blatant disregard for safety and human life has made mesothelioma (cancer associated with asbestos exposure) litigation the longest-running mass tort in U.S. history. 
Victims harmed by inhaling this toxic mineral may be entitled to compensation or other types of financial assistance from negligent parties. For example, if you or a loved one was diagnosed with mesothelioma, you may have several ways to pursue compensation, including:
Personal Injury Lawsuits and Mass Torts
You may be able to file a personal injury lawsuit against a business or other entity if they negligently harmed you with asbestos exposure. Unfortunately, the responsible party in an asbestos lawsuit is often a powerful organization. As a result, many victims opt to join mass tort lawsuits to benefit from strength in numbers. 
Mass torts enable injured parties to join together and consolidate many cases into one lawsuit, which can help to save time and money. The costs of building and pursuing the case are shared between participants in the suit rather than an individual paying for them independently. Further, vital evidence used to prove liability can be applied collaboratively, making the legal process more efficient. 
It is important to note that while the benefits of a mass tort are shared between participants in the suit, every person in it is still considered an individual. This means the scope of a participant's injuries and any subsequent damages awarded will reflect their unique situation. Our network of attorneys can help you to determine whether you qualify to join a mass tort and manage the legal process on your behalf. 
Trust Fund Claims
Asbestos trust funds are established when companies who face liability for harming people who became ill from exposure to their products file for bankruptcy. Around 60 trusts amounting to $37 billion have been set aside to compensate victims and families who lost a loved one due to asbestos exposure.
It is important to know that you may be able to apply to several different trust funds. Our network of attorneys can investigate the facts and circumstances of your case, identify liable companies, and apply to as many trusts as possible to recover financial damages.
Veterans Claims
Unfortunately, veterans who served between 1930 and 1980 have an increased risk of developing mesothelioma due to the number of asbestos products used by the U.S. Military across all branches. In addition, veterans may have been exposed to asbestos in ships, tanks, aircraft, or military bases. 
If you were diagnosed with mesothelioma after military service, you might qualify for benefits from the U.S. Department of Veterans Affairs, such as Disability Compensation and V.A. Pension. Through your service to our country, you deserve to be fairly compensated. Our network of lawyers can help you file or appeal your claim for benefits and pursue compensation from other sources such as trust funds or mass tort lawsuits. 
Wrongful Death Lawsuits
Families who have lost a loved one to mesothelioma or another illness related to asbestos exposure may be able to pursue damages by filing a wrongful death lawsuit. 
The rules and limitations regarding who can file a wrongful death suit vary for each state. However, in general, it is close family members such as the surviving spouse, children, the deceased's parents, or someone with the legal authority to file on behalf of the estate. Our network of attorneys can help you fight for the justice and compensation your loved one deserves. 
How Much Can You Sue For Asbestos Exposure?
Many factors determine the amount of compensation awarded to victims of asbestos-related illnesses, for example:
The circumstances of your case, such as exposure history and diagnosis
The legal process used to pursue compensation, whether it's a trust fund, settlement, or jury verdict
Whether or not a liable party has a previous history of negligence related to asbestos exposure 
State regulations and laws that apply to your case
Other factors that could impact your case
Our network of attorneys can work with you to determine how you were exposed to asbestos and its impact on your health and life. You may be able to pursue compensation for:
Medical bills and treatment costs, including diagnostic tests and travel costs to attend medical appointments
Lost wages during your treatment
Loss of future income if you are no longer able to work
Pain and suffering (awarded for physical and emotional stress caused by an injury or illness)
How Long Does It Take To Recover Compensation?
Again, many factors can determine the time it takes to resolve your claim, such as how you seek compensation and the complexity of your case. Typically mesothelioma claims are faster to resolve as most health issues stem from asbestos exposure. Trust fund claims and out-of-court settlements generally have the shortest waiting time, with lawsuits taking longer, but there are no hard and fast rules as each case is unique. 
Is There A Test For Asbestos Exposure?
According to the Centers for Disease Control (CDC), asbestos exposure is the leading cause of mesothelioma. Unfortunately, mesothelioma and other asbestos-related diseases rarely produce measurable symptoms in their early stages of development. Many people start with no symptoms at all, so it can be challenging to screen for these conditions. 
If you have worked with asbestos products or are experiencing symptoms such as shortness of breath, persistent cough, wheezing, extreme tiredness, or pain in the chest, it is essential to seek medical advice. The following tests can help your doctor to identify changes in your lungs:
Doctor's initial examination of the chest with a stethoscope
Imaging scans such as chest X-rays or C.T. scans
Lung function tests
How Do You Prove Asbestos Exposure?
Even with diagnostic testing, pinpointing the exact cause of lung damage caused by asbestos can be challenging as many other things can have the same effect, such as air pollutants or other health conditions. Our network of attorneys can help you gather the evidence needed to prove asbestos exposure by showing:
The liable party failed to use reasonable care and negligently caused asbestos exposure
The exposure caused mesothelioma or another asbestos-related illness
You suffered physically, emotionally, and financially as a result of the illness
Evidence could come from your medical and occupational history or expert testimony from medical professionals. 
Exposed To Asbestos Symptoms?
Asbestos can produce microscopic fibers that damage and scar the lungs when inhaled over time, which develop into severe health conditions decades later. People can be exposed in their workplace, communities, or even their homes. The World Health Organization cites asbestos exposure as being the cause of around 50% of all occupational deaths caused by cancer.  
People who worked with asbestos products in the following occupations are at much higher risk of developing asbestos-related illnesses:
Construction workers, including bricklayers, plumbers, carpenters, electricians, laborers, painters, plasterers, and cement finishers
Industrial and power plant workers
Firefighters
U.S. Military veterans 
Shipyard workers
Mechanics
Mineworkers
Foundry workers
Heating and ventilation engineers
Demolition workers
Industrial machinists
Millwrights
Pipe insulation workers
Sheet metal workers
While occupational exposure is the primary cause of asbestos-related illnesses, secondary exposure can put others at risk. This type of exposure typically occurs when workers unknowingly bring home asbestos fibers on their clothes. In addition, other people have been affected by household products linked with asbestos-related diseases such as ovarian cancer caused by Johnson & Johnson's talcum powder.
Asbestos-Related Diseases and Illnesses
Asbestos exposure is primarily associated with the following illnesses and diseases: 
Mesothelioma: an incurable cancer that develops in the lungs or the abdomen                                      
Lung cancer: cancer that requires treatment using chemotherapy or radiation therapy
Ovarian cancer: cancer linked with occupational and secondhand exposure and talcum powder products
Asbestosis: an incurable lung condition that makes breathing more difficult as the disease develops
If you think you may have been exposed to asbestos, it is important to screen for potential problems sooner rather than later. Further, if you have been diagnosed with an illness caused by this toxic mineral, you have the right to pursue compensation for any wrongful harm caused.  
How Our Network of Attorneys Can Help You
Our network of asbestos injury attorneys brings claims on behalf of people from many walks of life that have been wrongfully harmed by exposure to toxic contamination. They can help you identify where the exposure took place while pursuing compensation from those responsible for causing your illness. 
Remember that you may have a case against multiple parties, which could provide you with several ways to pursue compensation. While each case is unique in terms of the financial damages you could receive, the process involved in starting and building your case is pretty standard. Our team could:
Connect you with an asbestos-exposure injury attorney who can help you determine the most suitable strategy for pursuing your claim. 
Gather evidence that shows how you were exposed to asbestos and how you have been harmed as a result. 
Manage the legal process by filing the appropriate claim while providing the support and guidance you and your family deserve.
If you are unsure if your illness was caused by asbestos exposure or have concerns about filing a claim, our network of attorneys can help. Our representative can answer all of your questions, so you have a clear understanding of your legal options and how to move forward with your case. 
Connect With a Top Mesothelioma Attorney
At MassTortsCentral.com, our mission is simple: to help consumers hold product manufacturers and other organizations accountable for injuries their products cause. If you or a loved one has been diagnosed with mesothelioma or any other illness related to asbestos exposure, we can connect you with a lawyer who can help. The attorneys in our network are dedicated to putting your needs first while fighting for the compensation you deserve. 
Our asbestos injury lawyers strive to make the claim process as straightforward as possible by handling every aspect of the legal process for you. They can take care of the administration and communications involved with your case, answer your questions, and represent you throughout the legal process. Schedule a free initial consultation with us today to find out if you can make a claim.