What Is a Typical Asbestos Exposure Settlement
Toxic Contamination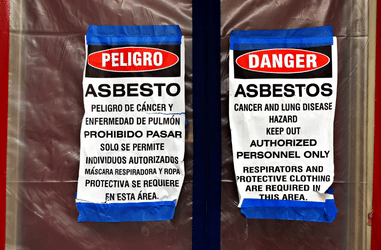 Asbestos exposure settlements and lawsuits are ways to recover compensation after developing an illness due to asbestos exposure. Patients who have received a professional medical diagnosis related to this exposure could seek compensation from the liable party.
The compensation those exposed to asbestos could recover varies case by case. A large indicator of identifying the amount they qualify for is their damages. An attorney could provide a more accurate estimate of what a typical asbestos exposure settlement is for a specific case.
Factors That Affect Asbestos Exposure Settlement Amounts

The primary factor of how much someone could receive in a settlement is the damages they incurred. Damages are the compensation someone owes for causing someone else to endure losses because of their related injuries. An Asbestos Lawsuit Attorney can help the victim determine the value of their case by identifying their damages.
Injury victims could receive compensation for justified monetary losses and subjective, non-monetary losses. For example, going through medical treatments can cause a lot of emotional and physical pain, and the courts may decide a claimant should recover compensation for having to endure that. There are other factors that could play a role in what a typical asbestos exposure settlement is, including medical bills and lost income.
Pain and Suffering
After getting exposed to asbestos, many people could develop illnesses that could require them to go through treatments. Treatments can cause a lot of pain and discomfort. Therefore, they could recover pain and suffering damages. Pain and suffering damages refer to the following that occur after an injury:
Pain
Anguish
Discomfort
Inconvenience
Emotional Distress
Injury victims could recover compensation for emotional distress damages if their mental and emotional health took a toll because of the injuries they sustained. Going through treatments related to an illness caused by asbestos could also cause someone to experience negative psychological effects.
Examples of negative psychological impacts someone could experience include:
Emotional harm
Mental anguish or suffering
Humiliation
Mental disturbance
Anxiety
Sleep issues
Many other emotional issues someone develops as a result of asbestos exposure could qualify to recover compensation.
Medical Bills for Past and Future Care
Asbestos exposure could cause someone to undergo extensive treatments that may require paying out-of-pocket costs. Through a claim or lawsuit against the liable party, the person exposed to asbestos could recover compensation for their medical bills, including the costs for the following:
Hospital stays
Surgeries
Medical treatments
Physical or occupational therapy
Doctor's visits
Medications
The severity of the illness or injuries can significantly affect how much someone could receive for medical bills.
If the injured party requires medical care in the future, they could recover the estimated value of their future medical bills. Attorneys can work with economists and medical experts to determine a fair value to seek for future medical bills.
Lost Income and Projected Future Lost Income
Depending on the severity of the injury and length of treatments, the victim could recover compensation for the income they lost. For example, their injuries could require treatments that could leave them hospitalized, causing them to miss work. If someone has to miss work for a long time and it starts affecting their income, they could recover the money they would have earned through a claim or lawsuit.
Injury victims can also recover compensation for projected future lost income if their doctors don't believe they can return to work in the near future. Again, attorneys can calculate the value of that estimated loss.
What Is the Process of Recovering Compensation After Asbestos Exposure?

Recovering compensation after asbestos exposure requires several steps. First, attorneys can help the injured party recover compensation through a settlement to help avoid a trial. However, if the opposing party doesn't make a fair offer, a lawsuit could help the injured party recover maximum compensation.
The steps to filing a claim to get compensation after asbestos exposure may include the following:
Have an attorney file a claim against the liable party. By filing the claim, they can send a demand letter to the opposing party, indicating how much compensation they seek. Attorneys can use the value they calculated after reviewing damages. The opposing side can respond; typically, they counter the original offer.
The plaintiff's attorney can present their case and the evidence indicating how the defendant caused their injuries.
Negotiations with the opposing counsel take place. The attorneys on both sides can negotiate to come to a fair settlement agreement.
The case can go to a trial if the opposing parties cannot reach a fair settlement. Through a trial, an attorney can present the plaintiff's case in front of a judge and jury. Then, they will decide how much compensation the plaintiff could receive.
Toxic Contamination Lawsuit Attorneys can provide more information about the exact steps of recovering compensation. A benefit of having an attorney through this process is they can handle communications on the injured party's behalf and ensure they don't miss any timelines regarding their case.
An Attorney Can Help You Recover Compensation in an Asbestos Exposure Settlement
Did you develop an illness because of asbestos exposure in the workplace or other areas? If so, you deserve to hold the liable party accountable. You may have to deal with an illness or treatments that could affect you for the rest of your life. By filing a claim or lawsuit against the liable party, you can recover compensation and help ensure this doesn't happen to others in the future. Contact an attorney in our network today for a free consultation by filling out our contact form. A mass torts attorney can reach out to you shortly to review your case and inform you of your legal options. After the consultation, you can determine if you want to move forward with the attorney.