A Simple Guide to CPAP Lawsuits and Settlements
Medical Devices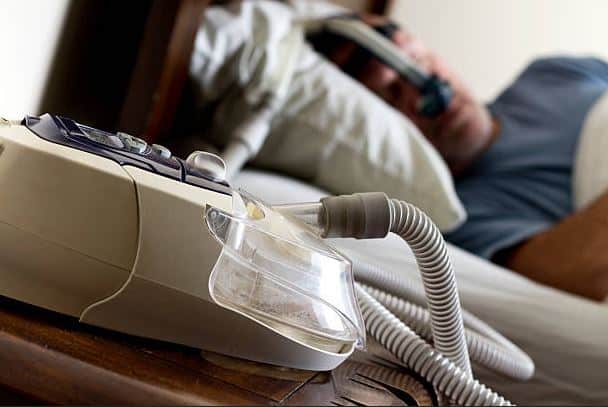 According to the U.S. Food and Drug Administration (FDA), multiple CPAP, BiPAP, and ventilator models were recalled by Philips Respironics in 2021 due to concerns that the foam used in the devices could cause severe respiratory illness and cancer.
Since the recalls were announced, more than 100 lawsuits have been filed against the manufacturer.  If you have been affected by the Philips CPAP recall, a mass torts attorney can help with your claim.
Philips CPAP Lawsuit Attorneys

If you used a Philips Respironics continuous positive airway pressure (CPAP) machine, bilevel positive airway pressure (BiPAP) machine, or ventilator and suffered from respiratory illness or cancer afterward, you may be able to seek compensation for your losses.
While you can seek compensation without an attorney, mass torts claims can be particularly complicated. You could work with an attorney familiar with class action lawsuits and medical device defect claims. A mass torts lawyer familiar with the CPAP lawsuit can guide you through the legal process and ensure that you meet the appropriate deadlines and guidelines to join the ongoing litigation.
Establishing a CPAP Claim Requires Evidence
When you file a lawsuit against Philips for recalled CPAP equipment, you will need evidence to establish your claim. For a legitimate claim, you must show that Philips violated their duty of care to you, their customer, by knowingly including harmful products in their CPAP, BiPAP, and ventilator machines. You must also show that the failure of their duty of care resulted in your injuries or illness, which caused you to endure physical, mental, or financial hardship.
An attorney who handles Philips CPAP lawsuits can help you compile the evidence you need to establish your claim, including:
Scientific studies of the illnesses caused by the recalled CPAP machines
Case studies of individuals negatively affected by dangerous substances in CPAP machines
FDA applications and approvals for the recalled CPAP devices
Your medical records, bills, and associated documentation
Complaints, warnings, and other documents showing that Philips was aware of the dangers posed by the recalled CPAP devices
The goal of the CPAP lawsuits is to prove that Philips knew about the potential risks of their CPAP machines and chose to continue marketing, manufacturing, and distributing the machines regardless.
Complaints of Foam Particles Causing Breathing Problems
As of October 2021, all lawsuits regarding the recalled CPAP devices have been consolidated under MDL 3014. According to a transfer order for the existing multidistrict litigation, many claims have been filed for health problems associated with foam used in CPAP devices, including:
Personal injury lawsuits
Breach of warranty
Violation of laws for consumer protection
Unjust enrichment
The lawsuits allege that Phillips manufactured the recalled CPAP, BiPAP, and ventilator devices using a harmful polyester-based polyurethane (PE-PUR) foam as a sound attenuation substance. They indicate that under normal circumstances the foam broke down into harmful particles and released harmful gasses that were inhaled or ingested by CPAP users.
It is believed that Philips was aware that the foam could break down during standard use and cleaning processes that involved exposure to heat, moisture, ozone, and UV radiation. The suits also allege that Philips knew that the foam was toxic and possibly carcinogenic before they installed it in their devices.
Victims claim that while using the CPAP devices, they noticed chunks and particles of foam in the airway components of the machines. They further state that after ingesting or inhaling those particles or off-gassed substances from the PE-PUR foam, they experienced symptoms ranging from moderate respiratory and sinus discomfort to severe distress and even cancer.
Philips Failed in Their Duty of Care
According to lawsuit allegations, Philips owed their customers a duty of care to ensure that their CPAP, BiPAP, and ventilator devices were safe when used as directed. The lawsuits indicate that Philips failed in their duty of care when they chose to use PE-PUR noise abatement foam despite known risks. They further state that when Philips was made aware of the potential risks of PE-PUR foam, they attempted to hide the issue and purposely misrepresented recall information to support their own marketing and sales operations.
As a result of these attempts to hide and misrepresent the hazards posed by PE-PUR foam, victims claim that they were wrongfully exposed to toxic and carcinogenic chemicals and became ill as a result. As of September 2022, more than 100 lawsuits have been filed.
Determine Whether Your Make and Model Was Recalled
If you or a loved one have experienced illness or injury after using a Philips CPAP, BiPAP, or ventilator device that was manufactured between 2009 and April 26, 2021, you may be able to sue Philips for your losses.
According to the FDA, equipment that has been recalled by Philips includes:
Continuous positive airway pressure (CPAP) machines, which provide continuous air pressure to support patients who suffer from obstructive sleep apnea.
Bilevel positive airway pressure (BiPAP) devices, which employ variable pressure to keep sleep apnea patients' airways open.
Ventilators, which provide oxygen through mechanical means for people who have difficulty breathing without assistance.
The following models have been recalled:
A-Series BiPAP Hybrid A30 (not marketed in the U.S.)
A-Series BiPAP V30 Auto
A-Series BiPAP A40
A-Series BiPAP A30
C-Series ASV
C-Series S/T and AVAPS
DreamStation ASV
DreamStation ST, AVAPS
DreamStation
DreamStation Go
Dorma 400
Dorma 500
E30
Garbin Plus, Aeris, LifeVent
OmniLab Advanced+
REMstar SE Auto
SystemOne ASV4
SystemOne (Q-Series)
Trilogy 100
Trilogy 200
Additionally, replacement equipment provided by Philips includes a potentially hazardous silicone-based foam. The material is currently under review with the FDA, which states that patients should not discontinue the use of the replacement devices at this time.
Philips CPAP Recall Lawsuit Attorneys
If you were exposed to toxic gases or foam particles while using a Philips CPAP, BiPAP, or ventilator machine with PE-PUR foam, you could experience significant long-term health issues. An attorney who handles Philips CPAP recall lawsuits can help you understand your legal rights and seek compensation for your losses, including:
Medical expenses
Reduced or lost income
Surgery, chemotherapy, and other cancer treatments
Assistive devices and medical equipment
Therapy
Mental distress
Pain and suffering
Reduced quality of life
Loss of enjoyment
Loss of mobility
A CPAP injury lawsuit allows you to recover the costs associated with your injury, including current and future economic and non-economic damages. Since the injuries you could sustain as a result of exposure to PE-PUR foam can negatively affect every aspect of your life for years to come, you deserve compensation for the total losses associated with those injuries. You should not have to pay for the manufacturer's negligence.
How Much Can I Expect for a Philips CPAP Lawsuit Settlement or Verdict?
While the attorney who handles your Philips CPAP lawsuit can work to obtain the maximum settlement value for your losses, it is impossible to predict the amount of a settlement in advance. For class action lawsuits or mass torts, the Court will usually try a few sample cases in bellwether trials to assess the validity and value of the cases. These trials can provide a better idea of the potential settlement value for your own settlement.
Do I Need to Pay a Lawyer to File a Philips CPAP Lawsuit?
For class action lawsuits and most personal injury cases, you do not have to pay an attorney an up-front fee for representation. Rather, attorneys tend to take these cases on a contingency basis. That means that your attorney's fees and costs will be paid out in a portion of your settlement once your case is complete. This provides you with a means of pursuing justice and compensation for your losses, even if you can't afford to hire a lawyer.
Injuries Related to Philips CPAP Machines
Plaintiffs in the CPAP lawsuits against Philips allege that they suffered injuries and illnesses as a result of inhaling or ingesting loose PE-PUR sound abatement foam. They further indicate that the carcinogenic nature of PE-PUR foam has raised cancer concerns in victims exposed to PE-PUR foam particles.
Illnesses Reported by Philips CPAP Device Users
Victims who were exposed to PE-PUR foam while using Philips CPAP, BiPAP, and ventilator machines reported the following symptoms:
Headaches and dizziness
Sensitivity and irritation
Inflammation
Infection of the sinuses, eyes, and skin
Organ damage
Organ failure
Tumors, cysts, and blastomas (non-cancerous)
With extended exposure to PE-PUR foam in Philips CPAP machines, victims may experience:
Upper and lower respiratory irritation
Chronic respiratory diseases
Asthma and reactive airway disease (RAD)
Pneumonia
Respiratory failure
There is also concern that individuals exposed to carcinogenic PE-PUR foam particles and gases could contract cancer, including:
Bladder cancer
Blood cancer
Kidney cancer
Liver cancer
Lung cancer
Lymph node cancer
Oral cancer
Thyroid cancer
Protect Your Legal Right to Compensation for Your Philips CPAP Injury Claim
When you file a CPAP lawsuit against Philips, you must use evidence to prove that you were directly injured by their negligence. While your attorney can handle the majority of the evidence gathering, negotiations, and court proceedings, there are some things you can do to protect your legal rights:
Seek medical assistance: Your doctor will treat your health problems so you can enjoy a better quality of life. This also creates important documentation to support your claim.
Follow the doctor's orders: If your doctor tells you to take certain medications, attend therapy sessions, or undergo other treatments, be sure to follow their orders precisely. Any deviation from your doctor's orders can be used by Philips to show that your injuries are not as severe as you claim.
Maintain a journal: Maintain a log of your symptoms, doctor's visits, and medications. Write down when the pain and discomfort cause you to miss work or other activities you enjoy, and any other difficulties you experience because of your CPAP-caused health issues.
Do not sign anything: Do not sign any agreements, statements, waivers, or other documents on your case without consulting your lawyer. Any such document could prevent you from pursuing legal action against Philips.
Do not talk about the case: While your case is ongoing, do not discuss the case with anyone, including friends and family. Remember that anything you say can be used as evidence to disprove your claim, so it's best to say nothing until your case is complete.
Consult an attorney: A knowledgeable attorney can walk you through the legal process and help you avoid making any critical missteps. They can work with you to compile evidence and advocate for you throughout the legal process.
How Long Will My Philips CPAP Lawsuit Take to Settle?

Due to their complexity, achieving a settlement in a class action lawsuit can take months or even years. For example, if a company chooses to settle quickly to reduce the potential for bad publicity, the case could be over within months. If, however, a large company chooses to throw significant time and resources into defense, the case could last upward of 20 years. Most mass torts litigation falls within the 2-3 year range.
Circumstances that can affect the length of your case include:
How many people are involved in the case, both as plaintiffs and defendants
How complicated the case is
Whether the case is settled before it goes to trial
Whether the losing party chooses to appeal
Contact a CPAP Attorney Today to Discuss Your Claim
When you suffer injury as a result of manufacturer negligence, you should not have to pay for the resulting costs. If you experienced illness or injury due to the use of a recalled Philips CPAP machine, an attorney can help you pursue compensation.
The mass torts lawyers in our network are uniquely suited for mass torts cases and are committed to ensuring that manufacturers of defective products are held accountable for their negligent actions. Complete our online form today to arrange a case review with a Philips CPAP lawsuit lawyer near you, or contact us at 1.844.44TORTS (1.844.448.6787).