Philips CPAP Recalls Breaking News Update
Medical Devices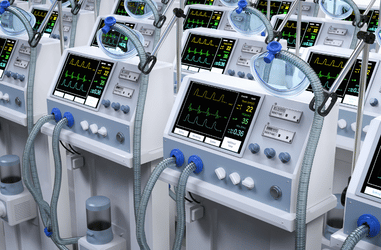 If you use a Philips Respironics machine, such as a CPAP machine, contact your doctor immediately. These devices have been recalled by the manufacturer because they may expose users to carcinogens and other dangerous substances.
If your medical device malfunctioned and did you harm, you may be able to collect compensation from the device's manufacturer. This money can cover medical expenses related to your CPAP usage and much more. An attorney can fight for compensation on your behalf and explain what Philips CPAP recalls breaking news updates mean for you and your case.
Here's What You Need to Know About the Philips Respironics Recall

According to the Food and Drug Administration (FDA), Philips recalled several of its products in June 2021. Products affected by the recall include:
Bilevel PAP machines
Mechanical ventilators
All of these machines contain polyester-based polyurethane (PE-PUR). This is a special type of foam intended to make the machines run more quietly—an important feature for many users since CPAPs and similar machines are typically used at night while a person is sleeping.
Unfortunately, this foam is not as durable as Philips anticipated. There is a chance that pieces of foam could break off and enter the tube the user breathes through. The user could then swallow those foam pieces. Though these pieces may be very small or even microscopic, they could still cause harm if ingested.
The FDA also notes that Philips initiated this recall themselves, rather than waiting for a government order. This does not, however, completely absolve them of responsibility for potentially exposing millions of people to harmful substances.
If These Devices Are Being Recalled, Why Should I Still Use Mine?
CPAP machines and similar devices are used to treat sleep apnea, a potentially serious medical condition. Without consistent treatment, you could be at increased risk of a heart attack, stroke, or other debilitating medical condition.
As with any medical device or medication, continuity of treatment is very important. Suddenly stopping or altering your treatment regimen without a doctor's approval could pose a greater risk to your health than the defective device itself.
If you are still using one of the recalled machines, the FDA recommends that you talk to your doctor as soon as possible. They can tell you if:
It is okay to stop using the machine immediately
It is okay to keep using the machine until you get a replacement
There is another treatment you can use while waiting for a replacement
What Is the Risk Associated with Recalled Philips CPAP and Ventilator Machines?
The insulating foam used in Philips CPAP and other machines can break down and be inhaled by patients.
Breathing in foam is clearly unhealthy, but in addition to the foam pieces themselves, the chemicals in PE-PUR pose a hazard to user safety as well. These particles, when inhaled by a user, could increase their risk of developing other health conditions, such as:
Kidney or liver cancer
Asthma and other respiratory issues
Skin irritation
Some of these conditions are treatable, while others could prove chronic. Regardless, you should never have had to worry about developing any of these conditions, as Philips should have done a better job of designing their product so that users would not be exposed to such hazards.
Symptoms of CPAP-Related Conditions
If you experience any of the following symptoms after using a recalled Philips CPAP, speak to your doctor:
Breathing problems, including shortness of breath or coughing
Sinus infections
Pressure in your chest
Irritation in the eyes or nose or on the skin
If you already had some or all of these symptoms before using the CPAP, you may still want to get checked out just in case, especially if your symptoms have recently worsened.
Seeing a doctor for your symptoms can protect your health by detecting problems early, enabling you to seek treatment before they become too serious. It can also make it easier for you to take legal action by:
Showing you were suffering enough to seek professional care
Establishing an early connection between your symptoms and your CPAP use
Generating medical records that show your symptoms, what treatments your doctor feels are necessary, and so on
Ensuring you already have a doctor who may be willing to provide a written statement confirming that the CPAP is likely the cause of your condition
CPAP Repair and Replacement Program
According to Philips' website, they are in the process of implementing a repair and replacement program for all recalled products. They estimate that the program will be complete by December 2022.
This program allows anyone who has a faulty CPAP machine to receive either a repair kit, allowing them to fix the machine and make it safe for use or a replacement machine.
How Can I Learn Whether My CPAP Device Has Been Recalled?
You may go to Philips' website and register your device. They can tell you, based on your device's serial number, whether it has been recalled.
You can also visit their site for each new Philips CPAP recall update as it is released.
What Should I Do If My CPAP Machine Has Been Recalled?
If your Philips CPAP machine is part of the recall, the first thing you should do is contact your doctor, explain what has happened, and ask for advice on how to manage your condition with or without the faulty device.
Next, you can ask for either a repair kit or a replacement device from Philips.
Finally, once you have ensured your physical safety, you can consider your legal options.
When Can I Replace My Recalled CPAP Device?
You may be able to replace your recalled device immediately through Philips' repair and replacement program. Unfortunately, as there are so many people seeking help for a defective device—3.3 million new devices have been produced as of September 2022, according to their website—you may experience a delay in getting a new or repaired device.
If you really need a new machine and are uncomfortable continuing to use the old one while you wait, you may want to purchase a new device right away rather than waiting for a replacement. You could recover the expense of purchasing a new machine by filing suit against Philips.
Who Is Liable for the Faulty Philips CPAP Machine?
If you believe your CPAP machine has caused you harm, what can you do? One solution is to join a mass tort, such as multidistrict litigation (MDL), against the party that exposed you to the defective product.
Durable Medical Equipment Providers, Distributors, or Medical Institutions​
In most cases, the manufacturer, Philips, is the primary or only party named in a lawsuit regarding faulty CPAP machines. This is because Philips is responsible for most tasks dealing with product safety, including:
Designing the product
Deciding which materials to use
Safety testing
Issuing a prompt recall at the first sign of a problem
However, Philips is not the only party responsible for putting a defective CPAP machine in your hands. You may also have a case against:
The company that distributed the machines, bringing them from the factories to the stores
The store from which you bought the CPAP machine
The healthcare institution that advised you to buy a Philips CPAP machine
Before filing suit against more than one party, you would have to determine how much responsibility to allocate to each party. This will determine how much each party has to pay you in compensation. A medical device injury attorney can help you do this.
Specialists and Primary Care Physicians
Can you sue an individual healthcare provider for suggesting you use a defective device? It is possible, but you would have to prove that:
The provider had a duty to provide you with competent care
The provider knew or should have known about the dangers associated with Philips CPAP machines and failed to warn you about them
The provider's action (or inaction) caused you serious harm physically, financially, and psychologically
These same requirements apply to any other potentially liable party. You must show that they were in some way negligent and that their negligence contributed to your suffering.
It is also important to note that you might be able to get more compensation from an organization versus an individual. This is something to discuss with your attorney as you consider your legal options.
How to Take Action After the Philips CPAP Recall
As of September 2022, hundreds of cases have been filed against Philips regarding faulty CPAP machines. To make the legal process faster and less expensive for the plaintiffs, these cases have been consolidated into a single legal action called multidistrict litigation.
The cases included in the MDL have come from all over the country, including:
California
Georgia
Kansas
Louisiana
Massachusetts
Missouri
Oregon
Virginia
West Virginia
Wherever you are, you have the right to seek damages if a Philips CPAP machine injured you or made you sick. You can do so by:
Finding a lawyer who serves your community and who has experience with MDL
Telling your lawyer about your situation so they know where to find evidence and how to approach your case
Working with your attorney to determine if you are eligible to join an MDL or if you should seek compensation in another way
Allowing your attorney to manage your case on your behalf, giving you more time to recover from your injuries and rebuild your life
The most recent Philips CPAP recall update states that the lawsuits against Philips are currently being combined into MDLs and moving ahead through the legal system. If you wish to join an MDL and potentially receive compensation, it is a good idea to get started as quickly as possible.
How Much Are CPAP Recall Settlements?

No CPAP recall cases have been completed as of September 2022. They are all still being litigated, so it is impossible to say how much the settlements or jury awards could be, or how much you personally could receive if you join an MDL.
That said, your lawyer can run calculations to determine how much you ask for in your lawsuit. They can figure out how much you deserve for:
Medical expenses, including the cost of replacing the CPAP or treating conditions related to the CPAP
Emotional pain and suffering
Physical pain and suffering
Temporary or permanent disability (e.g., if you develop severe asthma that keeps you from doing too much physical activity)
Income you lost when your condition prevented you from working or when you had to undergo and recover from treatment
Why Join a Philips CPAP MDL?
There are many reasons why someone might choose to join multidistrict litigation instead of filing an independent lawsuit. MDLs offer the advantage of:
Greater numbers: All of the plaintiffs in an MDL have sustained similar injuries with similar causes. This emphasizes the severity of the problem they are suing over.
More resources: The legal costs are spread across all of the plaintiffs, so no single person has to bear the entire financial burden. This makes it easier to fight large companies like Philips, which have more resources than any one plaintiff.
A smoother litigation process: If everyone tried to pursue their cases alone, the courts would be overwhelmed with redundant evidence, motions, and so on. Consolidating cases allows the court to consider each piece of evidence only once and, potentially, render a faster decision.
You may or may not qualify to join an existing MDL. Your product liability attorney can help you determine whether you are eligible to join if joining is the best option for you, and what your legal responsibilities are if you do join.
Find Attorneys Who Handle CPAP Recall Cases
These breaking news updates regarding the Philips CPAP recalls may have a major impact on your case or your ability to collect compensation. Call us at 1.844.44TORTS (1.844.448.6787) for a free case review. Our mass torts attorney can guide you through the process of joining an MDL and fighting for fair compensation.