Who Qualifies to File a CPAP Lawsuit
Medical Devices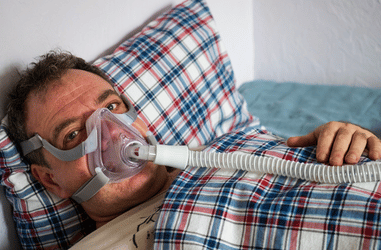 If you or a loved one sustained an injury or became ill after using a Philips Respironics brand continuous positive airway pressure (CPAP) machine, you may be eligible to file a lawsuit against the device manufacturer.
Consumers have alleged that the foam material in the construction of certain Philips CPAP, BiPAP, and ventilator devices may cause severe illness when inhaled or ingested. Several models have been recalled, and consumers who became ill as a result of using these machines have filed mass torts lawsuits against Philips.
We can connect you with a Philips CPAP lawsuit attorney near you to help you seek compensation for your losses.
What Is a CPAP Machine?

CPAP machines aim to treat patients who suffer from sleep apnea, a condition that occurs when someone's breathing stops and restarts multiple times during sleep. Sleep apnea can increase your risk of high blood pressure, stroke, reduced cognitive function, poor behavioral control, and memory loss. If left untreated, sleep apnea can be detrimental to your health and quality of life.
According to the National Heart, Lung, and Blood Institute, a CPAP machine is designed to keep patient airways open by providing continuous air pressure to the lungs. The equipment includes a mask to cover the patient's nose or mouth, straps to secure the mask, a tube that carries air from the machine to the patient, and a motor that maintains a continuous flow of pressurized air to the patient.
Types of Devices that Aid Sleep Apnea
In June 2021, the U.S. Food and Drug Administration (FDA) notified consumers of a recall by Philips Respironics for potential health risks. The FDA outlined three specific types of Philips CPAP devices involved in recalls:
CPAP: Continuous positive airway pressure (CPAP) devices use one consistent flow of air pressure, and individuals with obstructive sleep apnea usually use them.
BiPAP: Bilevel positive airway pressure (BiPAP) machines use variable pressure to encourage open airways. The machines increase pressure on the inhale and reduce pressure on the exhale.
Ventilators: Continuous ventilators are used for patients who have trouble breathing on their own. A ventilator pumps a specific mix of oxygen and other gases to the patient's airways using mechanical controls.
CPAP devices are critical for the health and safety of patients. When you use such a device, you trust that the manufacturer has used safe materials and equipment. Philips allegedly breached that trust by using known toxic or carcinogenic foam for manufacturing certain CPAP machines.
Philips CPAP Lawsuits Allegations
In October 2021, all pending lawsuits for Philips CPAP recalls were consolidated under one multidistrict litigation (MDL) in the Western District of Pennsylvania under MDL 3014. The Transfer Order incorporates personal injury claims, breach of warranty, violation of consumer protection laws, and unjust enrichment.
The plaintiffs allege that the recalled devices contained a polyester-based polyurethane (PE-PUR) foam that degraded or off-gassed harmful substances that consumers inhaled or ingested. Further testing of those materials indicates that they are toxic and potentially carcinogenic. The foam, which is installed in CPAP machines to provide sound abatement, can break down, especially when exposed to ozone, UV light, humidity, and heat during cleaning processes.
After breathing in or ingesting these substances during normal use, consumers claimed they experienced moderate to severe symptoms indicative of chemical exposure, airway contamination, and cancer caused by PE-PUR particles and off-gassing.
Failure of Duty of Care
Philips has a duty of care as a CPAP equipment manufacturer to provide safe, reliable equipment that does not pose health risks to users.
The lawsuits against Philips allege that they were aware of the dangers of PE-PUR foam and failed to recall the equipment in a timely manner. They also claim that the company concealed the issues caused by PE-PUR abatement foam and misrepresented information about the recalled products for sales and marketing purposes.
In addition to the original recalls, the FDA advised that the silicone-based foam installed in replacement equipment could pose health risks.
Who Qualifies to File a CPAP Lawsuit Against Philips Respironics?
Hundreds of federal suits have been filed against Philips as of September 2022, including those consolidated into the MDL. Users who suffered injury or loss as a result of PE-PUR foam in recalled CPAP, BiPAP, and ventilators manufactured by Philips between 2009 and April 26, 2021, could be eligible to file cases.
The FDA recalled the following CPAP, BiPAP, and ventilator devices:
Continuous Ventilators
A-Series BiPAP Hybrid A30 (not marketed in US)
A-Series BiPAP V30 Auto
A-Series BiPAP A40
A-Series BiPAP A30
C-Series ASV
C-Series S/T and AVAPS
DreamStation ASV
DreamStation ST, AVAPS
E30
Garbin Plus, Aeris, LifeVen
OmniLab Advanced+
SystemOne ASV4
Trilogy 100
Trilogy 200
Noncontinuous Ventilators
Dorma 400
Dorma 500
DreamStation
DreamStation Go
REMstar SE Auto
Victims have reported seeing loose foam, black particles, and other debris in the tube and other breathing apparatus. Such particles and chemicals, when inhaled or ingested, pose a severe risk to the user's health and safety. If you have experienced negative symptoms related to the use of any of the above equipment, you could be eligible to file a lawsuit to recover compensation for your injuries.
CPAP Lawsuits Allege Cancer Risk Linked to Philips Devices
CPAP lawsuits filed across the country allege that PE-PUR sound abatement foam broke down in recalled CPAP, BiPAP, and ventilator machines. The suits claim that users experienced symptoms, illness, and injury ranging from moderate to severe. The potentially carcinogenic nature of PE-PUR has also raised concerns that certain types of cancer could occur as a result of inhalation or ingestion of the foam.
Cancers and Injuries Caused by Recalled CPAP Equipment
Illnesses users of recalled Philips CPAP devices reported include:
Respiratory Illnesses
Respiratory irritation
Asthma that is new or has grown worse since CPAP treatment
Bronchitis and pneumonia
Acute respiratory failure
Reactive airway disease (RAD)
Cancers
Blood cancer
Lymphatic cancer
Leukemia
Breast cancer
Thyroid cancer
Bladder cancer
Liver cancer
Lung cancer
Kidney cancer
Victims exposed to PE-PUR foam in Philips CPAP machines have also experienced:
Headaches
Dizziness
Sensitivity
Inflammation and irritation
Sinus, eye, and skin infections
Organ damage or failure
Non-cancerous tumors and cysts
If you or someone you love experienced any of the above injuries or illnesses, you do not have to suffer alone. An attorney familiar with the Philips CPAP recall and lawsuits can help you understand your legal right to compensation for the losses you sustained.
Why File a CPAP Lawsuit?
If you have been injured or become ill as a result of the PE-PUR foam used in Philips CPAP devices, you could suffer both acute and long-term health problems. The damages such health issues may cause include:
Hospital bills
Medical treatment costs
Medication and replacement device costs
Loss of income
Diminished quality of life
Physical and psychological therapy
Pain and suffering
Emotional anguish
Over time, the physical, psychological, and financial costs of your CPAP injury can become overwhelming, and the potential complications could affect you for the rest of your life.
A CPAP lawsuit allows you to recoup past, current, and future damages that stem from the negligence of Philips and other responsible entities.
Do I Need a Lawyer to File a CPAP Recall Claim?
If you have been affected by the recalled CPAP equipment, you can file a case without legal representation. However, due to the complex nature of such cases, it may be in your interest to seek legal assistance. An attorney familiar with class action lawsuits, or mass torts, for CPAP and other medical devices can help you navigate the complexities of the legal process.
To present a valid claim, you must be able to prove that:
Philips had a duty of care to provide safe CPAP equipment to consumers.
Philips violated that duty of care by continuing to use known harmful substances when manufacturing CPAP equipment.
These harmful substances caused you to suffer from injury or illness.
Your illness or injury harmed you physically, psychologically, and financially.
Your lawyer understands the particular requirements necessary to establish your case. They can help you gather evidence such as case studies, research, FDA applications, medical records, and other documentation to show that Philips was aware of the problem and that their failure in their duty of care directly impacted your health.
How Much Does a CPAP Lawsuit Lawyer Cost?
A CPAP lawsuit attorney's firm can provide you with a free case evaluation to determine whether you have grounds to file a lawsuit or join an existing class action suit against Philips.
If you decide to move forward, they may take your case on a contingency basis, which means that you pay nothing up front. Instead, your attorney will receive a portion of the settlement or verdict payment once your case is complete.
How Long Do I Have to File a CPAP Lawsuit?
Mass torts cases have different statutes of limitations, as they depend on the state in which you file and the particular circumstances of your case. A Philips CPAP lawsuit attorney can identify which statutes of limitations apply to your case and how best to proceed. If you wait too long to reach out to a firm, you may jeopardize your right compensation.
By consulting a medical device injury lawyer right away, you also help ensure that they have the necessary time to compile evidence to prove that the recalled CPAP machine harmed you. That way, they can establish the monetary value of your losses using medical bills, pay stubs, expert testimony, and other documentation before the deadline.
How Much Can I Receive For a CPAP Lawsuit Settlement or Verdict?
It's difficult to tell how much a settlement will be this early in the process. Bellwether trials conducted on a small number of cases within the class action suit will give you a better idea of what to expect for your own settlement. As of September 2022, there are no trial dates set for this case.
How Long Will It Take to Receive a Settlement in a CPAP Lawsuit?
Class action lawsuits typically involve gathering a great deal of evidence. Some class action suits settle within a few months, but others can take years. Some factors that can affect the time it takes for a class action suit to resolve include:
The number of plaintiffs and defendants named in the case
Case complexity
Whether a settlement is reached before trial
If a trial verdict is appealed
How hard the company fights against charges
In some cases, companies try to settle a lawsuit quickly to reduce the amount of negative publicity associated with their brand. Such cases may last just a few months. However, when a company with significant resources decides to fight back against charges instead, the litigation can continue for years.
Things You Can Do to Support Your CPAP Injury Claim

Your case will depend heavily on proving that your injuries or illnesses were caused directly by the use of recalled CPAP machines. Below are some steps you can take to improve your chances of a positive outcome:
See a doctor: If you have not already sought medical attention, contact your doctor as soon as possible. Your doctor may provide critical treatment as well as medical records that are crucial evidence in your case.
Document everything: Keep a journal of your symptoms and the challenges you face as a result of your CPAP-related injury. Document missed work, loss of enjoyment, reduced mobility, and anything else that negatively impacts your life. Also, include dates and times.
Connect with a lawyer as soon as possible: Speak with an attorney who has handled CPAP injury cases and class action lawsuits. They can provide you with guidance and help ensure that you do not miss any important deadlines.
Meet Your Legal Team: Contact Us Today
If you or a loved one suffered injury from exposure to harmful products in Philips CPAP machines, you may be able to seek compensation for the resulting losses you experienced. The mass torts attorneys in our network can help you hold manufacturers like Philips responsible for injuries caused by their negligence and defective products. Fill out our online form today for a free case evaluation from a Philips CPAP lawsuit attorney in your area, or call 1.844.44TORTS (1.844.448.6787).