Are Surgical Staples Safe?
News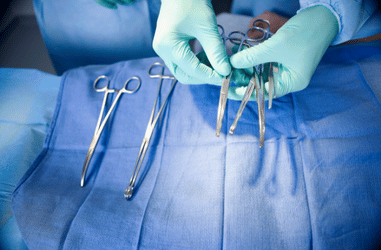 Surgical staples may not be as safe as many originally thought. Surgeons and other medical professionals use surgical staplers to apply staples inside the body during surgery. Medical professionals can also use these devices to staple outside the body, typically for large wounds on someone's skin or scalp.
While surgical staplers have benefits such as quick placement, minimal tissue reaction, and a low risk of infection, there are dangers.
Many people have reported injuries (some severe, and some even fatal) due to a surgical stapler malfunction, causing grounds for legal action. The U.S Food and Drug Administration (FDA) issued surgical staple recalls as the number of people sustaining severe injuries grew.
Injuries Claimed in Lawsuits

Many people across the United States who have undergone surgery where medical professionals used a surgical stapler have reported injuries. Misfired staplers can wreak havoc on the inside of someone's body and impact nearby organs or even the outside of the body.
There are many risks associated with surgical staplers and a variety of injuries have become part of the subsequent lawsuits. Common types of injuries people have sustained because of these medical devices include:
Blood loss: If the surgical stapler malfunctions and punctures an area of the body that it shouldn't, the patient could experience significant blood loss. With enough blood loss, they could require intense medical intervention to try to replenish the blood. If they lose enough blood, it could cause death.
Internal bleeding: If a surgical stapler misfires inside the body, it could puncture an organ or other area of the body, causing internal bleeding. Internal bleeding is dangerous, especially if medical professionals can't locate the bleeding area quickly.
Infections: If bacteria gets into the wound or the staples are improperly placed, there is a risk of infection. The staples can cause the wound to heal improperly, leaving it open longer, and increasing the likelihood of an infection developing.
Organ damage: If a surgical stapler misfires inside of someone's body, they could experience organ damage. Depending on where the staple hit, if the damage is significant enough, the patient may need medical treatment for the rest of their life.
Fistula: This is an abnormal connection between an organ, vessel, or intestine. Even if the fistula is caught in time to save the patient, they could still require additional, painful surgeries to correct the issue.
Death: Depending on the circumstances surrounding the surgical stapler malfunction, someone could certainly pass away from their injuries.
Knowing the signs and symptoms of a surgical stapler complication can be helpful. If you experience any of these issues, seek medical attention quickly. Symptoms could include:
Discharge coming from the incision site where the staples are
The incision reopening
Redness or swelling near the incision site
Severe pain around the incision site
Your skin darkening in color near the staples
The incision continuing to bleed
Fever
If someone who received surgical staples experiences any of these symptoms, it is critical to seek medical attention as soon as possible.
A surgical stapler can have a significantly negative impact on a patient's life, even causing death in some cases. However, people who sustain these injuries could recover compensation through a lawsuit against the makers of these devices.
Manufacturers and Surgical Stapler Recalls
Manufacturers of surgical staplers often try to blame the medical professional for the injuries caused by these medical devices. However, they do not often admit the injuries occurred because of a faulty design of the product. Because so many reports indicate the device caused injuries, both lawsuits and recalls have moved forward.
Ethicon and Covidien are two surgical stapler manufacturers involved in the surgical stapler recalls. People who sustained injuries deserve to get justice by holding these companies accountable. Other manufacturers include:
3M
Cardica
Care Fusion Corporation
Meril Life
Purple Surgical
Stryker
Reach Surgical
Attorneys can help injured patients determine which manufacturer is liable for the injuries they sustained because of these medical devices.
Manufacturing Defects Lead to Recalls
The FDA began recalling surgical staplers because of the multitude of malfunctions they performed. These malfunctions repeatedly injured people across the United States. For the staples to work properly, medical professionals must achieve a proper staple line and the surgical stapler must function correctly.
There are several ways surgical staplers have malfunctioned and injured surgery patients. The most common types of reported malfunctions include:
Difficulty firing the stapler
The stapler failing to fire a staple at all
The staples connecting in a malformed shape
The stapler misfiring, causing the staple to go into an unintended area
The staple line opening back up
Regardless of the type of malfunction the surgical stapler performed, people who sustained injuries can file a lawsuit against its manufacturer. These medical devices are intended to help people heal, not injure them further.
FDA Takes Action
The FDA took action to increase the regulations and safety of surgical stapler use. They made the following statement regarding the use of surgical staples:
"At the heart of our public health mission is protecting the public by regulating medical devices to ensure they are safe to use. The increasing reliance on surgical staplers by surgeons to perform more procedures that are minimally invasive, together with the agency's analysis of adverse events associated with surgical staplers and implantable staples, prompted the FDA to increase regulatory oversight of these devices while continuing to educate health care providers and patients about their benefits and risks."
The FDA conducted a rigorous internal review after receiving input from the public. They believe their actions can increase the safe use of surgical staples as an alternative to manually stitching wounds. Therefore, their final order was to classify surgical staples as a class 1 to class 2 recall, meaning they would provide more special control.
Surgical Staples Lawsuits
The surgical staples lawsuits claim that the medical devices malfunctioned and caused patients to experience infections, serious injuries, or even death. One woman was awarded over $80 million through a lawsuit after she almost died due to the injuries the surgical stapler caused her.
Many attorneys are helping people who sustained injuries because of surgical staplers. Several settlements and verdicts have awarded victims $5 million to $80 million in damages.
How to File a Surgical Staples Lawsuit

After you sustain an injury because of a faulty surgical staple, you could recover compensation through a lawsuit. An attorney familiar with these cases can help you with the following steps:
Determining whether the injured party has grounds for a lawsuit: Attorneys understand the eligibility requirements for the lawsuits and can help people determine whether their injuries qualify.
Investigating the injuries: Attorneys can investigate how the patient sustained the injuries. An investigation could include speaking with the surgical team, having experts look at the device, and reviewing the injuries and diagnostic scans. With this evidence, an attorney can help prove the patient sustained injuries because of the surgical stapler.
File the claim or lawsuit: Attorneys know the proper steps to file a claim or lawsuit against the liable party. They can fill out all forms and paperwork to ensure it gets submitted correctly and on time.
Represent the injured party in court: If necessary, attorneys can fight on their behalf in court to prove they deserve to recover compensation for their injuries.
The most helpful step to take when a lawsuit is necessary is to contact a product liability attorney. They can take care of the legal matters so the injured party's only focus is on recovering from their injuries.
How Much Can I Get from a Surgical Staples Lawsuit?
The amount of compensation someone could receive through a lawsuit depends on several factors. Some of the most important factors include the severity of the injuries and how they could impact the injured patient's life.
The damages the injured person incurred can also play a role in the amount of compensation they could recover. Recoverable damages are the amount of money the courts require someone to pay for injuring someone else. In this case, the manufacturers of the surgical staplers could have to pay the patients who sustain injuries because they sold a faulty product.
There are two types of compensation someone could recover through a surgical stapler lawsuit: economic and non-economic damages.
Economic Damages
Economic damages are documented monetary losses someone endured because of their injuries. These losses could cause someone severe financial debt. Common economic damages could include:
Medical bills: The costs of medical care to treat the injuries caused by the surgical staples, including surgeries, hospitalizations, doctor's visits, medications, diagnostic tests, or any other medical costs.
Future medical bills: If the injuries will require treatment far into the future, the injured party could recover compensation for future medical costs. An attorney can help determine the compensation amount to seek for future medical costs.
Lost income: If the injured party missed work to heal from their injuries, they could seek compensation for their lost income. People who sustain injuries from surgical staples may require additional surgeries with many follow-up visits. This could cause someone to miss a lot of work and potentially lose a lot of money.
Future lost income: Depending on the severity of the injuries, the injured party might not have the ability to ever return to work. If this happens, they could recover compensation for their future lost income. An attorney could also fight for them to receive the medical and retirement benefits they lost along with the job.
Economic damages are typically easier to calculate. It is helpful to keep copies of bills and receipts showing these losses.
Non-Economic Damages
Non-economic damages are subjective losses that injured victims experienced due to the physical and emotional toll their injuries took on them. Examples of non-economic damages someone could recover include:
Pain and suffering: The physical pain the injuries caused. If someone has internal bleeding or an external wound won't heal, this can cause a great deal of physical pain. The injured party can seek compensation for the physical pain they had to endure because of their injuries.
Emotional distress: Going through multiple surgeries and having open wounds can cause great emotional distress. If the injured party endured any negative psychological impacts because of their injuries, they could seek compensation for emotional distress damages.
Loss of enjoyment: If the injured party can no longer participate in hobbies or activities they once loved, they could seek compensation for loss of enjoyment damages.
Although these losses don't come with a bill or receipt, an attorney can help to calculate their value.
Surviving Family Members Could Recover Compensation
If someone died because of the injuries they sustained from a surgical stapler, their surviving family members could recover compensation. The damages you could seek include:
The costs of a funeral or service for their loved one
The costs to bury or cremate their loved one
Any medical costs their loved one incurred because of their injuries
Loss of consortium (the companionship and support their loved one can no longer provide)
A medical device injury attorney can help surviving family members determine if they can recover compensation on their loved one's behalf.
Talk to a Surgical Staples Lawsuit Attorney
A surgical staples lawsuit attorney can guide you through the process of filing a claim or lawsuit. They can help you determine liability and build a strong case against the liable party. The mass torts attorneys in our network can provide solid legal guidance to help you pursue the compensation you deserve. When going up against large corporations, you want to have a strong legal advocate on your side. Call 1.844.44TORTS (1.844.448.6787) or fill out our contact form to be connected with a lawyer in our network.