Who Is Eligible to File a Surgical Staples Lawsuit?
News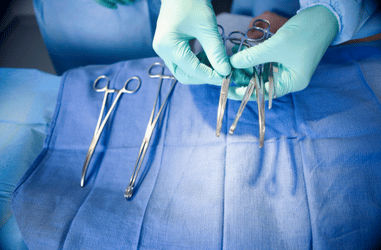 Anyone who underwent a surgery where the medical team used surgical staples could potentially qualify for a lawsuit. There are several factors that determine if you qualify to file a surgical staples lawsuit. If so, you could recover financial compensation for any damages you incurred. An attorney from our network can review your case and explain your options for moving forward.
Over the years, surgical staples have left many people with severe, life-changing injuries and complications—and the extensive medical bills and other losses that follow. Filing a lawsuit against the liable party could help you recover the financial compensation you deserve.
Do You Qualify to File a Surgical Staples Lawsuit?

The best way to find out if you qualify for a surgical staples lawsuit is to speak with a product liability attorney who understands the qualifications and can determine if you're eligible.
To qualify for a surgical staples lawsuit, the following must have occurred:
You underwent a surgery where the medical team used a surgical stapler
You developed complications because the surgical stapler malfunctioned
The malfunction of the surgical stapler caused your injuries
If an attorney determines that you qualify for a lawsuit, they can also help you gather the necessary evidence to prove your case. For example, they can:
Investigate the surgery: Your lawyer can interview the medical team who performed your surgery to identify how the surgical stapler malfunctioned. They can also ask where the medical team wanted to put the staples and how they harmed you.
Bring your case before a judge: Using evidence gathered in their investigation, an attorney can build a case to bring to pre-trial hearings. During these hearings, the judge will determine if you qualify for a lawsuit. If they believe you qualify, your attorney can represent you in court.
Holding the manufacturers of surgical staplers accountable is crucial. Otherwise, they may continue to sell faulty products and hurt people. You also deserve to recover compensation for the monetary and non-monetary losses their negligence caused you.
What Causes a Surgical Stapler Injury?
One of the most common causes of surgical stapler injury is when the stapler does not fire correctly. The misfire could occur because:
There was a design defect. Before the manufacturer even began building the product, there was a defect in the design, which eventually caused the surgical stapler to malfunction.
There was a manufacturing defect. When the product was in the manufacturing stage, the manufacturer didn't follow proper protocols or didn't have a proper amount of quality control. Therefore, the manufacturer sold a faulty device that would likely malfunction.
There was a failure to warn the public. The manufacturer knew their product could cause injuries, but didn't warn the public as required.
Other malfunctions that could cause surgical stapler injuries include misshapen staples, firing difficulties, or if the staple line opens.
Surgical Stapler Risks
There are many risks associated with surgical staples. Because of this, the U.S. Food and Drug Administration (FDA) issued a recall for the devices. The risks of surgical staples include severe injury and even death.
Between the years 2011-2018, surgical staplers caused:
412 deaths
11,181 injuries
There were also nearly 99,000 reported instances of surgical stapler malfunctions during this same time period. Before going into surgery, ask your medical team if they intend to use surgical staples for your procedure. You should also confirm the medical devices they will use are safe so you can avoid injuries.
Common Surgical Stapler Injuries
In addition to harming thousands of Americans, surgical stapler malfunctions can require you to need further medical intervention far into the future. Many people require additional surgeries to correct the issues.
Some common injuries that people sustain from surgical staplers include:
Internal bleeding: If a staple misfires and punctures the wrong area, it can cause extensive damage. If the staple hits an organ, you could bleed internally. Internal bleeding can cause severe health complications, especially if medical professionals don't catch it quickly enough.
Infection: If the staples are misshapen, your wound might not heal correctly. If the wound stays open, there's a higher chance of bacteria getting inside of it, which could cause infection. If the infection gets out of control, you could develop sepsis, which is a fatal reaction to infection.
Fistula: A fistula is an abnormal connection between organs and tissues. If you develop a fistula, you might need several painful surgeries to correct the issue.
Tearing of internal tissues and organs: If the staples are deformed or faulty, they could tear your internal tissues and organs. These tears could cause irreversible damage, depending on the type of wound and the organ(s) involved.
Death: Some people have died because of complications with surgical staples.
You could qualify for a lawsuit if you developed one of these injuries due to a surgical stapler. However, you could also qualify for a lawsuit if you developed an injury that isn't listed here. There are many different types of injuries associated with surgical staple lawsuits. To discuss the specifics of your injury, consult with an attorney.
Surgical Stapler Side Effects
While surgical staples can provide a fast and convenient way to seal incisions, there are many possible side effects. These include:
Bleeding
Infection
Blood clots
Tearing of tissues
Tearing of organs
Side effects may vary from person to person. If you experience severe side effects from surgical staples, seek medical attention promptly. A doctor or other medical professional should examine you to determine if there is any cause for concern.
Symptoms of Surgical Staple Complications
After getting surgical staples, it's crucial to know the symptoms you could experience if there are complications. You will need to seek medical care immediately if there are any signs that the stapler malfunctioned.
Common symptoms to watch for after getting surgical staples include:
A discharge that is yellow, brown, or green in color appears around the incision site or where the staples are
If the incision reopens (likely because the staples are malformed or not strong enough to hold the wound together)
There is more redness or swelling around the incision site and or where the staples are than you anticipated
You develop new or sudden pain anywhere on your body
You have severe pain around the incision site or where the staples are
Your skin darkens around the incision site or where the staples are
You develop a fever of 100 degrees or higher that lasts more than four hours
Again, anyone who experiences these symptoms should seek medical attention immediately. Be sure to mention that the likely cause of your symptoms is your surgical staples, so the medical team can provide the necessary medical treatment.
If you receive medical treatment because of a surgical stapler malfunction, it's important to keep documentation of what the medical professionals stated, copies of your medical bills, etc. This evidence could help prove the severity of the injuries your surgical staples caused in a lawsuit.
How Do You Know if You're at Risk for Complications?
Anyone who receives surgical staples either internally or externally during a surgery is at risk for complications. Your doctor or surgeon should advise you of these risks before you go into surgery. So if you've had a procedure or surgery where the medical team used a surgical stapler, be sure to watch for any of the symptoms above.
Settlements in Ethicon Surgical Stapler Lawsuits
Ethicon, a division of Johnson & Johnson Surgical Technologies, is a manufacturer of surgical staples. In 2019 alone, Ethicon had 92,496 of its surgical staplers recalled. The staplers involved in the recall included the Endo-Surgery Curved Intraluminal Stapler with Adjustable Height Staples and the Endo-Surgery Endoscopic Curved Intraluminal Stapler with Adjustable Height Staples. The reason for the recalls was that two patients sustained injuries after the staplers misfired, cutting portions of their rectums.
The largest surgical stapler verdict was for almost $80 million. A former police officer received this compensation from the manufacturer because of the life-threatening injuries they sustained. Settlements and Verdicts in recent surgical stapler lawsuits have ranged from $5 million to $80 million.
How to Claim Compensation With a Surgical Staples Lawsuit

After sustaining an injury from a surgical stapler, you can claim compensation by filing a lawsuit against the manufacturer. Several manufacturers are currently involved in these lawsuits, including Ethicon and Medtronic.
For instance, Medtronic had 3,113,280 surgical staplers recalled because missing components could affect staple alignment. Another one of their devices had 171,271 units recalled because five people sustained injuries related to missing components. To claim compensation, you must determine who the liable party is and prove their medical device caused your injuries.
Types of Compensation You Could Recover
To determine how much compensation you could recover in a surgical staples lawsuit, an attorney can help you calculate your damages. Damages are the amount of money the court requires someone to pay for causing someone else's injuries. In this case, liability would likely fall on the manufacturer(s) of the surgical stapler or staples used.
You could seek the following damages from the liable party:
Medical expenses: Any medical costs related to your surgical staples injury could get recovered through a lawsuit or claim, including bills from your doctor, hospital, pharmacy, and more.
Future medical expenses: If your injury requires ongoing medical care, you can include those projected costs as well. A medical device attorney can speak to your medical team to determine the projected cost of future medical bills.
Disability costs: If your injuries caused a disability you might have to endure for the rest of your life, you could recover compensation for any related costs (such as making adjustments to your home or vehicle).
Lost income: If you missed work because of your injuries, you could seek compensation for your lost salary, tips, bonuses, benefits, and other income. If your condition is severe enough that you cannot work in the future, you could also seek compensation for lost future earnings.
Pain and suffering: You could recover compensation for the physical pain and mental anguish you experienced because of your injuries. Pain and suffering is a non-monetary loss, meaning there is no exact financial value associated with it. An attorney can help determine the value of your pain and suffering damages and other non-monetary losses.
Loss of enjoyment: If your injuries affect your enjoyment of life in any way, you could seek loss of enjoyment damages—for example, if you can no longer participate in activities, sports, or hobbies you once loved because of your injuries. Loss of enjoyment is another non-monetary loss.
You deserve to recover compensation for the turmoil you went through (and may still be going through) because of your surgical staple injuries. Holding the manufacturer accountable not only benefits you, but may also prompt additional recalls—helping to ensure that more people don't sustain injuries or die because of these devices.
Consult a Surgical Staples Lawsuit Attorney Today
Many of the mass torts attorneys in our network have investigated claims and filed lawsuits for victims of surgical staple injuries. As a result, they are familiar with the laws and recalls and laws affecting these faulty medical devices.
If you're facing life-changing medical complications that have cost you financially, physically, and emotionally, we can help you fight for the compensation you deserve. Let an attorney manage your case and help you seek justice, so you can focus on healing. To learn more and connect with an attorney for a free consultation, call us today at 1.844.44TORTS (1.844.448.6787). You can also contact us online at any time. During the consultation, a mass torts lawyer from our network can answer your questions, explain who is eligible to file a surgical staples lawsuit, and discuss your legal options. Time is of the essence, so reach out today to get started on your case.