What Is the Criteria to Qualify for Talcum Powder Lawsuits
Product Liability Injuries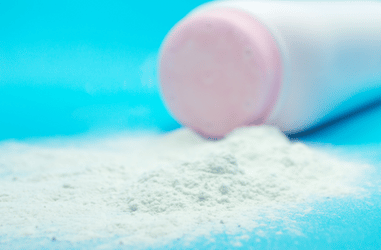 To qualify for a talcum powder lawsuit, you must have received an ovarian cancer or mesothelioma diagnosis after using or being exposed to talc-containing products. Some other cancers may also be eligible  for a talcum powder lawsuit, but strong scientific and medical evidence must support those claims. A talcum powder lawsuit lawyer can help you determine if your particular cancer diagnosis meets the criteria to qualify for a talc powder lawsuit.
Below, we discuss the requirements to file a lawsuit against talcum product manufacturers and others who may be liable for your illness. You'll also learn about the connection between talcum powder and cancer, why people are filing lawsuits, and additional information that could affect your ability to file a case and secure compensation.
Who Is Eligible to File a Talcum Powder Lawsuit?
As it stands, people who have been diagnosed with ovarian cancer or mesothelioma may be eligible to file a lawsuit and recover compensation for their damages. In ovarian cancer cases, women who have developed the illness must have used talc-based products in the general area of the cancer almost daily for four or more years.
For mesothelioma lawsuits, the claimants must have been exposed to talc-containing products, which can be cosmetic or industrial. Talcum products eligible for mesothelioma lawsuits include:
Adhesive materials
Baby powder
Powder sprays
Crayons
Clay/Pottery
Chalk
Paint
Paper
Supplements
Other talc products
This is not a comprehensive list of talc-containing products that may lead to mesothelioma or other cancers. A product liability lawyer from our network can advise you in regard to other products.
Additional Criteria to Qualify for Talcum Powder Lawsuits
In addition to receiving a diagnosis of ovarian cancer or mesothelioma after at least four years of exposure to talc products, claimants must:
Have been diagnosed with the cancer after the year 2000
Be between the ages of 22 and 65 years old
Are Other Cancers Besides Ovarian Cancer and Mesothelioma Eligible for a Talc Lawsuit?
Other cancers may qualify for a lawsuit, such as fallopian tube cancer, cervical cancer, and peritoneal cancer, but research-based evidence must support the assertion that the cancer is likely to have been caused by talcum-containing products.
Reaching out to a talcum powder lawsuit attorney is a good way to determine your eligibility to recover compensation.
What Is the Connection Between Talcum Powder and Cancer?
According to the National Cancer Institute (NCI), talcum powder is linked to ovarian cancer and mesothelioma due to the presence of asbestos, a carcinogenic mineral.
Talc and Ovarian Cancer
Women who used Johnson & Johnson's Baby Powder or Shower to Shower body powder in their genital area are at an increased risk of developing ovarian cancer.
Per Gynecology and Pelvic Medicine, doctors discovered that some women who had been diagnosed with ovarian cancer had talcum particles embedded in their ovarian tumors. In addition, women with cervical cancer sometimes had talc particles implanted in their cervical tumors as well.
Talc and Mesothelioma
Many people exposed to talc particles have developed mesothelioma, a cancer that affects the lining of the lungs. Others have developed lung cancer or lung disease. These patients developed mesothelioma from inhaling talc particles, which contain the cancer-causing mineral asbestos.
The talc and asbestos particles became embedded in their lungs after continued inhalation. Inhalation of asbestos-containing talc can also lead to ovarian cancer, and further, talc that is free of asbestos may pose a threat to cancer all on its own.
Talcum Powder Lawsuits

Geologically, talc and asbestos are located in close proximity to each other. As companies mine for talc, they also mine for the asbestos near it. Asbestos is a known carcinogen, so any presence of particles in other products is alarming.
Johnson & Johnson Failed to Warn the Public of Contaminated Baby Powder
A bombshell report from Reuters revealed that for over 50 years, Johnson & Johnson, the pharmaceutical company, knew their Baby Powder product contained asbestos and did nothing to warn the public.
The company hid the scientific reports that warned of the presence of asbestos while trying to find a way to reduce the amount of asbestos in their talcum powder. Publicly, the company denied their product contained any asbestos, as well as any health risks associated with their Baby Powder, even as studies continued to show the link between the product and cancer.
Consumers who developed cancer after using the talcum powder for an extended number of years have sued Johnson & Johnson for product liability. They claim that the company not only sold a harmful product but also failed to warn the public about it.
Companies Sued for Talcum Powder Product Liability
Other companies have also been successfully sued, including brands, manufacturers, distributors, and retailers who sell talcum powder. Plaintiffs have filed lawsuits against companies like:
Johnson & Johnson
Colgate-Palmolive
Imerys Talc North America
Whittaker, Clark & Daniels
Vanderbilt Minerals
Target
Walmart
Walgreens
CVS
Products Involved in Talcum Powder Lawsuits
Some of the products included in these talc cancer lawsuits include:
Johnson's Baby Powder
Shower to Shower
Old Spice powder
Gold Bond No Mess Powder Spray
Gold Bond Body Powder
Gold Bond Extra Strength Body Powder
Speak to an Attorney to Find Out if You Qualify for a Talcum Powder Lawsuit
If you believe you meet the criteria to qualify for a talcum powder lawsuit, connect with mass torts attorneys in our network. The statute of limitations for a talcum powder lawsuit varies by state. Depending on the state, it may start the date of diagnosis or the date you discovered your cancer was related to talcum powder exposure.
A product liability lawyer handling talc lawsuits can provide clarity on the amount of time you have to file your claim in court. Further, they can advise you on all the criteria to qualify for a talcum powder lawsuit. Reach out to 1.844.44TORTS (1-844-448-6787) for a free consultation.