What's Happening with the Monsanto Roundup Lawsuit?
Product Liability Injuries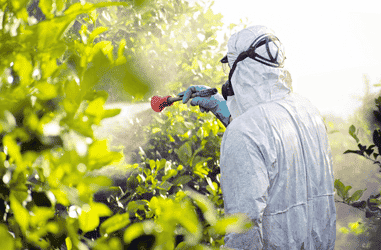 Thousands of people have filed lawsuits against the company Monsanto, which has been going on for years. If you are considering filing a lawsuit regarding your use of the product Roundup, understanding the legal landscape for the lawsuit and examining your best options is a good place to start. 
With that said, so much has happened in the case that may have you wondering what's happening with the Monsanto roundup lawsuit. 
What Is Roundup?
As one of the most popular weedkilling products on the market, Roundup credits its effectiveness to unique formulations designed to take care of weeds throughout your property. These formulations rely on an active ingredient called glyphosate, which is highly potent in killing all plants, weeds, and crops. 
Roundup's production began in the mid-1970s, and its popularity took off when Monsanto began selling genetically modified seeds that could resist glyphosate. Naturally, this made Roundup's appeal even more intriguing. You could use the product in tandem with these genetically modified seeds without worrying about harming your precious greenery. Roundup gained favor with farmers, groundskeepers, and garden hobbyists alike, making it one of the No. 1 preferred brands in lawn care.
Why Are People Suing Monsanto?
Roundup users are alleging that using the herbicide led to the development of cancer due to the key ingredient, glyphosate (specifically, non-Hodgkin's lymphoma.) The lawsuit involves Roundup users alleging that Monsanto failed to take adequate measures to protect the public from a possible carcinogen.
HuffPost reports that in 2003, a Monsanto toxicologist wrote an internal email saying the company did not properly test its Roundup product and that while glyphosate may not necessarily be a carcinogen, other parts of the product may be toxic. While glyphosate may not be the source of harm, Roundup is still questionably far from safe.
While it is not enough to sue in cases where a product has caused harm, if a company knew or knows about the cancer link and does not warn its consumers, it could be legally responsible for any outcomes of that gross neglect.
How Might Glyphosate Cause Cancer?
The International Agency for Research on Cancer (IARC) branch of the World Health Organization (WHO) classifies glyphosate as "probably carcinogenic to humans" according to its Identification of Carcinogenic Hazards to Humans, first labeled in 2015. Its analysis of the substance was conducted during various human, animal, and in vitro studies that concluded that glyphosate could cause damage and strand breaks to DNA, a precursor to cancer. 
It also found that glyphosate can imbalance the body's antioxidants, which causes oxidative stress that can lead to the development of cancer, autism, or Parkinson's disease. Findings also suggest that glyphosate exposure can inflame the digestive system and disrupt the gut barrier, which could lead to cancer.
Some agencies disagree with the possible carcinogen label, such as the European Food Safety Authority (EFSA) and Health Canada's Pest Management Regulatory Agency (PMRA), pushing for a re-evaluation of this conclusion and continuing to allow the sale of products with glyphosate in the country. However, the IARC continues to keep a firm stance that the substance is a risk to public health.
What Are the Long-Term Health Risks Associated with Roundup Use?
Short-term exposure does not have as high of a risk for health issues as long-term use, though any exposure can put you at risk. Animal studies have shown prolonged Roundup use can lead to:
Cancer (specifically non-Hodgkin's lymphoma)
Liver and kidney damage
Reproductive and fetal developmental issues
Risks for pregnant women and young children 
Non-Hodgkin's lymphoma is a category of lymphoma that includes many other types of cancer under its umbrella. Common symptoms associated with these cancers include:
Swollen lymph nodes in the neck, armpit, or groin
Chest or abdominal pain
Difficulty breathing and coughing
Extreme fatigue
Rapid, unexplained weight loss
Fever and chills for up to 14 consecutive days
Night sweats
Bloody stool
Bumps on the face, neck, and arms
Pain in your bones
What's Happening with Roundup Lawsuit
As of 2019, more than 42,000 plaintiffs have come forward to file lawsuits, saying that glyphosate herbicide exposure led to their cancer diagnoses. After the IARC classified glyphosates as "probably carcinogenic" in 2015, many of the lawsuits initially filed were consolidated into multidistrict litigation (MDL-2741) in the United States District Court, Northern District of California. 
To date, Monsanto has lost three court trials regarding Roundup and has thus far been made to pay billions of dollars in settlement damages. The company denies that Roundup causes cancer, despite the data suggesting glyphosate-based weedkillers are dangerous and that hundreds of thousands of cancer cases have emerged in tandem with the product's use. 
The lawsuit against Monsanto involves claims:
Roundup use can lead to non-Hodgkin's lymphoma.
The company falsely advertised that the active ingredient in Roundup affects only plants and is a biodegradable that "leaves the soil clean." (BBC)
That they falsified glyphosate test results in 1991. (The New York Times)
Overall, the lawsuit is intended to show that Monsanto is guilty of neglect through product liability, which caused Roundup consumers serious harm. 
What Is Neglect?
Under product liability, neglect is defined as a product that does not perform safely as any customer would normally have expected it to. Specifically, it would fall under a "defective design" claim that declares Monsanto was negligent in designing and selling Roundup by not warning consumers about the risks associated with glyphosate that it knew about, nor did it take steps to prevent harm.
Under negligent defective design, a plaintiff must prove Monsanto:
Designed and manufactured the product Roundup
Was negligent in that manufacturing and design
Harmed the plaintiff when they used Roundup
Caused substantial harm due to that negligence
Monsanto Ordered to Pay $289 Million in World's First Roundup Cancer Trial
As The New York Times reports, a jury awarded one plaintiff $289 million in damages in 2018 during an initial trial. After an appeal, the award was later reduced to $21 million. The plaintiff, Dewayne Johnson, was a groundskeeper who had been using two Monsanto herbicides: Roundup and Ranger Pro. Reuters reports that the jury found Monsanto guilty of failing to warn customers of the cancer risks associated with its product but did not rule the product itself caused his cancer.
Roundup Settlement Update: Monsanto (Bayer) Agrees to Pay $10.9 Billion
Per a Reuters report, in 2020, Bayer (the parent company of Monsanto) agreed to pay up to $10.9 billion to settle hundreds of thousands of lawsuits regarding Roundup cancer lawsuits. 
This also included a possible settlement of $2 billion for future claims, though the company denied any liability or wrongdoing and claimed its product was "perfectly regulated."
Judge Rejected a $2 Billion Plan to Settle Future Claims Alleging Roundup Causing Cancer 
Judge Chhabria denied the motion to approve the $2 billion settlement intended for future claims. Chhabria stated the proposal contained flaws and that it was unreasonable for Roundup customers not been diagnosed with cancer yet to expect compensation as the funds were designed to last only four years. 
In short, the settlement was a win for Monsanto, but not for its customer, as cancer could develop years down the line. 
Monsanto Roundup Lawsuit Settlement
Multiple verdicts have ruled in favor of Roundup victims for various amounts. Monsanto has reached settlement agreements for over 100,000 lawsuits and has paid over $11 billion in the process. These settlements, however, only account for 80% of all pending claims. About 26,000 active lawsuits remain unsettled. 
Bayer and Monsanto continue to work on settling the remaining cases, and future liability remains one of the most challenging issues to deal with in the litigation. Because it takes years for Roundup users to develop lymphoma, plaintiffs are filing new regularly to this day. With its initial settlement arrangement of $2 billion being rejected to handle future lawsuits, Bayer now has a two-prong strategy for handling future liability. 
Replacing Glyphosate-Based Roundup Products
The first step was pulling glyphosate-based Roundup from shelves starting in 2023. These will be replaced with a newly formulated version that does not contain glyphosate. The second part of their strategy is winning a U.S. Supreme Court appeal to have further Roundup claims blocked as the EPA does not require cancer warnings for glyphosate, citing that lawsuits should be preempted by the Federal Insecticide, Fungicide, and Rodenticide Act. The act states all pesticides must be approved and registered with the EPA. 
However, this appeal has been denied so far in the United States Court of Appeals for the Ninth Circuit and is waiting for an appeal by the U.S. Supreme Court. For now, the company must still find a way to settle incoming and active cases. 
Roundup Lawsuit Settlement Amounts
The average Roundup lawsuit payout is between $100,000 and $160,000. So far, the first three Roundup trials that went to trial have resulted in the amounts of $289.2 million (Johnson v. Monsanto), $80 million (Hardeman v. Monsanto), and $2 billion (Pilliod v. Monsanto).  
It is unknown how many total lawsuits have been settled, but Bayer has stated that 75% of its pending cases have been settled thus far. The company is expected to pay up to $45 million to resolve a class-action suit and pay additional punitive damages.
Roundup Lawsuit Statute of Limitations
You have about one to six years to file legal action. The statute of limitations is the time you have to file legal action. After this time has passed, you have lost the chance to do so. The time limit is usually two years after an injury has been discovered, or in this case, when you first find out you have been diagnosed with cancer or other injuries/illnesses caused by Roundup. 
The best way to find out the statute of limitations for your Roundup lawsuit is to reach out to a Roundup lawsuit lawyer or law firm that can analyze your case and determine your case's timeline. 
Who Can File a Roundup Lawsuit Against Monsanto?
After Roundup exposure, those diagnosed with B-cell or T-cell non-Hodgkin's lymphoma are eligible to file. Specifically, you must meet at least one of these requirements after you were diagnosed with non-Hodgkin's lymphoma:
You used Roundup on your property at least 10 times.
You used Roundup at your job.
You used Roundup for agricultural purposes.
Who Is at Risk for Health Issues Roundup Has Caused?
Those that use or have used the product frequently in the past are most at risk. This is especially true for those who care for lawns and other greenery in their daily lives (such as landscapers, farmworkers, garden center and nursery employees, and groundskeepers). The product is often used during farm production on fruit and vegetable crops, glyphosate-resistant crops like corn, cotton, and wheat, and lawns, aquatic plants, and greenhouses. 
Exposure can happen by breathing it in after spraying, getting it on your skin, or getting it in your eyes. Eating or smoking after using Roundup or touching plants that have been sprayed with it can also increase your risk of exposure. Many foods contain glyphosate if farmers have used it on the crops used to make that food, especially if they contain oats or wheat, beans, and some fruits.
How to File a Roundup Lawsuit
If you meet the above requirements and were diagnosed with non-Hodgkin's lymphoma and used Roundup on your property at least 10 times or as part of your job or for agricultural reasons, you may qualify for filing a lawsuit. 
Contacting an attorney is the first step in pursuing legal action. A personal injury lawyer can guide you through the litigation process.
Connect with a Lawyer About a Monsanto Roundup Lawsuit Case
If you think you have non-Hodgkin's lymphoma because of Roundup use, we can connect you with an attorney in our network. Fill out the contact form to connect with a lawyer who can determine if you can file a lawsuit and answer your questions about Monsanto or the Roundup lawsuit.