Find Out Who Qualifies for a Roundup Lawsuit
Product Liability Injuries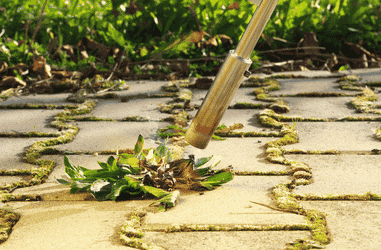 To qualify for a Roundup lawsuit, you must prove that you used Roundup and suffered as a result. If you can't prove that you used Roundup, then you can't win compensation.
Tens of thousands have filed lawsuits against Monsanto over their exposure to Roundup. Plaintiffs claim they developed non-Hodgkin's lymphoma after using the weed killer, which led to their diagnosis of the disease.
There are many ways to prove that you used Roundup. The law requires that you prove your exposure to glyphosate caused or contributed to your cancer diagnosis. Due to the complexity of the legal process, Mass tort lawsuit attorneys in our network can help. They will guide you through the process of compensation through a lawsuit against Monsanto (now owned by Bayer).
How Do I Know if I Am Eligible for a Roundup Lawsuit?
The first thing you must consider is whether you have a case. There are a few criteria that you must meet to be eligible to file a Roundup lawsuit:
You've been diagnosed with cancer
The International Agency for Research on Cancer (IARC) determined that glyphosate is "probably carcinogenic to humans." The IARC also found that glyphosate exposure was associated with non-Hodgkin's lymphoma.
Non-Hodgkin's lymphoma is a cancer of the lymphatic system, including the immune system. It can develop in many parts of the body, but most cases involve the abdomen, chest, and neck. If you/your family member was diagnosed with NHL after using Roundup in their workplace or home environment, you might be eligible for a Roundup lawsuit.
You have a track record of Roundup usage
The diagnosed individual must have regularly used Roundup, the chemical found to be carcinogenic. However, try to find proof of your use of Roundup, such as receipts from purchases or bills from Monsanto. If you provide evidence showing how much and when you used the product, it will be easier for attorneys in our network to prove liability.
You file a Roundup lawsuit within the deadline
You may be eligible to file a lawsuit against the Roundup manufacturer if you file within your state's deadline for such lawsuits.
It's important to understand that deadlines vary by state. If you miss your chance to file, you could lose the chance to take legal action against the manufacturer. This means you lose your opportunity to seek compensation for medical expenses, pain and suffering, and other damages caused by the company's negligence.
Diagnosed With Cancer After Roundup Use?
If you have used Roundup and are diagnosed with cancer, you may file a lawsuit against the product's manufacturer. You can speak with attorneys in our network who can help you determine if there is a case.
The most common types of lawsuits that you can file against Roundup are:
Negligence
This action accuses Bayer of not taking proper safety precautions when manufacturing or marketing their product. Negligence can also be based on a failure to warn consumers about potential risks associated with the use of the product.
Manufacturers have an obligation to alert consumers about potential dangers associated with their products. If they fail to do so, they may face legal action by consumers who suffer harm in relation to their use of these products.
Product Liability
Product liability cases accuse Bayer of failing to provide users with adequate warning labels and instructions regarding how to safely use their products. These claims may also allege that Bayer failed to provide adequate warnings about possible side effects or dangers associated with Roundup usage.
The plaintiff must demonstrate the following elements:
Roundup's failure to perform safely resulted in harming the plaintiff
Roundup failed to perform safely the way an ordinary consumer would have expected
Proof of Monsanto manufacturing and selling the product
Proof of the harm from the product usage
Negligent Design
In this theory, a plaintiff alleges that the manufacturer failed to use reasonable care in the design of the product. This means that a reasonably prudent person would have designed the product differently, in a manner that would not cause harm. The negligence can be found in the product's design, or in its instructions or warnings (or lack thereof).
A plaintiff must show that:
The defendant was under a duty to use reasonable care when designing and warning about its product
The defendant breached that duty by failing to use reasonable care
The breach was a cause of injury to the plaintiff
The plaintiff now has damages
What Type of Cancer Has Roundup Been Linked To?
Non-Hodgkin's lymphoma (NHL) is associated with Roundup the most. It has also been linked to many other types of cancer.
The U.S. Environmental Protection Agency (EPA) classified glyphosate, the active ingredient in Roundup, as a Group 2A "probable carcinogen." Monsanto has maintained that glyphosate is safe for human use and that it does not cause cancer, but recent studies have shown otherwise. Roundup has been linked to the following cancers:
Non-Hodgkin's lymphoma (NHL)
Hodgkin's disease
Leukemia
Myeloma
B-cell lymphoma
T-cell lymphoma
Melanoma
Brain cancer
What Are Common Symptoms of Cancer Caused by Roundup?
The list of symptoms is long and varied, but the most common ones include:
Unexplained weight loss
Constant pain or discomfort in joints
Unusual lumps or masses in the body
Blood in stool or urine
Persistent cough or hoarseness
Persistent indigestion and/or heartburn that doesn't respond to antacids
Headaches (especially if they get worse with movement)
Coughing up blood or having blood in urine (or both)
Shortness of breath
Fatigue
Do You Qualify: Roundup Cancer Lawsuit Review
If you or your loved one has developed cancer after using Roundup, you could qualify to file a Roundup lawsuit against Monsanto. Now owned by Bayer, Monsanto is facing thousands of lawsuits over allegations that their popular weedkiller Roundup causes cancer and other serious health issues.
Many of these legal actions are class actions that seek to hold the company accountable for failing to warn consumers and the public of the product's dangers.
For instance, National Public Radio (NPR) states that in March 2019, a jury awarded $80 million to Edwin Hardeman, who developed non-Hodgkin's lymphoma after using Roundup regularly as a school groundskeeper. The jury found that Monsanto had failed to warn consumers about the risks of developing cancer from exposure to its product. Initially, a jury had awarded $289 million to Edwin, which was considered the largest award in a Roundup lawsuit.
However, the jury later reduced the award to $78 million.
Roundup Class Action Settlement
Under the terms of the settlement agreement, Bayer has agreed to pay $10 billion in a global settlement. This will be divided among those who qualify for compensation under the Roundup settlement framework and those who have already won jury awards from lawsuits against Monsanto.
Another $1 billion will be set aside for claimants whose cases were not resolved through mediation. This Roundup settlement agreement was reached in June 2020 and provided compensation to anyone who met certain criteria, according to the New York Times.
In the Roundup weed killer class-action lawsuit, Bayer/Monsanto agreed to a $45 million fund to resolve the claim that Roundup failed to inform consumers about the cancer risk associated with this weed killer. Your lawsuit could be eligible to be included in the settlement agreement reached between Bayer and lawyers representing people who had been diagnosed with cancer after using Roundup.
So, Who Qualifies for the Settlement?
Those who used Roundup frequently and have cancer and related diseases may be liable for the settlement claims.
To qualify for these settlement claims, you must:
Be diagnosed with one of the cancers above
Have used Roundup at least ten times in your lifetime
Have used Roundup as part of your job
Have used Roundup for agriculture purposes
To prove product usage, you may use:
A receipt showing a purchase
Medical records showing a diagnosis
Invoices or payments for medical treatment
Statements from co-workers or friends who saw you use Roundup
Photographs wearing or holding your old Roundup bottle
Photos of your tool shed or lawn where you stored Roundup
If you are not sure if you qualify for a settlement, you can hire one of the Roundup attorneys within our network to help determine your eligibility.
Who Can File a Roundup Lawsuit?
Anyone who has been diagnosed with non-Hodgkin's lymphoma (NHL) or another form of cancer after being exposed to Roundup qualifies for a Roundup lawsuit. This includes both individuals who used the weed killer at home or work.
The following groups of people have been affected by exposure to Roundup:
Farmers who have been exposed while spraying crops
Gardeners who have been exposed while using the weed killer
Children who have been exposed to spray drift on school grounds or public parks
Homeowners who have sprayed their lawns with Roundup and then used the same water for drinking or cooking
Anyone who lost a loved one due to non-Hodgkin's lymphoma may be eligible to file a wrongful death case against Monsanto
People who live near areas where glyphosate is applied – may be exposed to the chemical through drifting spray or runoff from fields.
People whose drinking water contains trace amounts of glyphosate
Nursery employees
Landscapers
Golf course caregivers
Park landscaping staff who regularly use Roundup
How Long Do I Have to File a Roundup Lawsuit?
It's important to act quickly because the statute of limitations for mass tort cases varies from state to state. In some states, like California, you have only two years from the date of diagnosis or death to file a case against Monsanto. In New York, you have three years. If you don't file within this time frame, then you might lose your right to sue altogether.
When Does the Time Limit Start to Run?
There are states where the statute of limitations begins to run once the injury occurs. Such states use a "discovery of harm" rule, which means that you have limited time to sue after you know or should know of your injury.
So, your time limit starts running when the harm occurs. However, if the injured parties don't find out about their injury until after the statute of limitations has expired, they can have negative consequences.
The Discovery Rule
In contrast, other states' statute of limitations starts the countdown only when you discover the injury (or when you should have discovered it). This is called a discovery rule. For example, if you are exposed to Roundup and develop cancer five years later, your time limit for filing suit will start running after being diagnosed.
This can be a tricky issue in Roundup lawsuits because the victims may not know that their illness was caused by Roundup exposure. What's more, many people diagnosed with non-Hodgkin's lymphoma don't realize that it was caused by Roundup exposure. They find this out from their doctor during a routine medical examination or after seeing news reports about other Roundup lawsuits.
So, if you were injured by Roundup and want to file a lawsuit, find out whether your state uses a discovery rule or a discovery of harm rule.
Consult the Attorneys in Our Network
If you believe that you were injured by exposure to Roundup or other herbicides containing glyphosate, then you may want to file a lawsuit against Monsanto. Most lawsuits involving herbicides like Roundup will be filed under strict liability laws. This is because these companies failed to warn consumers about the risks or safety concerns associated with these chemicals.
It might not be easy navigating the legal process to prove your case against a big corporation, but there is help available. Mass Tort Lawsuit Lawyers within our network can help gather all the necessary documentation and build your case for the best possible outcome. They also work with your doctors to obtain all information required to prove your case. Call (844) 448-6787 today for a free consultation.