How Much Can You Get From Roundup Lawsuits?
Product Liability Injuries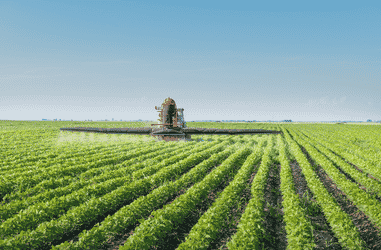 You may qualify for financial compensation if you or a loved one has been diagnosed with non-Hodgkin's lymphoma after extended exposure to Roundup or the chemical glyphosate. However, calculating the Roundup settlement amounts per person can be very complicated. Determining how much you can get from a Roundup lawsuit may require having a mass tort attorney review your damages and losses. They can estimate a value for each before coming up with a compensation amount. 
This article will detail some factors that help determine how much a victim could potentially receive for a Roundup claim or lawsuit. It will also cover the background of the Roundup litigation, a look forward, and what future victims may expect.
Background on Roundup Development
According to the Environmental Protection Agency (EPA), glyphosate was registered as a pesticide in the 1970s. Glyphosate is different from most other herbicides. While other chemicals target only certain kinds of plants, glyphosate is not one of them. It will kill most plants with minimal exposure. 
Monsanto used glyphosate as a key ingredient in its Roundup weed-killer. Because glyphosate was lethal to so many kinds of vegetation, Roundup did not increase in popularity for the better part of 20 years. Only after Monsanto developed and marketed a type of grass seed immune to glyphosate's effects did its weed management products become popular. Once these genetically modified seeds were developed, consumers could then use Roundup to rid their grass of weeds without killing their lawns.
In 2016, corporate giant Bayer bought the company in a cash deal worth $66 billion (CNBC). Bayer inherited the mass of product liability litigation that would soon follow the sale. 
Roundup's Product Liability
Roundup users began filing claims against Monsanto and Bayer, alleging their weed-killer, and specifically, the product's glyphosate, was causing cancer in professionals and consumers who either used Roundup regularly or were exposed to it repeatedly. 
Lawsuits soon followed Roundup in the thousands. Attorneys filing the claims explained their clients believed they were the victims of negligence by the companies producing the weed-killer. Plaintiffs felt the companies should have done more to warn Roundup users of the potential cancer-causing potential glyphosate.
A federal judiciary panel created Roundup multidistrict litigation (MDL) in 2016 after the filing of thousands of lawsuits. An MDL aims to speed up the legal process by combining many similar lawsuits. Without MDLs, many of these cases would continue to see delays in their quest for justice for additional years. MDLs also allow the plaintiff lawyers to combine their resources and reduce the time it takes to build a solid case with evidence against a product. 
How Is My Own Damage Award Calculated?
Calculating Roundup settlement amounts per person is based on points. Roundup settlements use a scoring system to weigh cases. This system is designed to score plaintiffs based on certain factors. Factors are awarded a certain number of points. 
A lawyer can explain to you how the points system applies to your case.
Injuries You Suffered
To qualify for a Roundup settlement, plaintiffs must prove the extent of their injuries and losses. Damages is a legal term to describe the toll the defective product has taken on you. Because every person's case is different, you must build a solid foundation for your case to prove you have suffered from Roundup exposure. 
If you prove Roundup was responsible for your economic and non-economic damages, you may be eligible for a Roundup payoff. 
For your claim to qualify for compensation, you will need extensive documentation to build your case. As every person's life and financial situation are different, you may consider speaking to a product liability attorney to find out what your case may be worth. 
Income/Wages You Lost
A large part of economic damages is your lost wages. When a person is stricken by cancer, they may be unable to return to work or maintain their standard lifestyle due to the medical treatments and toll the disease takes on their bodies. 
If you cannot go to work to collect a paycheck because of your disease and treatment, you deserve to be compensated for this economic loss. If you cannot ever return to work, you may be entitled to further compensation for future lost earnings. Part of your compensation may include consideration for raises, bonuses, or promotions you may miss out on by not returning to work. 
Additional Financial Benefits
This could include retirement packages and incentives you lost by not making it to employment milestones or retirement age. This means you would receive compensation for the wages and other financial benefits you missed out on because of your disease and medical treatment. 
You may also receive further compensation for economic damages if you cannot resume normal household duties because of your conditioning. If you used Roundup to tend to your property's lawn, garden, or household maintenance, part of your compensation may include funds to hire someone to help you with those duties. 
Wrongful Death Lawsuits
A wrongful death case is when a relative files a lawsuit on behalf of a loved one who died after Roundup exposure. They may receive additional compensation for wages and duties the surviving family members lost when their loved one died.
Pain and Suffering
Not every damage is financial. Some damages are emotional. While it is impossible to put an accurate value on a victim's suffering and anguish, our legal system does allow for financial compensation as means to justice for those who have suffered. 
Pain and suffering is a phrase many laypeople may recognize upon hearing it. But these kinds of non-economic damages go further than physical and mental discomfort. Emotional duress, loss of companionship, and loss of enjoyment of life are some non-economic damages Roundup victims may experience.
Did the victim miss out on spending time with their grandchildren? Did the victim's weakened condition prevent them from hiking or taking trips they previously would have enjoyed? Because every person has lived a different life, calculating these damages can be complex. A mass tort attorney, however, can help determine the financial value of these losses. 
Punitive Damages
The third form of financial compensation for product liability cases is punitive damages. These damages are not tied to the victim's financial losses stemming from medical expenses or loss of wages. These damages are also unrelated to the victim's physical, emotional, or psychological suffering. 
Punitive damages intend to punish the company that released the product. If a jury determines after hearing testimony and seeing evidence that the company was particularly negligent or egregious in its duty to protect consumers using its products from harm, the jury may award the plaintiff additional damages.
August 2018
In August 2018, Dewayne Johnson, a plaintiff suing Roundup's makers, received a stunning verdict in his favor. After hearing Johnson's case, a jury awarded him $289 million. Jurors believed, after deliberating, that the defendants were grossly negligent in their duty of care to Johnson. As proof of how strongly the jury felt, $250 million of the $289 million verdict was solely punitive damages levied against Roundup's makers. This was essentially the jury's desire to send a wake-up call to the company. 
After several appeals, the court decreased the award to $21.5 million, according to the Los Angeles Times.
Cost of Past and Future Medical Care
In many medical cases, there will come a point in your recovery where you have reached the point of "maximum medical improvement (MMI)." This means that in the eyes of the medical team responsible for your care, your situation has stabilized. When this time arrives, your team can then make a reasonable estimation of your potential future medical needs.
Depending on your condition, you may need further surgeries, lab visits, physical therapy, ongoing home care, and other medical care. You may also need medication for pain relief or other needs. If your condition has affected your ability to walk or move about on your own, you may need further aids, such as a wheelchair, crutches, prosthetics, and other assistance.
Something as life-altering as cancer can be intensely traumatic. Your ongoing care may include psychological counseling to help you adjust mentally and emotionally to the major life changes you are experiencing. 
Increase in Medical Care Fees
Like many expenses, medical care costs continue to rise. To accurately estimate how much your ongoing medical care would cost years down the road, you may need to use experts' professional opinions and experience to help you calculate these expenses. 
Life-care planning professionals, such as economists and actuaries, can look at your case's details and lifestyle to calculate what your potential ongoing medical costs would be based on inflation and other factors. Part of their calculations includes considering your age, physical condition and health before your diagnosis. 
Statute of Limitations in a Roundup Case
Product liability cases have time limits victims must adhere to when filing their claims. In legal terms, these deadlines are called "statute of limitations." If you miss your state's deadline, you may end up forfeiting your right to file a claim against the company responsible for your injuries. In wrongful death cases, these periods usually begin on the date the person dies. A product liability law firm may help you determine when your state's statute of limitations runs out. 
Roundup Settlement and Award Amounts: Potential Payouts for Victims
The Roundup settlement amounts per person vary. A given person's physical condition, and financial, emotional, and psychological suffering all contribute to what their potential payoff would be. 
A few Roundup settlements and awards include:
$21.5 million as noted above
Many of these awards were reduced from their initial amounts. Your attorney can help you determine the strength of your case and gather the necessary medical records to build a foundation for your claim. They also may be able to advise you on what to expect for your case's timeline.
What's Next for the Roundup Settlement Process?
Bayer claims Roundup is safe even as the company has set aside an estimated $16 billion to settle its cases involving the herbicide. The company has settled more than 105,000 claims so far, with funds earmarked for future claims. Bayer's company representatives have not admitted liability or claimed responsibility in any of the settlements thus far.
As of May 2022, an estimated 31,000 active Roundup lawsuits are underway. Experts estimate many thousands more as additional Roundup victims continue to be diagnosed. 
The Future of Roundup Settlements 
Bayer has decided to pull Roundup from consumer stores. At some point in 2023, Roundup will no longer be available for consumers to buy. The company believes this is one way to eliminate future Roundup lawsuits. It intends to replace Roundup with a new weedkilling product that does not have glyphosate as an ingredient.
Bayer has appealed to the U.S. Supreme Court (SCOTUS) to dismiss future lawsuits because the EPA determined that glyphosate does not cause cancer. In February 2022, the Biden Administration asked SCOTUS to reject the appeal, according to U.S. News and World Report. 
Talk to a Product Liability Law Firm About a Roundup Lawsuit Case
Our network of product liability attorneys believes every victim deserves the opportunity to seek justice when they have been wronged. They can speak with you about your situation, consider the damages you suffered after Roundup exposure, calculate your possible Roundup lawsuit settlement amount, and fight for your financial compensation. 
You can fill out our contact form for help with your case. During a free, no-obligation case evaluation, an attorney in our network can assess your case's potential value. If you decide to move forward, we can help you plan your next legal steps. No one deserves to face these large corporations alone, and you can